AD&D Trading Cards or Collector Cards were a series of trading cards published by TSR, Inc. between 1991 and 1993. The cards adhere to 2nd-edition Advanced Dungeons & Dragons rules, and were released in three separate yearly series.
Description
[
]
The AD&D Trading Cards were released in three yearly sets between 1991 and 1993. Each set consists of two different series, and the 1992 and 1993 sets feature additional promotional and rare cards in addition to the main set.
1991 Trading Cards: 750 cards
1992 Trading Cards: 750 + 11 promotional cards
1993 Collector Cards: 495 + 60 rare cards
Cards
[
]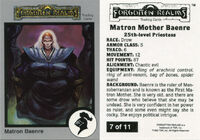 Each individual card has the dimensions 63 × 88 mm (2.5 × 3.5 inches), and is printed on cardboard,[1][2] with the exception of promotional cards included with issues of Dragon magazine.[3]
The front of each card features art, either re-used from other TSR products, or original to the Trading Cards.[4] The art is outlined by a thick, solid-color border,[3] the color of which varies depending on series and/or rarity.[4]
| Color | Significance |
| --- | --- |
| Silver | Cards from factory sets[4] |
| Gold | Cards from booster packs[4] |
| Red | Rare version of common cards in the 1993 set[5] |
| Black | 1992 GenCon set[6] |
Packaging
[
]
History
[
]
The AD&D Trading Cards were first introduced by TSR employee James Ward in issue #160 of Dragon magazine, as an insert of 17 cards. Mostly based on popular characters from various AD&D novels and video games, this insert of "rookie cards" was intended to test the waters for a potential trading card product line. If the Dragon insert proved popular, Ward wanted to release yearly series of cards, featuring both popular TSR artwork and characters, as well as characters and creatures found nowhere else.[3]
These trading cards were followed by a collectible card game (CCG) announced in the August 1994 issue of Dragon magazine (Dragon #207) called Spellfire: Master the Magic. It included cards based on many of TSR's game worlds, including the Forgotten Realms, Dark Sun, and Greyhawk settings.[7]
List of cards
[
]
| | | |
| --- | --- | --- |
| Forgotten Realms | Al-Qadim | Other setting |
1991 series
[
]
#
Name
Setting
Note
1
Alias
Forgotten Realms
Insert in Dragon #160
2
Bruenor Battlehammer
Forgotten Realms
Insert in Dragon #160
3
Dragonbait
Forgotten Realms
Insert in Dragon #160
4
Midnight
Forgotten Realms
Insert in Dragon #160
5
Prince Tristan Kendrick
Forgotten Realms
Insert in Dragon #160
6
Robyn
Forgotten Realms
Insert in Dragon #160
7
Shandril Shessair
Forgotten Realms
Insert in Dragon #160
8
Olive Ruskettle
Forgotten Realms
Insert in Dragon #160
9
Raistlin Majere
Dragonlance
Insert in Dragon #160
10
Caramon Majere
Dragonlance
Insert in Dragon #160
11
Tika Waylan Majere
Dragonlance
Insert in Dragon #160
12
Tasslehoff Burrfoot
Dragonlance
Insert in Dragon #160
13
Tanis Half-Elven
Dragonlance
Insert in Dragon #160
14
Goldmoon
Dragonlance
Insert in Dragon #160
15
Laurana
Dragonlance
Insert in Dragon #160
16
Kitiara Uth Matar
Dragonlance
Insert in Dragon #160
17

Dalamar

Dragonlance
Insert in Dragon #160
18
Aldarr
AD&D 2nd Edition
19
Imp
AD&D 2nd Edition
20
Elkoremarr
AD&D 2nd Edition
21
Firbolg
AD&D 2nd Edition
22
Hill Giant
AD&D 2nd Edition
23
Pyrosternia, Red Dragon
AD&D 2nd Edition
24
Chlormordia, Green Dragon
AD&D 2nd Edition
25
Dagaronzie, Green Dragon
AD&D 2nd Edition
26
Ar-Kane
AD&D 2nd Edition
27
Renwood
AD&D 2nd Edition
28
Crystal Ball
AD&D 2nd Edition
Rare-2
29
Gem of Insight
AD&D 2nd Edition
30
Talamar Thraydin
AD&D 2nd Edition
31
Sorvani
AD&D 2nd Edition
32
Boris Nahal
AD&D 2nd Edition
33
Mara Korvin
AD&D 2nd Edition
34
Nastorrian
AD&D 2nd Edition
35
Jalen Lang
AD&D 2nd Edition
36
Dwyam Marz
Dragonlance
Rare-2
37
Shonorr, Bronze Dragon
Dragonlance
38
Candle of Invocation
AD&D 2nd Edition
39
Ring of Fire Resistance
AD&D 2nd Edition
40
Water Weird
AD&D 2nd Edition
41
Hawk
AD&D 2nd Edition
42
Zollrendar, Red Dragon
AD&D 2nd Edition
Rare-2
43
Santis
Dragonlance
44
Tarninia, Black Dragon
AD&D 2nd Edition
45
Alyssa
Dragonlance
46
Snakes, Giant
AD&D 2nd Edition
47
Kagon
AD&D 2nd Edition
48
Randoer
AD&D 2nd Edition
49
Drent
AD&D 2nd Edition
50
Bylquore
AD&D 2nd Edition
51
Wand of Frost
AD&D 2nd Edition
52
Gauntlets of Dexterity
AD&D 2nd Edition
53
Sword +2, Giant Slayer
AD&D 2nd Edition
54
Cloak of Elvenkind
AD&D 2nd Edition
55
Vandrillon, Red Dragon
AD&D 2nd Edition
56
Baron Rykoffe
AD&D 2nd Edition
57
Panndallor, Gold Dragon
AD&D 2nd Edition
58
Smilodon
AD&D 2nd Edition
59
Lizard Man King
AD&D 2nd Edition
60
Lich
Dragonlance
61
Death Knight
AD&D 2nd Edition
62
Heucuva
AD&D 2nd Edition
63
Dagger of Venom
AD&D 2nd Edition
64
Quiver of Ehlonna & Bow +1
AD&D 2nd Edition
65
Bledorown
AD&D 2nd Edition
66
Liliornin
Dragonlance
67
Morrandar
Dragonlance
68
Amberstar
Dragonlance
69
Anatoly Crarr, Vampire
AD&D 2nd Edition
70
Gargoyle
AD&D 2nd Edition
71
Max Rinnen
AD&D 2nd Edition
72
Frost Giant
AD&D 2nd Edition
73
Cloak of Protection +2
AD&D 2nd Edition
74
Sword +3, Frost Brand
AD&D 2nd Edition
75

Helm of Opposite Alignment

AD&D 2nd Edition
76
Helm of Underwater Action
AD&D 2nd Edition
77
Seragrimm
Greyhawk
Rare-2
78
Drendar
Greyhawk
79
Norsinnow
AD&D 2nd Edition
Rare-2
80
Hell Hound
AD&D 2nd Edition
81

Chhe Phou

Forgotten Realms
82
Krazzora
AD&D 2nd Edition
83
Lakkonon
AD&D 2nd Edition
84
Zendhora
AD&D 2nd Edition
85
Gorsomm
AD&D 2nd Edition
86

Short Sword of Quickness

AD&D 2nd Edition
87

Helm of Teleportation

AD&D 2nd Edition
88
Brazier of Commanding Fire Elementals
AD&D 2nd Edition
89
Neerga, Green Dragon
Dragonlance
90
Azurem, Blue Dragon
Dragonlance
91
Kapak Draconian
Dragonlance
92
Bozak Draconian
Dragonlance
93
Glaze, White Dragon
Dragonlance
Rare-2
94
Magma, Red Dragon
Dragonlance
95

Amulet of Inescapable Location

AD&D 2nd Edition
96
Horn of Fog
Dragonlance
97
Gunthar Ironbeard
AD&D 2nd Edition
98
Thraygar Blackbeard
AD&D 2nd Edition
99
Persephone
AD&D 2nd Edition
100
Gimballon
AD&D 2nd Edition
101
Garth
AD&D 2nd Edition
102
Uthrac
AD&D 2nd Edition
103
Staff of Curing
AD&D 2nd Edition
104
Bracers of Archery
AD&D 2nd Edition
105
Drakkimor
AD&D 2nd Edition
106
Elianna
AD&D 2nd Edition
107
Owlbear
AD&D 2nd Edition
108
Talamius
AD&D 2nd Edition
Rare-2
109
Salem Ironring
Greyhawk
110
Bartolus Menk
Greyhawk
111
Donorow
Greyhawk
112
Borak
Greyhawk
113
Masakito
Forgotten Realms
114
Takako
Forgotten Realms
115
Randron
AD&D 2nd Edition
116
Talthoron
AD&D 2nd Edition
117

Gem of Seeing

AD&D 2nd Edition
118

Libram of Gainful Conjuration

AD&D 2nd Edition
119
Sword +2, Nine Lives Stealer
AD&D 2nd Edition
Rare-2
120
Thunderstorm
Forgotten Realms
121
Ettin
AD&D 2nd Edition
122
Klarenden
AD&D 2nd Edition
123
Nobilius
AD&D 2nd Edition
124
Oni
Forgotten Realms
125
Orsos
AD&D 2nd Edition
Rare-2
126
Staff of Power
AD&D 2nd Edition
Rare-2
127
Pouch of Accessibility
AD&D 2nd Edition
128

Axe of Hurling

+4
AD&D 2nd Edition
129
Helm of Comprehending Languages and Reading Magic
AD&D 2nd Edition
130
Cloak of Displacement
AD&D 2nd Edition
131
Mirror of Opposition
AD&D 2nd Edition
132
Heronimus
AD&D 2nd Edition
133
Oriana
AD&D 2nd Edition
134
Mardus
AD&D 2nd Edition
135
Checklist 2: 18–78
AD&D 2nd Edition
136
Checklist 3: 79–137
AD&D 2nd Edition
137
Checklist 1: 1–17, 738–746
AD&D 2nd Edition
138
Skie, Blue Dragon
Dragonlance
139
Fewmaster Toede
Dragonlance
140
Lord Verminaard
Dragonlance
141
Ember, Red Dragon
Dragonlance
142

Vaporighu

AD&D 2nd Edition
143
Maelephant
AD&D 2nd Edition
144
Bebilith
AD&D 2nd Edition
Rare-2
145
Boccob's Blessed Book
AD&D 2nd Edition
146
Boots of Levitation
AD&D 2nd Edition
147

Boots of Speed

AD&D 2nd Edition
148
Cloaker
Forgotten Realms
149
Thri-kreen (Mantis Warrior)
Forgotten Realms
150
Meazel
Forgotten Realms
151
Orc
AD&D 2nd Edition
152
Prince Torvil
AD&D 2nd Edition
153
Oceana, Blue Dragon
AD&D 2nd Edition
154

Sword of the Planes

AD&D 2nd Edition
155
Wand of Illusion
AD&D 2nd Edition
156

Flask of Curses

AD&D 2nd Edition
157
Gloves of Missile Snaring
AD&D 2nd Edition
158
Crysania
AD&D 2nd Edition
159
Puccalli
AD&D 2nd Edition
Rare-2
160
Beholder
AD&D 2nd Edition
161
Fejyelsae
AD&D 2nd Edition
162
Ogre
AD&D 2nd Edition
163
Gully Dwarf
Dragonlance
164
Martin
AD&D 2nd Edition
165
Krazen
AD&D 2nd Edition
166
Allisa of the Mists
Forgotten Realms
167
Bowl Commanding Water Elementals
AD&D 2nd Edition
168

Censer of Summoning Hostile Air Elementals

AD&D 2nd Edition
169
Warrior, Skeleton
Dragonlance
170
Dergard, Red Dragon
Dragonlance
171
Izz'terl
AD&D 2nd Edition
172
Tessen Leder
AD&D 2nd Edition
173
Grazaria, Green Dragon
AD&D 2nd Edition
174
Unicorn
AD&D 2nd Edition
175
Palin Majere
Dragonlance
176
Dougan Redhammer
Dragonlance
177
Princess Linea
Greyhawk
178
Hettman Dorbin Tsurin
Greyhawk
179
Mika
Greyhawk
180
Sysania
Greyhawk
181
Wolf
AD&D 2nd Edition
182
Marshana, Green Dragon
Dragonlance
183
Pryessant
Spelljammer
184
Chandalar
Spelljammer
185
Mind Flayer
Spelljammer
186
Orkondon
AD&D 2nd Edition
187
Michaela
AD&D 2nd Edition
188
Geoff of Easlon
AD&D 2nd Edition
189
Torrince
AD&D 2nd Edition
190
Sakornia
AD&D 2nd Edition
191
Alazar
AD&D 2nd Edition
192
Eriadne
AD&D 2nd Edition
193
Sword +1, Cursed
AD&D 2nd Edition
194
Rod of Terror
AD&D 2nd Edition
195
Staff of Withering
AD&D 2nd Edition
196
Bag of Holding
AD&D 2nd Edition
197
Bucknard's Everfull Purse
AD&D 2nd Edition
198

Boots of the North

AD&D 2nd Edition
199
Wand of Fear
AD&D 2nd Edition
200

Scroll, Protection from Magic

AD&D 2nd Edition
201
Wand of Enemy Detection
AD&D 2nd Edition
202

Broom of Flying

AD&D 2nd Edition
203
Decanter of Endless Water
AD&D 2nd Edition
204
Tome of Clear Thought
AD&D 2nd Edition
Rare-2
205

Sikkin Wu

,

Shen Lung or Spirit Dragon

Forgotten Realms
206
Go-Zu-Oni
Forgotten Realms
207
Jiki-ketsu-gaki
Forgotten Realms
208
Rod of Smiting
AD&D 2nd Edition
Rare-2
209
Cloak of the Bat
AD&D 2nd Edition
210
Cyan Bloodbane, Green Dragon
Dragonlance
211
King Lorac Caladon
Dragonlance
212
Riverwind
Dragonlance
213
Jarak-Sinn
Dragonlance
214
Griffon
Greyhawk
215
Waldo
Greyhawk
216
Blaze, Red Dragon
Dragonlance
Rare-2
217
Korumundu
AD&D 2nd Edition
218
Blizzard, White Dragon
AD&D 2nd Edition
219
Onyx, Black Dragon
Dragonlance
Rare-2
220
Elspeth
AD&D 2nd Edition
221
Smolder, Red Dragon
AD&D 2nd Edition
222
Valdemari, Bronze Dragon
Dragonlance
223
Zadoc
Greyhawk
224
Tyrinon
Greyhawk
Rare-2
225
Odin "All Father"
AD&D 2nd Edition
226
Doral
AD&D 2nd Edition
227
Ragna
AD&D 2nd Edition
228
Bruinthor
AD&D 2nd Edition
229
Arax
AD&D 2nd Edition
230
Helm of Telepathy
AD&D 2nd Edition
231

Dagger +2, Longtooth

AD&D 2nd Edition
232
Large Shield +1, +4 vs. missiles
AD&D 2nd Edition
233
Sword +1, Flame Tongue
AD&D 2nd Edition
234
Bracers of Defense
AD&D 2nd Edition
235

Bag of Transmuting

AD&D 2nd Edition
236
Pearl of Wisdom
AD&D 2nd Edition
237
Haninah
AD&D 2nd Edition
238
Dirck of Wildspace
Spelljammer
239
Inferno, Red Dragon
AD&D 2nd Edition
240
Pegasus
AD&D 2nd Edition
241
Azurem, Blue Dragon
Dragonlance
242
Iduna
AD&D 2nd Edition
243
Casimir
Forgotten Realms
Rare-2
244
Fire Giant, Undead
AD&D 2nd Edition
245
Malchus
AD&D 2nd Edition
246
Ayamee
AD&D 2nd Edition
247
Philemon
AD&D 2nd Edition
Rare-2
248
Flame, Red Dragon
AD&D 2nd Edition
249
Aurum, Gold Dragon
AD&D 2nd Edition
250
Ren o' the Blade
Forgotten Realms
251
Dracolich
Forgotten Realms
Rare-2
252
Chou Ling
Forgotten Realms
253
Drizzt Do'Urden
Forgotten Realms
254
Wulfgar
Forgotten Realms
255
Checklist 4: 138–177
AD&D 2nd Edition
256
Checklist 5:178–217
AD&D 2nd Edition
257
Checklist 6: 218–257
AD&D 2nd Edition
258
Necklace of Adaptation
AD&D 2nd Edition
259
Robe of Stars
AD&D 2nd Edition
260
Gauntlets of Ogre Power
AD&D 2nd Edition
261
Astral Dreadnought
AD&D 2nd Edition
262
Claudanius
AD&D 2nd Edition
Rare-1
263
Nanzar
AD&D 2nd Edition
264
Shabala
AD&D 2nd Edition
265
Korindell
AD&D 2nd Edition
Rare-1
266

Sukari

Forgotten Realms
267
Ki-rin
Forgotten Realms
268
Bayalun
Forgotten Realms
269

Ranach

Forgotten Realms
270

Dhoran

Forgotten Realms
271
Yamun Khahan
Forgotten Realms
272

Samuel

Forgotten Realms
273
Carmen
Forgotten Realms
274
Werebear
AD&D 2nd Edition
275
Dwarinom
AD&D 2nd Edition
276
Finder Wyvernspur, The Nameless Bard
Forgotten Realms
277
Grypht
Forgotten Realms
278
Giogioni Wyvernspur
Forgotten Realms
279
Mind Flayer
Spelljammer
Rare-1
280
Neogi
Spelljammer
281
Giff
Spelljammer
282
Sonya Dell'Anar, Vampire
Forgotten Realms
283
Cork Renford
Forgotten Realms
284
Orog
Forgotten Realms
285
Boots of Dancing
AD&D 2nd Edition
286
Cloak of Poisonousness
AD&D 2nd Edition
287
Morning Star +3
AD&D 2nd Edition
288
Sword +5, Holy Avenger
AD&D 2nd Edition
289

Bracers of Defenselessness

AD&D 2nd Edition
290
Hat of Disguise
AD&D 2nd Edition
291
The Pereghost
Forgotten Realms
292

Khoman

Forgotten Realms
293

Dazar

Forgotten Realms
294

Chalak

Forgotten Realms
295
Githyanki Knight
AD&D 2nd Edition
296
Githyanki Mage
AD&D 2nd Edition
Rare-1
297
Eldred Treydarr
AD&D 2nd Edition
298
Edomira, "Red Watcher"
AD&D 2nd Edition
Rare-1
299
Mist Wolf
Greyhawk
300
Sea Zombie
Greyhawk
301
Swordwraith
Greyhawk
302
Arina
AD&D 2nd Edition
303
Kendallar
AD&D 2nd Edition
304
Quagmiela, Green Dragon
Greyhawk
305
Kilian
Greyhawk
306
Static, Blue Dragon
Dragonlance
307
Crimson, Red Dragon
Dragonlance
308
Gauntlets of Swimming and Climbing
AD&D 2nd Edition
309

Jewel of Attacks

AD&D 2nd Edition
310
Brooch of Shielding
AD&D 2nd Edition
311
Harp of Charming
AD&D 2nd Edition
312
Mirror of Mental Prowess
AD&D 2nd Edition
313

Arrow of Direction

AD&D 2nd Edition
314

Staff-Spear

AD&D 2nd Edition
315

Robe of Vermin

AD&D 2nd Edition
316

Karlott

Forgotten Realms
317

Joliet

Forgotten Realms
318
Malakan
AD&D 2nd Edition
319
Makenzie
AD&D 2nd Edition
320
Pallandra
Forgotten Realms
321
Tysiln San
Greyhawk
322
Elephant
AD&D 2nd Edition
323
Xanthom
AD&D 2nd Edition
324
Elad Edals
AD&D 2nd Edition
325
Miltiades
AD&D 2nd Edition
326
Goram, Hill Giant
AD&D 2nd Edition
327
Varalla, Lich-Queen
Forgotten Realms
328
Pseudodragon
Forgotten Realms
329
Sandor
AD&D 2nd Edition
330
Lycanthrope, Werewolf
AD&D 2nd Edition
331
Hilmar
Dragonlance
332
Kraiton
AD&D 2nd Edition
333
Emilia
AD&D 2nd Edition
334
Ian Jytman
AD&D 2nd Edition
335
Julius
AD&D 2nd Edition
336
Finian Garwoode
AD&D 2nd Edition
337
Marquis
AD&D 2nd Edition
338
Mavis
AD&D 2nd Edition
339
Ramsey
AD&D 2nd Edition
340
Avildar, Red Dragon
AD&D 2nd Edition
341
Einar
AD&D 2nd Edition
342
Carolyn
AD&D 2nd Edition
343
Volmer
AD&D 2nd Edition
344
Catriona, Vampire
AD&D 2nd Edition
345
Emerentia, Gold Dragon
Greyhawk
346
Anuirin
Greyhawk
347
Wand of Metal and Mineral Detection
AD&D 2nd Edition
348
Cloak of the Manta Ray
AD&D 2nd Edition
349
Sword +2, Dragon Slayer
AD&D 2nd Edition
350

Manual of Stealthy Pilfering

AD&D 2nd Edition
351
Beaker of Plentiful Potions
AD&D 2nd Edition
352
Axe +2, Throwing
AD&D 2nd Edition
353
Sword +4, Defender
AD&D 2nd Edition
354
Amulet of Life Protection
AD&D 2nd Edition
355
Trystan
Greyhawk
356
Miles
Greyhawk
357
Thorvid
Greyhawk
358
Chad
AD&D 2nd Edition
359
Yara
Greyhawk
360
Jewel of Flawlessness
AD&D 2nd Edition
361
Universal Solvent
AD&D 2nd Edition
362
Efreeti Bottle
AD&D 2nd Edition
363
Keoghtom's Ointment
AD&D 2nd Edition
364

Ghengal

Forgotten Realms
365

Sandiraksiva, The Black Courser

Forgotten Realms
366
Cephus, Blue Dragon
Dragonlance
367
Nolzur's Marvelous Pigments
AD&D 2nd Edition
368
Poresche, Red Dragon
Dragonlance
369
Calandria
Dragonlance
370

Gulian

Forgotten Realms
371

Wendel

Forgotten Realms
372
Zombie
AD&D 2nd Edition
373
Candace
AD&D 2nd Edition
374
Sturm Brightblade
Dragonlance
375
Checklist 7: 258–297
AD&D 2nd Edition
376
Checklist 8: 298–337
AD&D 2nd Edition
377
Checklist 9: 338–377
AD&D 2nd Edition
378
Sithel
Dragonlance
379
Sithas
Dragonlance
380
Kith-Kanan
Dragonlance
381
Meredoth
Ravenloft
Rare-2
382
Grim Reaper
Ravenloft
383
Werebat
Ravenloft
384
Bussengeist
Ravenloft
385
Minotaur of Taladas
Dragonlance
386
Carpet of Flying
AD&D 2nd Edition
387
Manual of Bodily Health
AD&D 2nd Edition
388

Talisman of Pure Good

AD&D 2nd Edition
389

Pipes of Haunting

AD&D 2nd Edition
390

Gem of Brightness

AD&D 2nd Edition
391
Staff of Striking
AD&D 2nd Edition
392

Robe of Powerlessness

AD&D 2nd Edition
393
Stone of Good Luck
AD&D 2nd Edition
394
Wand of Secret Door and Trap Location
AD&D 2nd Edition
395

Necklace of Strangulation

AD&D 2nd Edition
396
Periapt of Wound Closure
AD&D 2nd Edition
Rare-2
397
Obliviax (Memory Moss)
AD&D 2nd Edition
398
Mummy
AD&D 2nd Edition
399
Mud-man
AD&D 2nd Edition
400
Mold, Brown
AD&D 2nd Edition
401
Mold, Yellow
AD&D 2nd Edition
402
Mimic
AD&D 2nd Edition
403
Kobold
AD&D 2nd Edition
404
Jermlaine
AD&D 2nd Edition
Rare-2
405
Martel
AD&D 2nd Edition
406
Gruendar
AD&D 2nd Edition
407
Staenorr
AD&D 2nd Edition
408
Tevra
Dragonlance
409
Trent
Greyhawk
410
Darrick
AD&D 2nd Edition
411

Halvor II

Forgotten Realms
412
Verdantia, Green Dragon
Dragonlance
Rare-2
413
Gloriana
AD&D 2nd Edition
414
Gabriel
Forgotten Realms
415

Ambrose

Forgotten Realms
416

Barent

Forgotten Realms
417
Duncan
Forgotten Realms
418
Reginald
AD&D 2nd Edition
419
Kereth
AD&D 2nd Edition
420
Maelstrom, Red Dragon
Dragonlance
421

Stone of Weight

AD&D 2nd Edition
422
Ring of Blinking
AD&D 2nd Edition
423

Oil of Timelessness

AD&D 2nd Edition
424
Eversmoking Bottle
AD&D 2nd Edition
Rare-2
425

Boots of Varied Tracks

AD&D 2nd Edition
426

Oil of Fumbling

AD&D 2nd Edition
427

Scroll of Protection from Cold

AD&D 2nd Edition
428

Talisman of Ultimate Evil

AD&D 2nd Edition
429
Octopus, Giant
AD&D 2nd Edition
430
Badger
AD&D 2nd Edition
431
Troll
AD&D 2nd Edition
432
Shambling Mound
AD&D 2nd Edition
433
Satyr
AD&D 2nd Edition
434
Spider, Giant
AD&D 2nd Edition
Rare-2
435
Aboleth
AD&D 2nd Edition
436
Air Elemental
AD&D 2nd Edition
437
Earth Elemental
AD&D 2nd Edition
438

Scroll of Protection from Acid

AD&D 2nd Edition
439
Potion of Clairaudience
AD&D 2nd Edition
440
Ring of Djinni Summoning
AD&D 2nd Edition
441

Ring of Invisibility

AD&D 2nd Edition
442
Potion of Extra-Healing
AD&D 2nd Edition
443

Scroll of Protection from Petrification

AD&D 2nd Edition
444
Elixir of Health
AD&D 2nd Edition
445

Scroll of Protection from Plants

AD&D 2nd Edition
446
Gorgosaurus
Forgotten Realms
447
Hyena
AD&D 2nd Edition
448
Vattaan
Dragonlance
449
Silvara, Silver Dragon
Dragonlance
450
Tinuel
AD&D 2nd Edition
451
Kendal
AD&D 2nd Edition
452
Oran Firehammer
AD&D 2nd Edition
453
Quintin
AD&D 2nd Edition
454
Huma
Dragonlance
455
Huma's Silver Dragon
Dragonlance
456

Seiroku Ashida

Forgotten Realms
Rare-2
457
Goblin Spider
Forgotten Realms
458
Ring of Shocking Grasp
AD&D 2nd Edition
459
Ring of Sustenance
AD&D 2nd Edition
460

Scroll of Protection from Water

AD&D 2nd Edition
461
Peregrine
AD&D 2nd Edition
462
Allene
AD&D 2nd Edition
463
Rufus Thistlebee
AD&D 2nd Edition
464
Tobias
AD&D 2nd Edition
465
Barracuda
AD&D 2nd Edition
466
Bulette
AD&D 2nd Edition
Rare-2
467
Carrion Crawler
AD&D 2nd Edition
468
Catoblepas
AD&D 2nd Edition
469
Chimera
AD&D 2nd Edition
470
Axebeak
AD&D 2nd Edition
471
Triceratops
AD&D 2nd Edition
472
Dryad
AD&D 2nd Edition
473
Ettercap
AD&D 2nd Edition
474
Ghost
AD&D 2nd Edition
475
Galeb Duhr
AD&D 2nd Edition
476
Goblin
AD&D 2nd Edition
477
Sea Hag
AD&D 2nd Edition
478

Matron Grazia Drodeen

Forgotten Realms
479

Alodia Drodeen

Forgotten Realms
480
Mind Flayer
Forgotten Realms
481
Gabrielle Aderre, Lord of Invidia
Ravenloft
482
Azalin, Lord of Darkon
Ravenloft
483
Vlad Drakov, Lord of Falkovnia
Ravenloft
484
Lord Wilfred Godefroy, Ghost Lord of Mordent
Ravenloft
485
Hazlik, Lord of Hazlan
Ravenloft
486
Harkon Lukas, Lord of Kartakass
Ravenloft
487
Frantisek Markov, Lord of Markovia
Ravenloft
488
Yagno Petrovna, Lord of G'henna
Ravenloft
489
Strahd Von Zarovich, Lord of Barovia
Ravenloft
490
Jovena
AD&D 2nd Edition
491
Gerritt
AD&D 2nd Edition
492
Wilhelm
AD&D 2nd Edition
493
Theodoric
AD&D 2nd Edition
Rare-2
494
Mordenkainen
Greyhawk
495
Checklist 10: 378–417
AD&D 2nd Edition
496
Checklist 11: 418–457
AD&D 2nd Edition
497
Checklist 12: 458–497
AD&D 2nd Edition
498
Rod of Beguiling
AD&D 2nd Edition
499

Wand of Earth and Stone

AD&D 2nd Edition
500
Wand of Magic Detection
AD&D 2nd Edition
501
Wand of Negation
AD&D 2nd Edition
502
Amulet of Proof Against Detection and Location
AD&D 2nd Edition
503
Boots of Elvenkind
AD&D 2nd Edition
504

Drums of Deafening

AD&D 2nd Edition
505
Eyes of Charming
AD&D 2nd Edition
506
Umber Hulk
AD&D 2nd Edition
507
Displacer Beast
AD&D 2nd Edition
508
Camel
AD&D 2nd Edition
509
Cat
AD&D 2nd Edition
510
Horse
AD&D 2nd Edition
511
Ape, Carnivorous
AD&D 2nd Edition
512
Margoyle
AD&D 2nd Edition
Rare-2
513
Bat, Giant
AD&D 2nd Edition
514
Lorin
AD&D 2nd Edition
515
Marith
AD&D 2nd Edition
516
Niles
AD&D 2nd Edition
517
Intellect Devourer, Adult
Forgotten Realms
Rare-2
518
Hasan Balu
AD&D 2nd Edition
519
Noble Djinni
Forgotten Realms
520

Quiornim

, Gold Dragon
Forgotten Realms
521
Charles
AD&D 2nd Edition
522
Vance
AD&D 2nd Edition
523
Gershom
Forgotten Realms
Rare-2
524
Eyes of the Eagle
AD&D 2nd Edition
525
Girdle of Giant Strength
AD&D 2nd Edition
526

Harp of Discord

AD&D 2nd Edition
527

Hat of Stupidity

AD&D 2nd Edition
528

Horn of Bubbles

AD&D 2nd Edition
529
Incense of Obsession
AD&D 2nd Edition
530

Libram of Silver Magic

AD&D 2nd Edition
531
Potion of Delusion
AD&D 2nd Edition
532
Vampiric Mist
Greyhawk
533
Blood Sea Imp
Dragonlance
534
Yeth Hound
Greyhawk
535
Eyewing
Dragonlance
536
Fetch
Dragonlance
Rare-2
537
Sabrita, Shadow Dragon
Greyhawk
538
Disir
Dragonlance
539
Crypt Thing
Greyhawk
540
Elixir of Madness
AD&D 2nd Edition
541

Oil of Disenchantment

AD&D 2nd Edition
Rare-2
542

Philter of Stammering and Stuttering

AD&D 2nd Edition
543
Potion of Sweet Water
AD&D 2nd Edition
544

Ring of Delusion

AD&D 2nd Edition
545

Ring of Human Influence

AD&D 2nd Edition
Rare-2
546
Ring of Mammal Control
AD&D 2nd Edition
547
Ring of Mind Shielding
AD&D 2nd Edition
548
Wasp
Spelljammer
549
Man-o-War
Spelljammer
550
Nautiloid
Spelljammer
551
Dragonfly
Spelljammer
552
Tradesman
Spelljammer
553
Neogi Mindspider
Spelljammer
554
Neogi Deathspider
Spelljammer
555
Hammership
Spelljammer
556
Squid Ship
Spelljammer
557
Lander
Forgotten Realms
558
Koresh
Forgotten Realms
559
Swendi
Forgotten Realms
560
Joseph
Forgotten Realms
561
Pteranodon
Forgotten Realms
562
Cairn
AD&D 2nd Edition
563
Ireisal
AD&D 2nd Edition
Rare-2
564
Ghoul
AD&D 2nd Edition
565

Sim Piang

Forgotten Realms
566
Ring of X-Ray Vision
AD&D 2nd Edition
567

Scroll of Protection from Dragon Breath

AD&D 2nd Edition
568

Scroll of Protection from Electricity

AD&D 2nd Edition
569

Scroll of Protection from Elementals

AD&D 2nd Edition
570
Scroll of Protection from Fire
AD&D 2nd Edition
571

Scroll of Protection from Gas

AD&D 2nd Edition
572
Kech
Greyhawk
573
Kappa
Forgotten Realms
574
Hook Horror
Greyhawk
575
Fire Elemental
AD&D 2nd Edition
576
Water Elemental
AD&D 2nd Edition
577
Gelatinous Cube
AD&D 2nd Edition
578
Green Slime
AD&D 2nd Edition
579
Piercer
AD&D 2nd Edition
580
Roper
AD&D 2nd Edition
581
Rust Monster
AD&D 2nd Edition
582
Treant
AD&D 2nd Edition
583
Xorn
AD&D 2nd Edition
584
Yuan-ti
AD&D 2nd Edition
585
Yeti
AD&D 2nd Edition
586
Kaz the Minotaur
Dragonlance
587
Leofric
AD&D 2nd Edition
Rare-2
588
Volita
AD&D 2nd Edition
589
Garic Stonefoot
AD&D 2nd Edition
590
Romney
AD&D 2nd Edition
591
Stribling
AD&D 2nd Edition
592
Kelton
AD&D 2nd Edition
593
Halden
AD&D 2nd Edition
594
Olivia
AD&D 2nd Edition
595
Nameless Priest of Zard
AD&D 2nd Edition
596
Emerald, Green Dragon
AD&D 2nd Edition
597
Averill
AD&D 2nd Edition
598
Guntar Griswold
AD&D 2nd Edition
599

Hubadai

Forgotten Realms
600
Elminster
Forgotten Realms
601
Ruga
AD&D 2nd Edition
602
Autumn
Dragonlance
Rare-2
603
Winslow
AD&D 2nd Edition
604

Selim

Forgotten Realms
605
Darbee
AD&D 2nd Edition
606
Carcavulp
AD&D 2nd Edition
607
Worden Ironfist
Forgotten Realms
608
Vasos Flameslayer
Forgotten Realms
609
Udall Granitecrusher
Forgotten Realms
610
Tibold Hillmover
Forgotten Realms
611
Strahd
Ravenloft
Rare-2
612
Rat, Common
AD&D 2nd Edition
613
Curcio
AD&D 2nd Edition
614
Uthgar
Forgotten Realms
Rare-2
615
Checklist 13: 498–537
AD&D 2nd Edition
616
Checklist 14: 538–577
AD&D 2nd Edition
617
Checklist 15: 578–617
AD&D 2nd Edition
618
Frog, Giant
AD&D 2nd Edition
619
Pixie
AD&D 2nd Edition
620
Iron Golem
AD&D 2nd Edition
Rare-1
621
Stirge
AD&D 2nd Edition
622
Asperii
Forgotten Realms
623
Brownie
AD&D 2nd Edition
624
Couatl
AD&D 2nd Edition
625
Darkenbeast
Forgotten Realms
626
Brontosaurus
Forgotten Realms
627
Iguanodon
Forgotten Realms
628
Rod of Rulership
AD&D 2nd Edition
Rare-1
629
Wand of Lightning
AD&D 2nd Edition
630
Wand of Magic Missiles
AD&D 2nd Edition
631

Wand of Paralyzation

AD&D 2nd Edition
632

Horn of Goodness

/

Evil

AD&D 2nd Edition
633

Manual of Quickness of Action

AD&D 2nd Edition
634

Maul of the Titans

AD&D 2nd Edition
635
Murlynd's Spoon
AD&D 2nd Edition
636
Pearl of the Sirines
AD&D 2nd Edition
637
Pipes of Sounding
AD&D 2nd Edition
638
Doppelganger
AD&D 2nd Edition
639
Eagle, Giant
AD&D 2nd Edition
640
Shrieker
AD&D 2nd Edition
641
Cloud Giant
AD&D 2nd Edition
642
Korred
AD&D 2nd Edition
643
Trapper
AD&D 2nd Edition
644
Weretiger
AD&D 2nd Edition
645
Priest of Milil (Lord of All Songs)
Forgotten Realms
646
Priest of Lathander (Morninglord)
Forgotten Realms
647
Priest of Torm (The True)
Forgotten Realms
648
Priest of Waukeen (Merchant's Friend)
Forgotten Realms
649
Priest of Gond (Wonderbringer)
Forgotten Realms
650
Priest of Silvanus (Oak Father)
Forgotten Realms
651
Priest of Mask (Lord of Shadows)
Forgotten Realms
652
Priest of Talona (Lady of Poison)
Forgotten Realms
653
Priest of Malar (The Beastlord)
Forgotten Realms
654
King Azoun IV
Forgotten Realms
Rare-1
655
Princess Alusair
Forgotten Realms
656
Torg mac Cei, Ironlord of Earthfast
Forgotten Realms
657
Dwarf of Earthfast
Forgotten Realms
658
Emperor Kai Tsao Shou Chin
Forgotten Realms
659
Batu Min Ho
Forgotten Realms
Rare-1
660

Lady Batu Hsuang Wu

Forgotten Realms
661

Mandarin Ting Mei Wan

Forgotten Realms
662
Nymph
Forgotten Realms
663
Black Pudding
Forgotten Realms
664
Dun Pudding
Forgotten Realms
665
Giant Shark
AD&D 2nd Edition
666
Slithering Tracker
AD&D 2nd Edition
667
Sprite
AD&D 2nd Edition
668
Living Web
Forgotten Realms
Rare-1
669
Wraith
AD&D 2nd Edition
670
Rope of Climbing
AD&D 2nd Edition
671

Scarab of Enraging Enemies

AD&D 2nd Edition
672

Scarab of Insanity

AD&D 2nd Edition
673
Wind Fan
AD&D 2nd Edition
674
Rug of Smothering
AD&D 2nd Edition
675
Potion of Diminution
AD&D 2nd Edition
Rare-1
676
Elixir of Youth
AD&D 2nd Edition
677
Philter of Glibness
AD&D 2nd Edition
678
Neirgral, Green Dragon
AD&D 2nd Edition
679
Maison Thorvald
AD&D 2nd Edition
Rare-1
680
Eleazar Clyde, Vampire
Ravenloft
681
Kienan
AD&D 2nd Edition
682

Oorag

Forgotten Realms
683

Aeriell

Forgotten Realms
684
The Magister
Forgotten Realms
685
Takhisis, Queen of Darkness, Dragonqueen, She of Many Faces
Dragonlance
686
Firestar
Forgotten Realms
687
Gnoll
AD&D 2nd Edition
688
Merman
AD&D 2nd Edition
689
Myconid
AD&D 2nd Edition
690

Topaz

, Yellow Dragon
Forgotten Realms
691
Turqual, Blue Dragon
Dragonlance
692
Paladine, Fizban the Fabulous, Father of Good and Master of the Law
Dragonlance
693
Lord Gunthar
Dragonlance
694
Giltarald, Gold Dragon
Dragonlance
695
Vampire
Ravenloft
696

Okuma

Forgotten Realms
697

Toraga

Forgotten Realms
698

Min Lang

Forgotten Realms
699
Grogan
Dragonlance
700
Belkarall
Dragonlance
701
Theros Ironfeld
Dragonlance
702
Potion of Rainbow Hues
AD&D 2nd Edition
703
Potion of Vitality
AD&D 2nd Edition
704
Ring of Free Action
AD&D 2nd Edition
705
Ring of Jumping
AD&D 2nd Edition
706
Ring of Swimming
AD&D 2nd Edition
707
Ring of Warmth
AD&D 2nd Edition
708
Ring of Water Walking
AD&D 2nd Edition
709
Fistandantilus
Dragonlance
710
Lord Soth, Deathknight
Dragonlance
Rare-1
711

Scroll of Protection from Lycanthropes

AD&D 2nd Edition
712

Scroll of Protection from Poison

AD&D 2nd Edition
713

Scroll of Protection from Undead

AD&D 2nd Edition
714
Scroll of Protection from Possession
AD&D 2nd Edition
715

Scroll, Cursed

AD&D 2nd Edition
716
Trooper Herphan Gomja
Spelljammer
717
Captain Hemar, Captain of the Trader Penumbra
Spelljammer
718

Teldin Moore

Spelljammer
719
Pheragas of Northern Ergoth
Dragonlance
720
Kiiri of the Sirines
Dragonlance
721
The Red Minotaur
Dragonlance
722
Pegataur
AD&D 2nd Edition
Rare-1
723
T'Laan
Spelljammer
724
Halloran
Forgotten Realms
725
Erixitl of Palul
Forgotten Realms
726
Captain Daggrande
Forgotten Realms
727
Amerigo
Forgotten Realms
728
Gultec, Captain of Jaguars
Forgotten Realms
Rare-1
729
Qotal, the Plumed One
Forgotten Realms
730

Takto

and

Loktil

Forgotten Realms
731
Darien
Forgotten Realms
732

Bishou Domincus

Forgotten Realms
733

Lactun

Forgotten Realms
734

Zocon

Forgotten Realms
735
Checklist 16: 618–657
AD&D 2nd Edition
736
Checklist 17: 658–697
AD&D 2nd Edition
737
Checklist 18: 698–737
AD&D 2nd Edition
738
Arialana
AD&D 2nd Edition
Promo only
739
Belgora
AD&D 2nd Edition
Promo only
740

Sword of Life Stealing

AD&D 2nd Edition
Promo only
741
Domarlynnas
AD&D 2nd Edition
Promo only
742
Kyrrolla
AD&D 2nd Edition
Promo only
743
Cytulliar
AD&D 2nd Edition
Promo only
744
Poliamus Azar
AD&D 2nd Edition
Promo only
745
Zerrannon
AD&D 2nd Edition
Promo only
746
Neeva
Dark Sun
Promo only
747
Fallon
AD&D 2nd Edition
Factory set only
748
Indirion
AD&D 2nd Edition
Factory set only
749
Baloreik
Forgotten Realms
Factory set only
750
Gort Ta'alen
Forgotten Realms
Factory set only
1992 series
[
]
#
Name
Setting
Note
1
Aarakocra
AD&D 2nd Edition
2
Aerial Servant
AD&D 2nd Edition
3
Basilisk (Lesser)
AD&D 2nd Edition
4
Behir
AD&D 2nd Edition
5
Beholder
AD&D 2nd Edition
6
Bugbear
AD&D 2nd Edition
7
Bullywug
AD&D 2nd Edition
8
Centaur, Sylvan
AD&D 2nd Edition
9
Cloaker
Forgotten Realms
10
Dinosaur, Allosaurus
Forgotten Realms
11
Dinosaur, Titanothere
Forgotten Realms
12

Beastman

Greyhawk
13
Bonesnapper
Greyhawk
14
Bakemono
Forgotten Realms
15
Tigbanua buso
Forgotten Realms
16
Dragonnel
Greyhawk
17
Dracon
Spelljammer
18
Chiang Lung (River Dragon)
Forgotten Realms
19
Li Lung (Earth Dragon)
Forgotten Realms
20
Tun Mi Lung (Typhoon Dragon)
Forgotten Realms
21
Anton's Vorpal Blade
Greyhawk
22

Ren's Sword of Dancing

Forgotten Realms
23
Tarl Vanovitch's Sun Blade
Ravenloft
24
The Fisher's

Trident of Fish Command

Greyhawk
25
Noj's

Shield -1, Missile Attractor

Spelljammer
26
Tulen's

Plate Mail of Etherealness

Greyhawk
27
Sigh Danovitche's Wings of Flying
Dragonlance
28
The Modified

Talisman of Zagy

Greyhawk
29
Gax's Sphere of Annihilation
AD&D 2nd Edition
30
Quaal's Mystical Feather Token
Greyhawk
31
Dori's Obsidian Steed of Wondrous Power
AD&D 2nd Edition
32

Janean

's Deck of Many Things
Forgotten Realms
33
Theon's

Folding Boat

Spelljammer
34
Dunhill's Spelljamming Apparatus of Kwalish
Spelljammer
35
Alexander's Chime of Opening
AD&D 2nd Edition
36
Simon's Drawbridge
AD&D 2nd Edition
Mini-series: Portals
37
Iron Portcullis of Wyndlass
AD&D 2nd Edition
Mini-series: Portals
38
Aruthir's Living Door
AD&D 2nd Edition
Mini-series: Portals
39
Chester's Wishing Well
AD&D 2nd Edition
Mini-series: Portals
40

Trick Door

Forgotten Realms
Mini-series: Portals
41
Mellenea's Pool Portal
AD&D 2nd Edition
Mini-series: Portals
42
Benhi's Express Ladder
AD&D 2nd Edition
Mini-series: Portals
43
Portable Door
AD&D 2nd Edition
Mini-series: Portals
44
Pyros's Fire Exit
AD&D 2nd Edition
Mini-series: Portals
45

Arrow Alley

Forgotten Realms
Mini-series: Corridors
46
Mortee's Blind Hallway
AD&D 2nd Edition
Mini-series: Corridors
47
Shandilin's Rotten Choice
AD&D 2nd Edition
Mini-series: Corridors
48
Zucc's Spiral Stairway
AD&D 2nd Edition
Mini-series: Corridors
49
Macovey's Bridge
AD&D 2nd Edition
Mini-series: Corridors
50
Ballap's Dead End
AD&D 2nd Edition
Mini-series: Corridors
51
Quebe's Pick-a-Door
Ravenloft
Mini-series: Corridors
52
The Long-Jump
AD&D 2nd Edition
Mini-series: Corridors
53
Living Wall
Ravenloft
Mini-series: Corridors
54
Dathan of Thunderstone
Forgotten Realms
55
Catherine "Cat" Kincaid
Forgotten Realms
56
Orson
AD&D 2nd Edition
57
Vordraz
Greyhawk
58
Cymbelene
Dragonlance
59
Wulgar Harrowsun
Greyhawk
60

Meriba Rahabahne

Forgotten Realms
61
Hoelgar Arnutsson
Ravenloft
62
Lady Sharl Harlena
AD&D 2nd Edition
63

Ramen Byrrd

Forgotten Realms
64
Reman Byrrd
Forgotten Realms
65
Lana Thorbin
Forgotten Realms
66
Thom "Pug" Puggilly
AD&D 2nd Edition
67
Tatanya Elnohar
Dragonlance
68
Rafe Willowand
Ravenloft
69
Ilswyn of the Isles
Spelljammer
70
Master Khotus
Spelljammer
71
Grey Agathena
Greyhawk
72

Otto "Mouse"

Forgotten Realms
73

Thrakmar Nikfar

Forgotten Realms
74

Wallingford Greenhill

Forgotten Realms
75

Jaqolya ("Jaq")

Forgotten Realms
76

Pendleton Merryweather

Forgotten Realms
77
Pandaro (The Fox)
Greyhawk
78
Nystallina Dalendra
Dragonlance
79
Granny Cozzners
AD&D 2nd Edition
80
Hrulgin Beefbone
AD&D 2nd Edition
81
Argripina
AD&D 2nd Edition
82

Lanatiramae

Forgotten Realms
83
Jennak Firehand
Greyhawk
84
Amethyst Trueblood
Forgotten Realms
85
Karani
Forgotten Realms
86
Marion Robinsdottir
Ravenloft
87
Kamshir Strongtalon
Forgotten Realms
88
Tiralaylee Tai-Muran
Forgotten Realms
89

Jasper Thunderhand

Forgotten Realms
90
Symbuk Torul
Ravenloft
91
Terilonilae Tai-Koris
Greyhawk
92

Sherry Feldstone

Forgotten Realms
93

Trelia Mornmay

Forgotten Realms
94
Aeshallara Corwin
Greyhawk
95

Timon Silvertongue

Forgotten Realms
96

Sheeryl Soulsearcher

Forgotten Realms
97
Nura D'Agor
Forgotten Realms
98
Kylia
Forgotten Realms
99

Drake Elderwood

Forgotten Realms
100
Agrorn Silverleaf
Forgotten Realms
101
Nilat
Forgotten Realms
102
Katyr
Forgotten Realms
103

Annelwin

Forgotten Realms
104
Pyn Trillos
Greyhawk
105
Aylia
Spelljammer
106
Dohnibor
Greyhawk
107
Ardonell Firemoon
Forgotten Realms
108

Thenek Strongaxe

Forgotten Realms
109
Brogan Steele
Greyhawk
110
Teekli Quickstep
Dragonlance
111
Adolmus
Forgotten Realms
112
Guenhwyvar
Forgotten Realms
113
Riallus
AD&D 2nd Edition
114
Perigon
Greyhawk
115
Pellinor
Spelljammer
116
Kenuchio
AD&D 2nd Edition
117
Mariko Bareshu
AD&D 2nd Edition
118
Checklist: 1–40
Forgotten Realms
119
Checklist: 41–80
Spelljammer
120
Checklist: 81–120
Greyhawk
121
Dragonne
AD&D 2nd Edition
122
Dwarf, Duergar
AD&D 2nd Edition
123
Ettin
AD&D 2nd Edition
124
Firenewt
Forgotten Realms
125
Gargoyle
AD&D 2nd Edition
126
Marid Genie
AD&D 2nd Edition
127
Ghoul
AD&D 2nd Edition
128
Fire Giant
AD&D 2nd Edition
129
Hill Giant
AD&D 2nd Edition
130
Storm Giant
AD&D 2nd Edition
131
Cyclops
AD&D 2nd Edition
132
Fomorian
AD&D 2nd Edition
133
Gnome
AD&D 2nd Edition
134
Clay Golem
AD&D 2nd Edition
135
Griffon
AD&D 2nd Edition
136
Groaning Spirit (Banshee)
AD&D 2nd Edition
137
Least Guardian Daemon
AD&D 2nd Edition
138
Harpy
AD&D 2nd Edition
139
Hippocampus
AD&D 2nd Edition
140
Hobgoblin
AD&D 2nd Edition
141
Hrulgin's Rope of Entanglement
AD&D 2nd Edition
142
Nura D'Agor's Mirror of Life Trapping
Forgotten Realms
143
Violet Dindower's Dust of Disappearance
Spelljammer
144

Jasper Thunderhand

's Handy Haversack
Forgotten Realms
145
Louie Dulama's Alchemy Jug
Greyhawk
146
Kerisis's

Girdle of Femininity

AD&D 2nd Edition
147
Runjoye's Winged Boots
Dragonlance
148

Ebomara

's Slippers of Spider Climbing
Forgotten Realms
149

Robe of Blending

Ravenloft
150
Theodolus's

cloak of Arachnida

Greyhawk
151
Mazrikoth's Scarab of Death
Ravenloft
152
Haroistem's Phylactery of Faithfulness
Forgotten Realms
153
Noj's Necklace of Not-so-smart Missiles
Spelljammer
154
Locke's Medallion of Thought Projection
Forgotten Realms
155
Korr's Book of Infinite Spells
Greyhawk
156
Spring-noose Trap
AD&D 2nd Edition
Mini-series: Traps
157
Stake-lined Pit
AD&D 2nd Edition
Mini-series: Traps
158
Teeter-totter Lid Pit
AD&D 2nd Edition
Mini-series: Traps
159
Rebound-Spear Trap
AD&D 2nd Edition
Mini-series: Traps
160
Kissing Maidens
AD&D 2nd Edition
Mini-series: Traps
161
Pit of Spores
AD&D 2nd Edition
Mini-series: Traps
162
Infested Pit
AD&D 2nd Edition
Mini-series: Traps
163
Pit of Cold Death
AD&D 2nd Edition
Mini-series: Traps
164
Mimic Guard
AD&D 2nd Edition
Mini-series: Traps
165
Mordenkainen
Greyhawk
Mini-series: Mordenkainen and the Circle of Eight
166
Bigby
Greyhawk
Mini-series: Mordenkainen and the Circle of Eight
167

Nystul

Greyhawk
Mini-series: Mordenkainen and the Circle of Eight
168

Otto

Greyhawk
Mini-series: Mordenkainen and the Circle of Eight
169
Drawmij
Greyhawk
Mini-series: Mordenkainen and the Circle of Eight
170
Otiluke
Greyhawk
Mini-series: Mordenkainen and the Circle of Eight
171

Rary the Traitor

Greyhawk
Mini-series: Mordenkainen and the Circle of Eight
172
Tenser
Greyhawk
Mini-series: Mordenkainen and the Circle of Eight
173
Jallarzi Sallavarian
Greyhawk
Mini-series: Mordenkainen and the Circle of Eight
174
Gelonna
Spelljammer
175
Tasup
Greyhawk
176
Javair
AD&D 2nd Edition
177
Wel Jon
AD&D 2nd Edition
178
Polly the Pirate
AD&D 2nd Edition
179
Haikur
Forgotten Realms
180
Jalavier, Rogue Extraordinaire
AD&D 2nd Edition
181
Estheria
Dragonlance
182
Pontum
AD&D 2nd Edition
183
Rhymer
AD&D 2nd Edition
184
Jaht
AD&D 2nd Edition
185
Minivera
AD&D 2nd Edition
186
Tuiggi
AD&D 2nd Edition
187
Ari Stauffan
AD&D 2nd Edition
188
Finne Tuain
AD&D 2nd Edition
189
Frizzt Boz'Wevial
Forgotten Realms
190
Staloungue
AD&D 2nd Edition
191
Ooma Ptermani
AD&D 2nd Edition
192
Joshua DeSaville
Greyhawk
193

Briney Valesaris

Forgotten Realms
194
Kiara of Chendl
Greyhawk
195
Andre Davies
Dragonlance
196
Hakan
Dragonlance
197
Kellin Davies
Dragonlance
198
Belladonna Glasei
Greyhawk
199
Alanik Ray
Ravenloft
200
Dorotha Kenig
Ravenloft
201
Fizbot Soulhammer
Greyhawk
202
Grott Whakdit
Greyhawk
203

Aeark

Forgotten Realms
204

Chin Shi Lang

Forgotten Realms
205
Fredresha
Dragonlance
206

Sin Sha Jenna

Forgotten Realms
207
Fedorana
Greyhawk
208
Grazzle
Spelljammer
209
Zod Thistlethyme
AD&D 2nd Edition
210
The Great Druid
AD&D 2nd Edition
211
Borealis
AD&D 2nd Edition
212
Infinity
Forgotten Realms
213
Ray-el
Greyhawk
214
Helliman McKillum
Forgotten Realms
215
Sir Tolam
Greyhawk
216
Palinthusian ("Pal") Chaine
Dragonlance
217
Mitre LeMond
Forgotten Realms
218
Corinne
AD&D 2nd Edition
219
Red
Forgotten Realms
220
Raz
Greyhawk
221
Morgan Longbow
Forgotten Realms
222
Tipsy Toehammer
Forgotten Realms
223
Mahavesshnu
AD&D 2nd Edition
224
The Resplendent Crynar Randal
Greyhawk
225
Denderorn
Greyhawk
226
Warton the Wiley
AD&D 2nd Edition
227
Kell
AD&D 2nd Edition
228
Bronwen the Bold
AD&D 2nd Edition
229
Warburton
AD&D 2nd Edition
230
Meari
AD&D 2nd Edition
231
Stelectra
AD&D 2nd Edition
232
Theopolis the Thoughtful
AD&D 2nd Edition
233
Thevila of the Vale
AD&D 2nd Edition
234
Lady Elorelei
AD&D 2nd Edition
235
Harlo Everwinter
AD&D 2nd Edition
236
Teryss the Resourceful
AD&D 2nd Edition
237
Bertilde the Brazen
AD&D 2nd Edition
238
Checklist: 121–160
AD&D 2nd Edition
239
Checklist: 161–200
Ravenloft
240
Checklist: 201–240
Dragonlance
241
Homunculus
AD&D 2nd Edition
242
Imp
AD&D 2nd Edition
243
Kelpie
AD&D 2nd Edition
244
Ki-rin
AD&D 2nd Edition
245
Killmoulis
AD&D 2nd Edition
246
Locathah
AD&D 2nd Edition
247
Wereboar
AD&D 2nd Edition
248
Werefox
AD&D 2nd Edition
249
Meazel
Forgotten Realms
250
Medusa
AD&D 2nd Edition
251
Morkoth
AD&D 2nd Edition
252
Nixie
AD&D 2nd Edition
253
Ogre Mage
AD&D 2nd Edition
254
Otyugh
AD&D 2nd Edition
255
Rakshasa
AD&D 2nd Edition
256
Sahuagin
AD&D 2nd Edition
257
Satyr
AD&D 2nd Edition
258
Selkie
AD&D 2nd Edition
259
Spectre
AD&D 2nd Edition
260
Hieracosphinx
AD&D 2nd Edition
261
Mirynda's Wand of Polymorping
AD&D 2nd Edition
262
Almen's Wand of Illumination
AD&D 2nd Edition
263
Phandore's Wand of Fire
Greyhawk
264
Osmal's Staff of the Woodlands
Greyhawk
265
Reptilla's Staff of the Serpent
Forgotten Realms
266
Malice's Rod of Reincarnation
Forgotten Realms
267
Gilidarius's Ring of Wizardry
Dragonlance
268
Hoinbee's Ring of Truth
AD&D 2nd Edition
269
Varlo's Ring of Feather Falling
AD&D 2nd Edition
270

Sherry

's

Ring of Animal Friendship

Forgotten Realms
271
Potion of Water Adventuring
AD&D 2nd Edition
272
Wallac's Potion of Speedcasting
AD&D 2nd Edition
273
Aleese's Philter of Overwhelming Love
AD&D 2nd Edition
274
Jazper's Oil of Permanent Etherealness
AD&D 2nd Edition
275
Zak's Potion of Invulnerability
AD&D 2nd Edition
276

Whaleship

Spelljammer
Mini-series: Spelljammer ships
277
Battle Dolphin
Spelljammer
Mini-series: Spelljammer ships
278

Cuttle Command

Spelljammer
Mini-series: Spelljammer ships
279
Gnomish

Whelk

Spelljammer
Mini-series: Spelljammer ships
280

Unity Ship

Spelljammer
Mini-series: Spelljammer ships
281

Quentin's Libraria

Spelljammer
Mini-series: Spelljammer ships
282
Smalljammer
Spelljammer
Mini-series: Spelljammer ships
283

Octopus

Spelljammer
Mini-series: Spelljammer ships
284
Illithid Dreadnought
Spelljammer
Mini-series: Spelljammer ships
285
Strahd Von Zarovich
Ravenloft
Mini-series: Vampires of Ravenloft
286
Nosferatu Vampire
Ravenloft
Mini-series: Vampires of Ravenloft
287
Dwarf Vampire
Ravenloft
Mini-series: Vampires of Ravenloft
288
Halfling Vampire
Ravenloft
Mini-series: Vampires of Ravenloft
289
Kender Vampire
Ravenloft
Mini-series: Vampires of Ravenloft
290
Elf Vampire
Ravenloft
Mini-series: Vampires of Ravenloft
291
Gnome Vampire
Ravenloft
Mini-series: Vampires of Ravenloft
292
Vampyre
Ravenloft
Mini-series: Vampires of Ravenloft
293
Jander Sunstar
Ravenloft
Mini-series: Vampires of Ravenloft
294
Sir

Darras

of Suzail
Forgotten Realms
295
Zera Brighthammer
AD&D 2nd Edition
296
Leilana
Ravenloft
297
Istha Rockhead
AD&D 2nd Edition
298
Boinias
Dragonlance
299
Tranea
Dragonlance
300
Callvyn
AD&D 2nd Edition
301

Bantu

Forgotten Realms
302
Lyssa Kuballa
Greyhawk
303
Calla
AD&D 2nd Edition
304
Kerisis
AD&D 2nd Edition
305
Lafallot Reyelhart
Dragonlance
306
Selma Moore
Spelljammer
307
Flowrana Tareehugge
Forgotten Realms
308
Forsythe
Greyhawk
309
Gilidarius
Dragonlance
310
Callran
AD&D 2nd Edition
311
Ferret Jones
Forgotten Realms
312
Killeen
Ravenloft
313
Alenella
AD&D 2nd Edition
314
Korr Breakstone
Greyhawk
315
Moonshadow
AD&D 2nd Edition
316
Dell Bandenwick
AD&D 2nd Edition
317

Endrenn Allerendris

Forgotten Realms
318
Molacinth
AD&D 2nd Edition
319
Korska Kellukuscha
AD&D 2nd Edition
320
Kevlin
Ravenloft
321
Evanika
Dark Sun
322
Syllendel Mallandiara
AD&D 2nd Edition
323
Grash Crackbacker
Forgotten Realms
324

Ebomara

Forgotten Realms
325
Boon Silverhoarde
Forgotten Realms
326
Mazrikoth
Ravenloft
327
Boelle
AD&D 2nd Edition
328
Nendalin
AD&D 2nd Edition
Rare
329
Kamal the Quiet
Greyhawk
Rare
330
Faelirith
Greyhawk
Rare
331
Stormsmith
Greyhawk
Rare
332
Osmal Havendish
Greyhawk
Rare
333
Theodolus
Greyhawk
Rare
334
Triestar Silvarost
AD&D 2nd Edition
Rare
335
Amari The Warder
AD&D 2nd Edition
Rare
336
Gregor Birining
AD&D 2nd Edition
Rare
337
Lady Dahlia Mingor
AD&D 2nd Edition
Rare
338
Jackdraw
AD&D 2nd Edition
Rare
339
Vigir Jarlsson
Greyhawk
Rare
340
Jetter Novanion
AD&D 2nd Edition
Rare
341
Kaffa Novanion
AD&D 2nd Edition
Rare
342
Nikelti
Greyhawk
Rare
343
Twissa the Bent
Greyhawk
Rare
344
Ellayni Silverdelve
AD&D 2nd Edition
Rare
345
Talgat Hardfist
AD&D 2nd Edition
Rare
346
Indigo Twynight
Forgotten Realms
Rare
347
Alley Cat Kordin
Forgotten Realms
Rare
348
Khareef
Greyhawk
Rare
349

Boray Gulditch

Forgotten Realms
Rare
350
Konetarchess
Dark Sun
Rare
351
Rokor
Dark Sun
Rare
352
Aladoom
Dark Sun
Rare
353
Voree "the Beast"
Dark Sun
Rare
354
Grendena
Greyhawk
Rare
355
Phandore Oaktree
Greyhawk
Rare
356
Cain Blizzard
Greyhawk
Rare
357
Glenola Oaktree
Greyhawk
Rare
358
Checklist: 361–400
Forgotten Realms
359
Checklist: 401–440
Greyhawk
360
Checklist: 441–480
Spelljammer
361
Giant Squid
AD&D 2nd Edition
362
Stirge
AD&D 2nd Edition
363
Svirfneblin (Deep Gnome)
Forgotten Realms
364
Swanmay
AD&D 2nd Edition
365
Tarrasque
AD&D 2nd Edition
366
Tasloi
AD&D 2nd Edition
367
Thri-kreen
Forgotten Realms
368
Troll
AD&D 2nd Edition
369
Zombie
AD&D 2nd Edition
370
Aurak
Dragonlance
371
Baaz
Dragonlance
372
Mist Dragon - Great Wyrm
Greyhawk
373
Skulk
Greyhawk
374
Dreamwraith
Dragonlance
375
Grung
Greyhawk
376
Gurik Cha'ahl
Dragonlance
377
Knight Haunt
Dragonlance
378
Kaluk
Forgotten Realms
379
Mite
Greyhawk
380
Necrophidius
Greyhawk
381
Noj's Bag of Misplacing
Spelljammer
382
Zwann's Irrigation Can
AD&D 2nd Edition
383
Wethilion's

Time Bomb

Greyhawk
384
Udo's Belt of Flying
AD&D 2nd Edition
385
Zellot's Quill of Law
AD&D 2nd Edition
386
Sim's Prism of Light Splitting
AD&D 2nd Edition
387
Goerl's Portable Canoe and Tackle Box
AD&D 2nd Edition
388
Myl's Mouse Chariot
AD&D 2nd Edition
389
Jo's Liquid Road
AD&D 2nd Edition
390
Zen's Banner
AD&D 2nd Edition
391
Samzinna's Globe of Putrification
AD&D 2nd Edition
392
Ellister's Dimensional Mine
AD&D 2nd Edition
393
Noj's Claw of Magic Exchange
Spelljammer
394
Chandrasakar's Air Spores
Spelljammer
395
Skie's and Nolte's Locks and Bolts
AD&D 2nd Edition
396
Waterdeep - Fortified Independent City
Forgotten Realms
Mini-series: Cities of the Realms
397
Arabel - Fortified City of Cormyr
Forgotten Realms
Mini-series: Cities of the Realms
398
Berdusk - Independent City
Forgotten Realms
Mini-series: Cities of the Realms
399
Hillsfar - Independent City
Forgotten Realms
Mini-series: Cities of the Realms
400
Mulmaster - Independent City
Forgotten Realms
Mini-series: Cities of the Realms
401
Shadowdale - Independent Dale
Forgotten Realms
Mini-series: Cities of the Realms
402
Suzail - Capital of Cormyr
Forgotten Realms
Mini-series: Cities of the Realms
403
Tantras - Independent City
Forgotten Realms
Mini-series: Cities of the Realms
404
Zhentil Keep - Independent City-State
Forgotten Realms
Mini-series: Cities of the Realms
405
Eye of Vecna
AD&D 2nd Edition
Mini-series: Artifacts
406
Hand of Vecna
AD&D 2nd Edition
Mini-series: Artifacts
407
Ring of Winter
Forgotten Realms
Mini-series: Artifacts
408
Heartwood Spear
Dark Sun
Mini-series: Artifacts
409
Finder's Stone
Forgotten Realms
Mini-series: Artifacts
410
Crown of Souls
Ravenloft
Mini-series: Artifacts
411
Device of Time Journeying
Dragonlance
Mini-series: Artifacts
412
Staff of Magius
Dragonlance
Mini-series: Artifacts
413
Dragonlance
Dragonlance
Mini-series: Artifacts
414
Garril Sotman
Greyhawk
415
Caysmal
AD&D 2nd Edition
416
Thyl Kealta
AD&D 2nd Edition
417
Willara
Greyhawk
418
Blacker Crow
Forgotten Realms
419
Erin Three-Toes
Forgotten Realms
420
Zen
AD&D 2nd Edition
421
Kyate
AD&D 2nd Edition
422
Modeus Khan
Dragonlance
423
Noj the Double-Edged
Spelljammer
424
Katrina Von Brandthofen
Ravenloft
425
Khenel Barony
Forgotten Realms
426
Udo
AD&D 2nd Edition
427

Esu Kabloona

Forgotten Realms
428
Desiree Dreamscape
Dragonlance
429
Savion with the 11 Fingers
Spelljammer
430
Phugh "the Stinker"
AD&D 2nd Edition
431
Demi of Solamnia
Dragonlance
432
Stephie
Greyhawk
433
Alakabon of the Legion
AD&D 2nd Edition
434
Omar Zargoma
Dragonlance
435
Coyenny the Shark
AD&D 2nd Edition
436
Benhi the Leech
AD&D 2nd Edition
437
Barnel "the Cripple"
Dragonlance
438
Violet Dindower
Spelljammer
439
Snythe Clobertin
Greyhawk
440
Lepidius Tragemandes
Forgotten Realms
441
Bright Gaelea
Ravenloft
442
Valiss of the Broken Arrow
AD&D 2nd Edition
443
Mithryl the Healer
AD&D 2nd Edition
444
Haedyll
Forgotten Realms
445
Galfrey Kaarne
Forgotten Realms
446
Celadae
Forgotten Realms
447
Irongrod
Greyhawk
448
Riccih Thicctoh
AD&D 2nd Edition
449
The Old Man
AD&D 2nd Edition
450
Trilliana
AD&D 2nd Edition
451
Sagus
AD&D 2nd Edition
452
Benson
AD&D 2nd Edition
453
Aldo Gladhand
AD&D 2nd Edition
454
Layla Necurrluf
AD&D 2nd Edition
455
Martha Bigbones (the Great)
AD&D 2nd Edition
456
Bilkon
Ravenloft
457
Malrinth Alont
Forgotten Realms
458
Nhar-del
Forgotten Realms
459
Purity Valor
Spelljammer
460

Kyriel Alathar Pellinore

Forgotten Realms/Spelljammer
461
Thaedran Meridian
Spelljammer
462
Knightengale
Forgotten Realms/Ravenloft
463
Dame Doree and "Boy Howdee"
AD&D 2nd Edition
464
(Create Your Own)
AD&D 2nd Edition
465
(Create Your Own)
AD&D 2nd Edition
466
(Create Your Own)
AD&D 2nd Edition
467
(Create Your Own)
AD&D 2nd Edition
468
(Create Your Own)
AD&D 2nd Edition
469
(Create Your Own)
AD&D 2nd Edition
470
(Create Your Own)
AD&D 2nd Edition
471
(Create Your Own)
AD&D 2nd Edition
472
(Create Your Own)
AD&D 2nd Edition
473
Malto
AD&D 2nd Edition
474
Vierna
AD&D 2nd Edition
475
Dido
AD&D 2nd Edition
476
Woltor
AD&D 2nd Edition
477
Endemian
AD&D 2nd Edition
478
Checklist: 441–480
Spelljammer
479
Checklist: 401–440
Dark Sun
480
Checklist: 361–400
Al-Qadim
481
Shadowperson
Dragonlance
482
Thanoi (Walrus Man)
Dragonlance
483
Tylor
Dragonlance
484
Wichtlin
Dragonlance
485
Darkling
Ravenloft
486
Goblyn
Ravenloft
487

Bone Golem

Ravenloft
488
Shadow Fiend
Ravenloft
489
Traag
Dragonlance
490
Fire Minion
Dragonlance
491
Kasharin
Spelljammer
492
Aartuk Warrior
Spelljammer
493
Aargos
Spelljammer
494
Blazozoid
Spelljammer
495
Colossus
Spelljammer
496
Focoid
Spelljammer
497
Hadozee
Spelljammer
498
Slinker
Spelljammer
499
Wryback
Spelljammer
500
Zard
Spelljammer
501
Khenel's Philosopher's Egg
Forgotten Realms
502
Malto's Mirror of Retention
AD&D 2nd Edition
503
Evelyn's Lens of Speedreading
AD&D 2nd Edition
504
Joal's Glass of Preserved Words
AD&D 2nd Edition
505
Mithryl's Everbountiful Soup Kettle
AD&D 2nd Edition
506
Purwuvok's Powder of the Hero's Heart
AD&D 2nd Edition
507
Dypshez's Powder of the Black Veil
AD&D 2nd Edition
508
Malto's Dust of Mind Dulling
AD&D 2nd Edition
509
Nefradina's Improved Identifier
AD&D 2nd Edition
510
Dido's Flatbox
AD&D 2nd Edition
511
Cursed School Cap
AD&D 2nd Edition
512
Reglar's Gloves of Freedom From Magic
AD&D 2nd Edition
513
Zambi's Fur of Warmth
AD&D 2nd Edition
514
Noj's Bracers of Brandishing
Spelljammer
515
Hwesta's Talisman of Memorization
Greyhawk
516
Djinni
Al-Qadim
Mini-series: Genies
517
Dao
Al-Qadim
Mini-series: Genies
518
Efreeti
Al-Qadim
Mini-series: Genies
519
Janni
Al-Qadim
Mini-series: Genies
520
Marid
Al-Qadim
Mini-series: Genies
521
Air Gen (Djinnling)
Al-Qadim
Mini-series: Genies
522
Fire Gen (Efreetikin)
Al-Qadim
Mini-series: Genies
523
Water Gen (Maridan)
Al-Qadim
Mini-series: Genies
524
Earth Gen (Daolani)
Al-Qadim
Mini-series: Genies
525
Faerie Dragon
Forgotten Realms
Mini-series: Dragons
526
Greyhawk Dragon
Greyhawk
Mini-series: Dragons
527
Cloud Dragon
Greyhawk
Mini-series: Dragons
528
Kodragon
Dragonlance
Mini-series: Dragons
529
Astral Dragon
Dragonlance
Mini-series: Dragons
530
Sun Dragon
Spelljammer
Mini-series: Dragons
531
Moon Dragon
Spelljammer
Mini-series: Dragons
532
Radiant Dragon
Spelljammer
Mini-series: Dragons
533
Dracohydra
Forgotten Realms
Mini-series: Dragons
534
(Create Your Own)
AD&D 2nd Edition
535
(Create Your Own)
AD&D 2nd Edition
536
(Create Your Own)
AD&D 2nd Edition
537
(Create Your Own)
AD&D 2nd Edition
538
(Create Your Own)
AD&D 2nd Edition
539
(Create Your Own)
AD&D 2nd Edition
540
(Create Your Own)
AD&D 2nd Edition
541
(Create Your Own)
AD&D 2nd Edition
542
(Create Your Own)
AD&D 2nd Edition
543
Pyros Silverbane
Greyhawk
544
Shur
Forgotten Realms
545
Saskan
Greyhawk
546
Nhalvaen
Ravenloft
547
Runjoye
Dragonlance
548
Danelesty
Spelljammer
549
Thogaf
Forgotten Realms
550
Stobon
Greyhawk
551
Jessie
Dragonlance
552
Lipoec
Spelljammer
553
Lortej Thul
Forgotten Realms
554
Voluril Ocing
Forgotten Realms
555
Kyrie
Forgotten Realms
556
Wethilion
Greyhawk
557
Dappledref
Forgotten Realms
558
Jobinov
Spelljammer
559
Thiawskeen
Spelljammer
560
Jadethread
Forgotten Realms
561
Haroistem
Forgotten Realms
562
Kekond
Greyhawk
563
Lecitalma
Greyhawk
564
Snorpocis
Greyhawk
565
Rumeltocey
Forgotten Realms
566
Wesclodat the Aged
Forgotten Realms
567
Thear
Forgotten Realms
568
Ginsese
Greyhawk
569
Dovanalo
Greyhawk
570
Mistletan
Forgotten Realms
571
Liana
AD&D 2nd Edition
572
Mantiera
Forgotten Realms
573
Manawabe
Forgotten Realms
574
Logan
Greyhawk
575
Grindlethorpe
Dragonlance
576
Burganet
Ravenloft
577
Usteria
AD&D 2nd Edition
578
Lachesis
AD&D 2nd Edition
579
Atropos
AD&D 2nd Edition
580
Amuro
Greyhawk
581
Sharna
Forgotten Realms
582
Keinen
Forgotten Realms
583
Clotho
Forgotten Realms
Rare
584
Randers
Forgotten Realms
585
Thalessa
Greyhawk
586
Locke
Forgotten Realms
587
Stonewright
AD&D 2nd Edition
588
Pysander
Spelljammer
589
Posaydal
Spelljammer
590
Theras
Forgotten Realms
591
Nonakaniumi
Forgotten Realms
Rare
592
Burtelessar
AD&D 2nd Edition
593
Trader Bob
Forgotten Realms
594
Goffer
AD&D 2nd Edition
595
Silmarien Silverleaf
Forgotten Realms
596
Solus of the Dim Forest
Greyhawk
597
Blade
Forgotten Realms
598
Checklist: 481–520
Forgotten Realms
599
Checklist: 521–560
Greyhawk
600
Checklist: 561–600
Spelljammer
601
Broken One
Ravenloft
602
Doom Guard
Ravenloft
603
Ghoul Lord
Ravenloft
604
Assassin Imp
Ravenloft
605
Quickwood
Ravenloft
606
Reaver
Ravenloft
607
Adamantite Dragon
AD&D 2nd Edition
Rare
608
Strahd's Skeletal Steed
Ravenloft
609
Greater Wolfwere
Ravenloft
Rare
610
Nightmare
AD&D 2nd Edition
611
Astereater
Spelljammer
612
Chattur
Spelljammer
613
Esthetic
Spelljammer
614
Gravislayer
Spelljammer
615
Jammer Leech
Spelljammer
616
Plasman
Spelljammer
617
Grell
Greyhawk
Rare
618
Hook Horror
Greyhawk
619
Taer
Greyhawk
620
Sea Zombie
Greyhawk
621
Benson's Scarab of Uncertain Friendship
AD&D 2nd Edition
Rare
622
Marv's Necklace of Memory Displacement
AD&D 2nd Edition
Rare
623
Pax's Medallion of Spell Exchange
Greyhawk
624
Amulet of Perpetual Youth and Inexperience
AD&D 2nd Edition
625
Manual of Dogmatic Methods
AD&D 2nd Edition
626
Orgel's Wand of Earth Passage
AD&D 2nd Edition
627
Bample's Rod of Distortion
AD&D 2nd Edition
628
Ring of Reversion
Ravenloft
629
Rocckee's Ring of Bureaucratic Wizardry
AD&D 2nd Edition
Rare
630
Jannis's Aroma of Nightmares
AD&D 2nd Edition
631
Reptilla's Curdled Death
Forgotten Realms
Rare
632
Maybel's Insect Charm
AD&D 2nd Edition
633
The Bard's Aphrodisiac Inspiration
AD&D 2nd Edition
Rare
634
Nuggin's Cursed Ring of Armoring
AD&D 2nd Edition
635
Cursed Pick of Earth Partint
AD&D 2nd Edition
636
Cat (Familiar)
AD&D 2nd Edition
Mini-series: Familiars; Rare
637
Crow (Familiar)
AD&D 2nd Edition
Mini-series: Familiars; Rare
638
Hawk (Familiar)
AD&D 2nd Edition
Mini-series: Familiars; Rare
639
Owl (Familiar)
AD&D 2nd Edition
Mini-series: Familiars; Rare
640
Toad (Familiar)
AD&D 2nd Edition
Mini-series: Familiars; Rare
641
Weasel (Familiar)
AD&D 2nd Edition
Mini-series: Familiars; Rare
642
Snake (Constrictor) (Familiar)
AD&D 2nd Edition
Mini-series: Familiars; Rare
643
Ferret (Familiar)
AD&D 2nd Edition
Mini-series: Familiars; Rare
644
Mouse (Familiar)
AD&D 2nd Edition
Mini-series: Familiars; Rare
645
Greater Mummy (Undead)
Ravenloft
Mini-series: Undead
646
Skeleton (Undead)
Ravenloft
Mini-series: Undead
647
Odem (Undead)
Ravenloft
Mini-series: Undead
648
Wight (Undead)
Ravenloft
Mini-series: Undead
649
Wraith (Undead)
Ravenloft
Mini-series: Undead
650
Geist (Undead)
Ravenloft
Mini-series: Undead
651
Shadow (Undead)
Ravenloft
Mini-series: Undead
652
Ghost (Undead)
Ravenloft
Mini-series: Undead
653
Lich (Undead)
Ravenloft
Mini-series: Undead
654
Azhul the Hasty
Dark Sun
Mini-series: Road to Urik
655
Anavias of the Split Rock
Dark Sun
Mini-series: Road to Urik
656
Chividal
Dark Sun
Mini-series: Road to Urik
657
Vaerhirmana
Dark Sun
Mini-series: Road to Urik
658
T'kkyl
Dark Sun
Mini-series: Road to Urik
659
Herminard the Eloquent (Road to Urik)
Dark Sun
Mini-series: Road to Urik
660
Quick Wenzer
Dark Sun
Mini-series: Road to Urik
661
Dlasva
Dark Sun
Mini-series: Road to Urik
662
Captain Kazhal
Dark Sun
Mini-series: Road to Urik
663

Esmeralda

Forgotten Realms
Rare
664
Barnabas
Greyhawk
665
Kishiria
Forgotten Realms
666
Zenobia
Forgotten Realms
667
Chandrasakar
Spelljammer
668
Gratillonius
Greyhawk
669
Glitterback
Dragonlance
670
Jamid abd-Balduro
Al-Qadim
Rare
671
Kramer Haldus
Greyhawk
Rare
672
Malfea Magekiller
Greyhawk
673

Crennon Centime

Forgotten Realms
Rare
674
Rigolio Margolondez
AD&D 2nd Edition
675

Ternen Foxx

Forgotten Realms
Rare
676
Barrom Quiverleaf
Forgotten Realms
677
Viscountess El'abith
AD&D 2nd Edition
678
Master Elias Sturn
Ravenloft
679
Belonda Artes
Spelljammer
680

Belathin of Thay

Forgotten Realms
Rare
681
Archadamius Luciard
Forgotten Realms
682
Nikham Penderbolt
AD&D 2nd Edition
683
Jallin / Teela
Greyhawk
684
Elana Darvel
AD&D 2nd Edition
Rare
685
Vallo Downyheels
Dragonlance
686
Boiyung
AD&D 2nd Edition
687
Hamhock
Forgotten Realms
688
Babs
AD&D 2nd Edition
689
Alistair Will
AD&D 2nd Edition
690
Valluss
AD&D 2nd Edition
691
Verdina
AD&D 2nd Edition
692
The Hooded Grace
AD&D 2nd Edition
Rare
693
Rhundas
AD&D 2nd Edition
694
Arta Artuu
AD&D 2nd Edition
695
Blonni-Sh'tah
AD&D 2nd Edition
696
Sabbagh
Forgotten Realms
697
Maastik
Forgotten Realms
698
Zallara
Forgotten Realms
699
Qealli
AD&D 2nd Edition
700
Gnarppatus
AD&D 2nd Edition
701
Jackkagga Winden
AD&D 2nd Edition
702
Daisy Hobhock
AD&D 2nd Edition
703
Kinsle
AD&D 2nd Edition
Rare
704
Giatl
AD&D 2nd Edition
705
Amresis
AD&D 2nd Edition
706
Darkash
AD&D 2nd Edition
707
Shalat
AD&D 2nd Edition
708
Charlees
AD&D 2nd Edition
709
Hwesta "Breeze"
Greyhawk
710

Kelki Lightfingers

Forgotten Realms
Rare
711

Olantius Jasus ("O.J.")

Forgotten Realms
712
Louie Dulama
Greyhawk
713
Gordon Shumer
Greyhawk
714
Crazy Chester the Wandering Jester
AD&D 2nd Edition
715
Constantina
Dragonlance
716
Rather Wild Giant Space Hamster
Spelljammer
Rare
717
Checklist: 601–640
Forgotten Realms
718
Checklist: 641–680
Dragonlance
719
Checklist: 681–720
Spelljammer
720
Checklist: 721–737
AD&D 2nd Edition
721
Aruthir
AD&D 2nd Edition
Promo only
722
Darwell Tectite
AD&D 2nd Edition
Promo only
723
Chobin "the Punkster"
AD&D 2nd Edition
Promo only
724
Lady Wendolyn of Gaunt
AD&D 2nd Edition
Promo only
725
Hm-boye
Forgotten Realms
Promo only
726
Jastus
AD&D 2nd Edition
Promo only
727
Delynn Rosabell
AD&D 2nd Edition
Promo only
728
Phun Ach-mana Phun
AD&D 2nd Edition
Promo only
729
Reptilla Half-elven
Forgotten Realms
Promo only
730
Alvestar Jankins
AD&D 2nd Edition
Promo only
731
Foleas
Dragonlance
Promo only
732
Mellenea
AD&D 2nd Edition
Promo only
733
Guida del Confuso
AD&D 2nd Edition
Promo only
734
Aurora
AD&D 2nd Edition
Promo only
735
Thalios (Maltus Vindir)
Greyhawk
Promo only
736
Slipper Kindric
AD&D 2nd Edition
Promo only
737
Zinnabar Albbee
Spelljammer
Promo only
738
Peryton
Forgotten Realms
Promo only
739
Hornhead Saurial
Forgotten Realms
Promo only
740
Feyr
Forgotten Realms
Promo only
741
Warrior, Skeleton
Dragonlance
Promo only
742
Maligor the Red Wizard
Forgotten Realms
Promo only
743
Abbolt Nebbathra
Greyhawk
Promo only
744
Rikus, Champion of Tyr
Dark Sun
Promo only
745
Wijon
Dark Sun
Promo only
746
Mikor
Dark Sun
Promo only
747
Jamaliyah, Djinni of the Lamp
Al-Qadim
Promo only
748
Lamp of the Genies
Al-Qadim
Promo only
749
Hasar Al-Yasan, Noble Genie
Al-Qadim
Promo only
750
Abu bin Sujah
Al-Qadim
Promo only
1992 GenCon promo set
[
]
| # | Name | Setting | Note |
| --- | --- | --- | --- |
| 1 | Hallawienka of the Wind Column | AD&D 2nd Edition | |
| 2 | Setara bint Farid | Al-Qadim | |
| 3 | Kharros Patesh | Dark-Sun | |
| 4 | Cambiol | Dragon Quest | |
| 5 | Kitiara Uth Mathar | DragonLance | |
| 6 | Brandt Esragoph | Dungeons & Dragons | |
| 7 | Matron Mother Baenre | Forgotten Realms | |
| 8 | Sir Kletrip Frusk | Gamma World | |
| 9 | Gh'alar | Greyhawk Adventures | |
| 10 | Zombie | Ravenloft | |
| 11 | Rock of Bral | Spelljammer | |
1993 series
[
]
#
Name
Setting
Note
1
Adherer
AD&D 2nd Edition
2
Centaur, Desert
Al-Qadim
3
Dragon, Stellar
Spelljammer
4
Ghost
Ravenloft
5
Golem, Chitin
Dark Sun
6
Kirre
Dark Sun
7
Ogre
AD&D 2nd Edition
8
Rastipede
Spelljammer
9
Sloth, Athasian
Dark Sun
10
Fatima abd Haji
Al-Qadim
Mini-series: Women of Fantasy
11
Green Lady Nenioc
Greyhawk
Mini-series: Women of Fantasy
12
Telena of Mithric Falls
AD&D 2nd Edition
Mini-series: Women of Fantasy
13
Teldicia
AD&D 2nd Edition
Mini-series: Women of Fantasy
14
Sadira
Dark Sun
Mini-series: Women of Fantasy
15
Tavelia
Ravenloft
Mini-series: Women of Fantasy
16
Neeva
Dark Sun
Mini-series: Women of Fantasy
17
Salicia
Dark Sun
Mini-series: Women of Fantasy
18
Larissa Snowmane
Ravenloft
Mini-series: Women of Fantasy
19
Syllix
Spelljammer
20

Sun Blade

AD&D 2nd Edition
21
Amulet of Vadarin
Ravenloft
22
Aric's Staff of Power
Spelljammer
23
Hawksblade
AD&D 2nd Edition
24
Heartseeker
AD&D 2nd Edition
25
Staff of Rohalan
AD&D 2nd Edition
26
Balian's Yellow Ioun Stone
Forgotten Realms
27
Murlyn's Harp of Charming
Forgotten Realms
28
Alea Thegal
AD&D 2nd Edition
29

Garion Mendocio

Forgotten Realms
30

Mordmorgan

Forgotten Realms
31
Giles the Bowman
Ravenloft
32
Shalandain
Spelljammer
33

Ardhuval Raiserek

Forgotten Realms
34
Thal Thasak
Dark Sun
35
Aric Cozar
Spelljammer
36
Gamalon Idogyr
Spelljammer
37
Basa Lianin
Spelljammer
38
Meredin Sandyfoot
Spelljammer
39
Shayira
Dark Sun
40
Bani Matruj al-Haddar
Al-Qadim
41
Anwar al-Sifr
Al-Qadim
42
Tufala bint Maneira
Al-Qadim
43

Mendolin Nightweaver

Forgotten Realms
44

Ada the Unbending

Forgotten Realms
45
Ian Chandler
Dragonlance
46
Mirandos of Helm
Forgotten Realms
47
Tisha
AD&D 2nd Edition
48
Dural of the Iron Hills
Ravenloft
49
Vadarin
Ravenloft
50
Crelt
Forgotten Realms
51

Jarathine

Forgotten Realms
52
Blind Lemon Murlyn
Forgotten Realms
53
Umar bin Farid
Al-Qadim
54
Marska Armstrong
Greyhawk
55
Checklist: 1–55
AD&D 2nd Edition
56
Ammut
Al-Qadim
57
Centiped, Megalo-
AD&D 2nd Edition
58
Dune Runner
Dark Sun
59
Ghost Mount
Al-Qadim
60
Golem, Furnace
Spelljammer
61
Kyrie
Dragonlance
62
Owl, Space
Spelljammer
63
Remorhaz
AD&D 2nd Edition
64
Caravel
AD&D 2nd Edition
Mini-series: Ships
65
Coaster
AD&D 2nd Edition
Mini-series: Ships
66
Cog
AD&D 2nd Edition
Mini-series: Ships
67
Drakkar
AD&D 2nd Edition
Mini-series: Ships
68
Dromond
AD&D 2nd Edition
Mini-series: Ships
69
Galleon
AD&D 2nd Edition
Mini-series: Ships
70
Great Galley
AD&D 2nd Edition
Mini-series: Ships
71
Knarr
AD&D 2nd Edition
Mini-series: Ships
72
Longship
AD&D 2nd Edition
Mini-series: Ships
73
Snake, Giant Poison
AD&D 2nd Edition
74
Triceratops
Forgotten Realms
75
Delmaria's Staff of Withering
AD&D 2nd Edition
76
Gamalon's Gem of Infravision and Detect Magic
Spelljammer
77

Harpo

's

Short Sword +2 Orc-Slayer

Forgotten Realms
78

Henry

's

Carpetbag of Holding

Forgotten Realms
79
Jaysen's Long Sword +1, +2 vs. Magic-using Creatures
AD&D 2nd Edition
80
Tufala's Jambiya +2
Al-Qadim
81
Leonardo's Carpet of Flying
AD&D 2nd Edition
82
Meredin's Short Sword +1

Luck Blade

Spelljammer
83

Matilda the White Lady

Forgotten Realms
84
Alia al-Karim
Al-Qadim
85
Losifan Urdo
Forgotten Realms
86
Lailani Foxfire
AD&D 2nd Edition
87
Melykurion of the Raven
Ravenloft
88

Tymoriel

Forgotten Realms
89

Henry the Shadow Master

Forgotten Realms
90

Wemick the Wise

Forgotten Realms
91
Crekumintholus (Crek)
AD&D 2nd Edition
92
Rethral
AD&D 2nd Edition
93
De'Naire Pruhl
Greyhawk
94
Tiffany
AD&D 2nd Edition
95

Synthalus

Forgotten Realms
96
Allaranzal
Greyhawk
97
Thaddeus
AD&D 2nd Edition
98
Yartrina
AD&D 2nd Edition
99
Golgomere
Greyhawk
[notes 1]
100
Kellamy
Dragonlance
101
Theodoric the Book
Ravenloft
102
Trehuger of Gnarley Wood
Greyhawk
103
Ogut'jal
Dark Sun
104
Quissaria
Dark Sun
105
Selronde the Elder
Spelljammer
106
Farhard of the Split Rock
Dark Sun
107

Harpo Bogglinn

Forgotten Realms
108
Bonnie Lee
Ravenloft
109
Balian Rocksmith
Forgotten Realms
110
Checklist: 56–110
AD&D 2nd Edition
111
Ankheg
AD&D 2nd Edition
112
Cha'thrang
Dark Sun
113
Elephant Bird
Al-Qadim
114
Giant, Desert
Al-Qadim
115
Golem, Obsidian
Dark Sun
116
Kyuss, Son of
Greyhawk
117
Owlbear
AD&D 2nd Edition
118
Gayrlana, "Lady Bloodsword"
Forgotten Realms
Mini-series: Mercenary Captains
119

Zahara the Shark

Forgotten Realms
Mini-series: Mercenary Captains
120
Noro Amoto
Forgotten Realms
Mini-series: Mercenary Captains
121
Miquiztl Manik ("Hand of Death")
Forgotten Realms
Mini-series: Mercenary Captains
122
Nkonzi Maru
Forgotten Realms
Mini-series: Mercenary Captains
123
Solara
Forgotten Realms
Mini-series: Mercenary Captains
124

Hajima sitt-Nasir

Forgotten Realms
Mini-series: Mercenary Captains
125
Turgosz "Tenhammer" Khosann
Forgotten Realms
Mini-series: Mercenary Captains
126
Duke Eltan
Forgotten Realms
Mini-series: Mercenary Captains
127
Rom
Al-Qadim
128
So-ut (Rampager)
Dark Sun
129
Troll, Ice
AD&D 2nd Edition
130
Mirandos's

Staff of Insect Command

Forgotten Realms
131

Mordmorgan

's Ring of Warmth
Forgotten Realms
132
Myste's Stone of Mixed Luck
Forgotten Realms
133
Shalandain's Boots of Starstriding
Spelljammer
134
Shalandain's Holy Avenger
Spelljammer
135
Thal's Ring of Mind Shielding
Dark Sun
136
Uluth'gak's Gythka +2
Dark Sun
137

Wemick

's

Cane of Striking

Forgotten Realms
138
Uluth'gak
Dark Sun
139
Ali Haqim
Al-Qadim
140
Kelson o' the Thorn
AD&D 2nd Edition
141
Audrianna Adayr
AD&D 2nd Edition
142
Ael Ra'kolth
AD&D 2nd Edition
143
Avenel Whytstagg
AD&D 2nd Edition
144
Delmaria
AD&D 2nd Edition
145

Khamsin

Al-Qadim
146
Stefan Dyreth
Ravenloft
147
Myste
Forgotten Realms
148
Balendar ap Castlereigh
AD&D 2nd Edition
149
Jaysen Shadowstalker
AD&D 2nd Edition
150
Talanoa
Dark Sun
151
Cirillo
Dark Sun
152
Baber
Dark Sun
153
Senmet
Ravenloft
154
Trisler
Ravenloft
155
Zurn
Dark Sun
156
Foucault
Dark Sun
157
Powell
Dark Sun
158
Wachter
Dark Sun
159
Stef'fa Naf'ski
Dark Sun
160
Zander of the Iron Hills
Greyhawk
161
Kelth of the Iron Hills
Greyhawk
162
Nox Haranda
AD&D 2nd Edition
163
Leonardo "Quicksilver" Valloch
AD&D 2nd Edition
164

Alysia Wass

Forgotten Realms
165
Checklist: 111–165
AD&D 2nd Edition
166
Ashira
Al-Qadim
167
Cistern Fiend
Dark Sun
168
Erdland
Dark Sun
169
Giant, Fog
AD&D 2nd Edition
170
Gossamer
Spelljammer
171
Lakshu
Spelljammer
172
Adam
Ravenloft
Mini-series: Children of Darkness
173
Ratik Ubel
Ravenloft
Mini-series: Children of Darkness
174
Natalia Vhorishkova
Ravenloft
Mini-series: Children of Darkness
175
Anhktepot
Ravenloft
Mini-series: Children of Darkness
176
Bluebeard
Ravenloft
Mini-series: Children of Darkness
177
The Headless Horseman
Ravenloft
Mini-series: Children of Darkness
178
Baron Urik von Kharkov
Ravenloft
Mini-series: Children of Darkness
179
Stezen D'Polarno
Ravenloft
Mini-series: Children of Darkness
180
Tiyet
Ravenloft
Mini-series: Children of Darkness
181
Pahari
Al-Qadim
182
Scarecrow
Greyhawk
183
Spanner
Greyhawk
184
Wight
AD&D 2nd Edition
185

Artemus

's Cloak of Displacement
Forgotten Realms
186
Ashley's Net of Entrapment
Greyhawk
187
Aziza's

Scimitar of Dancing +3

Al-Qadim
188
Bahija's Slippers of Spider Climbing
Al-Qadim
189
Barnus's Short Sword +1 Gnomebane
AD&D 2nd Edition
190
Lyron's Harpsichord of Commanding
Ravenloft
191
Corkitron's Ring of Human Influence
Forgotten Realms
192
Cyria's Winged Boots
Dragonlance
193

Nariako

Forgotten Realms
194

Terasaka Tadafusa

Forgotten Realms
195
Sebastian the Red
Spelljammer
196
Nabilanasa
Al-Qadim
197
Valen Westguard
AD&D 2nd Edition
198
Koronous the Fire Mage
AD&D 2nd Edition
199
Diogi the Wanderer
Forgotten Realms
200
Khelben "Blackstaff" Arunsun
Forgotten Realms
201
Ahmad al-Mudill
Al-Qadim
202
Ryag Meth
Spelljammer
203
Bahija bint Tufala
Al-Qadim
204
Corkitron Allinamuck
Forgotten Realms
205
Child of Silver
Al-Qadim
206

Nymara Sheiron

Forgotten Realms
207
Storm Silverhand
Forgotten Realms
208
Raji al-Taqi
Al-Qadim
209
Aziza al-Nayyir
Al-Qadim
210
Fatima bint Waleed
Al-Qadim
211
Thrax
Dark Sun
212

Nikolls

Forgotten Realms
213
Tarda
Dark Sun
214
Klefen
Dark Sun
215
Zaryi
Dark Sun
216
Sioson
Spelljammer
217
Tara Armstrong
Greyhawk
218
Captain Lodok Romidan
AD&D 2nd Edition
219
Captain Shalamar Jisseen
AD&D 2nd Edition
220
Checklist: 166–220
AD&D 2nd Edition
221
B'rohg
Dark Sun
222
Clockwork Horror
Spelljammer
223
Feesu
Spelljammer
224
Giant, Frost
AD&D 2nd Edition
225
Grav
Spelljammer
226
Tree Seat
Forgotten Realms
Mini-series: Shopping at Aurora's
227
Mini-Blade
Forgotten Realms
Mini-series: Shopping at Aurora's
228
Zulkoon
Forgotten Realms
Mini-series: Shopping at Aurora's
229

Censer

Forgotten Realms
Mini-series: Shopping at Aurora's
230

Astrolabe

and

Armillary

Forgotten Realms
Mini-series: Shopping at Aurora's
231

Forge

Forgotten Realms
Mini-series: Shopping at Aurora's
232

Cases for Books

Forgotten Realms
Mini-series: Shopping at Aurora's
233
Tabards
Forgotten Realms
Mini-series: Shopping at Aurora's
234

Water Clock

Forgotten Realms
Mini-series: Shopping at Aurora's
235
Lycanthrope, Werelion
Al-Qadim
236
Pegasus
AD&D 2nd Edition
237
Serpent Lord
Al-Qadim
238
Sphinx, Andro-
AD&D 2nd Edition
239
Tyin
Dragonlance
240

Golgomere's Hammer of Thunderbolts

Forgotten Realms
[notes 1]
241
Fare's Coat of Protection +1
AD&D 2nd Edition
242
Karali's Silver Short Sword +3
Ravenloft
243
Kaleen's Amulet Versus Undead
Ravenloft
244
Kirren's Bastard Sword +3 Frost Brand
AD&D 2nd Edition
245
Kulver-Tam's Fruit of Extra-Healing
Dark Sun
246
Kyrie's Mask of Disguises
Greyhawk
247
Moredlin's Crystal Ball
AD&D 2nd Edition
248
Mannin the Stout
Forgotten Realms
249
Helena Armstrong
Greyhawk
250
Major Alan Teramar
AD&D 2nd Edition
251

Ratha Rann the Eagle-Eyed

Forgotten Realms
252
Hannibil of the Raven
Ravenloft
253

Llewellan

Forgotten Realms
254
Akbar bin Husam
Al-Qadim
255
Nabil al-Karim
Al-Qadim
256
Moredlin
AD&D 2nd Edition
257
Shala
Dark Sun
258

Fera

Forgotten Realms
259
Barnus the Scag
AD&D 2nd Edition
260
Kyrie
Greyhawk
261

Justina Sittas

Forgotten Realms
262
Baron Lyron Evensong
Ravenloft
263

Rhodhan

Forgotten Realms
264
Tar the White
AD&D 2nd Edition
265
Kalia
AD&D 2nd Edition
266
Salmone Healsmith
Forgotten Realms
267
Griffon Broadleaf
AD&D 2nd Edition
268
Fare Mirage
AD&D 2nd Edition
269
Marissa Octavia Tancred
Greyhawk
270
Janus "Bad Penny" Winthwil
Greyhawk
271
Ariel Anjelique
AD&D 2nd Edition
272
Flynn Oakplume
Greyhawk
273

Nyral Sunsdottir

Forgotten Realms
274

Morin Granitefist

Forgotten Realms
275
Checklist: 221–275
AD&D 2nd Edition
276
Banshee, Dwarf
Dark Sun
277
Cockatrice
AD&D 2nd Edition
278
Flowfiend
Spelljammer
279
Giant, Reef
Al-Qadim
280
Create-Your-Own
AD&D 2nd Edition
Mini-series: Create-Your-Own
281
Create-Your-Own
AD&D 2nd Edition
Mini-series: Create-Your-Own
282
Create-Your-Own
AD&D 2nd Edition
Mini-series: Create-Your-Own
283
Create-Your-Own
AD&D 2nd Edition
Mini-series: Create-Your-Own
284
Create-Your-Own
AD&D 2nd Edition
Mini-series: Create-Your-Own
285
Create-Your-Own
AD&D 2nd Edition
Mini-series: Create-Your-Own
286
Create-Your-Own
AD&D 2nd Edition
Mini-series: Create-Your-Own
287
Create-Your-Own
AD&D 2nd Edition
Mini-series: Create-Your-Own
288
Create-Your-Own
AD&D 2nd Edition
Mini-series: Create-Your-Own
289
Heway
Al-Qadim
290
Manticore
AD&D 2nd Edition
291

Pirate of Gith

Spelljammer
292
Serpent, Winged
Al-Qadim
293
Spider, Huge
AD&D 2nd Edition
294
Wyndlass
Dragonlance
295
Morgani's Half Plate Horse Barding +1
Greyhawk
296
Nabil's Wand of Magic Missiles
Al-Qadim
297
Raji's

Shield of the Holy

Al-Qadim
298
Raji's Armor of the Desert Evening
Al-Qadim
299

Sathallarin

's Wand of Wonder
Forgotten Realms
300
Sebastian's Chime of Opening
Spelljammer
301
Storm's

Harp of Methild

Forgotten Realms
302
Tar's Whip +2, +3 vs. Chaotic Creatures
AD&D 2nd Edition
303
Korm Tigertooth
AD&D 2nd Edition
304

Artemus Dimartius

Forgotten Realms
305
Kamar-Ashan
Dragonlance
306
Kirren Frostblade
AD&D 2nd Edition
307
Morgan Ravenstar
Greyhawk
308
Kulvar-Tam
Dark Sun
309

Ceryx

Forgotten Realms
310
Miola Waites
AD&D 2nd Edition
311
Kaleen Corigrave
Ravenloft
312

Sathallarin

Forgotten Realms
313
Karali Jenei
Ravenloft
314
Cyria the Spider
Dragonlance
315
Ashley the Grey
Greyhawk
316
Tahafilon
AD&D 2nd Edition
317
Kyris'n
Dark Sun
318
Hajallian Thremintha
Spelljammer
319
Latislav of Darkon
Ravenloft
320
Kneyalotep Knekopot
Spelljammer
321
Staan of the Way
Spelljammer
322
Uritel of the Garden
Spelljammer
323
Oswuggle
Spelljammer
324
Obbi Skyfoot
Spelljammer
325
Vel the Traveler
Dark Sun
326
Chuka-tet
Dark Sun
327
Loorta
Dark Sun
328
Killian
Greyhawk
329
Kanag the Finder
Dragonlance
330
Checklist: 276–330
AD&D 2nd Edition
331
Beetle, Rhinoceros
AD&D 2nd Edition
332
Crabman
AD&D 2nd Edition
333
Genie, Tasked, Artist
Al-Qadim
334
Ettin
AD&D 2nd Edition
Mini-series: Miniatures
335
Giant, Cloud
AD&D 2nd Edition
Mini-series: Miniatures
336
Giant, Fire
AD&D 2nd Edition
Mini-series: Miniatures
337
Giant, Frost
AD&D 2nd Edition
Mini-series: Miniatures
338
Giant, Hill
AD&D 2nd Edition
Mini-series: Miniatures
339
Giant, Stone
AD&D 2nd Edition
Mini-series: Miniatures
340
Giant, Storm
AD&D 2nd Edition
Mini-series: Miniatures
341
Giant-kin, Firbolg
AD&D 2nd Edition
Mini-series: Miniatures
342
Ogre
AD&D 2nd Edition
Mini-series: Miniatures
343
Giant-kin, Firbolg
AD&D 2nd Edition
344
Hippogriff
AD&D 2nd Edition
345
Kobold
AD&D 2nd Edition
346
Pterran
Dark Sun
347
Silt Runner
Dark Sun
348
Spider, Crystal
Dark Sun
349
Wyvern
AD&D 2nd Edition
350
Arctor's Staff of Swarming Insects
AD&D 2nd Edition
351
Icon of the Raven
Ravenloft
352
Bradlie's Leather Armor +1
Greyhawk
353
Brindletople's Time Bomb
Ravenloft
354
Cymboli's Pipes of Sounding
Spelljammer
355
Gnaash's Hat of Stupidity
Greyhawk
356
Golo's Helm of Telepathy
AD&D 2nd Edition
357
Gregory's +5 Holy Avenger
AD&D 2nd Edition
358
Basher the Dwarf
Dark Sun
359
Turhan al-Ruffik
Al-Qadim
360
Hod o' the Wood
Dragonlance
361
Jhurgen Vastish
Ravenloft
362
Kathena Silverblade
AD&D 2nd Edition
363

Kregos Belizzian

Forgotten Realms
364
Tarcia Kharkoban
Dark Sun
365

Pyros the Cunning

Forgotten Realms
366
Lythia Elaewyn
Greyhawk
367
Chubbukoku
Greyhawk
368
Rhyltha Welewy
Dragonlance
369
Vilarus the Showman
Greyhawk
370
Jarnia "Nimblefingers"
Greyhawk
371

Bailey

Forgotten Realms
372
Serpé
Forgotten Realms
373
Vashtar
Ravenloft
374
Almeryl al-Shap
Al-Qadim
375
Shahpesh
Al-Qadim
376
Noora bint Amon
Al-Qadim
377
Otter
Greyhawk
378
Arden
Forgotten Realms
379

Tanith

Forgotten Realms
380
Thuba Mleen (The King in Yellow)
Al-Qadim
381

Soolin Potter

Forgotten Realms
382
Skorian Skalazari
AD&D 2nd Edition
383
Lt. Michael Giller
AD&D 2nd Edition
384
Lucia Avengar
Dragonlance
385
Checklist: 331–385
Greyhawk
386
Buraq
Al-Qadim
387
Dracolich
AD&D 2nd Edition
388
Sir Duane Govindana
Greyhawk
Mini-series: Alliance of Defiance
389
Ahlaege
Greyhawk
Mini-series: Alliance of Defiance
390
Shadow
Greyhawk
Mini-series: Alliance of Defiance
391
Sheerah Nissassa
Greyhawk
Mini-series: Alliance of Defiance
392
Captain Gahalatine Bascher
Greyhawk
Mini-series: Alliance of Defiance
393
Dorian
Greyhawk
Mini-series: Alliance of Defiance
394
Draga
Greyhawk
Mini-series: Alliance of Defiance
395
Arant Quovant Garday
Greyhawk
Mini-series: Alliance of Defiance
396
Charissa
Greyhawk
Mini-series: Alliance of Defiance
397
Genie, Tasked, Guardian
Al-Qadim
398
Giant-kin, Voadkyn
Greyhawk
399
Hydra
AD&D 2nd Edition
400
Needleman
Greyhawk
401
Pyreen
Dark Sun
402
Simurgh
Al-Qadim
403
Spirit of the Land
Dark Sun
404
Xill
AD&D 2nd Edition
405
Intier's Ring of Shooting Stars
Spelljammer
406
Karelia's Wand of Illusion
Greyhawk
407
Kathena's Pearl of Wisdom
AD&D 2nd Edition
408
Mark's Scarab of Protection
Ravenloft
409
Mortos's Scarab Versus Golems
AD&D 2nd Edition
410
Noora's Ring of Djinn Summoning
Al-Qadim
411
Noora's Candle of Propitiousness
Al-Qadim
412

Pyros

's Ring of Spell Storing
Forgotten Realms
413
Shard Stoutstrike
AD&D 2nd Edition
414
Bors Bladebite
Dragonlance
415
Bradlie Tagart
Greyhawk
416
Trystona
Dragonlance
417
Mark of the Raven
Ravenloft
418
Nahal the Incorrigible
Forgotten Realms
419
Toola
Dark Sun
420
Angia
Dark Sun
421

Vexter, Master of Illusion

Forgotten Realms
422
Fael
AD&D 2nd Edition
423

Thwitle Phaslebum

Forgotten Realms
424
Ferret
Greyhawk
425
Melikna van Raestel
AD&D 2nd Edition
426

Sarina Reqnivich

Forgotten Realms
427

Lanasetas Neasfilarion

Forgotten Realms
428
Colgrim
AD&D 2nd Edition
429
Ahmintam
AD&D 2nd Edition
430
Kergitta Granitethews
AD&D 2nd Edition
431
Mellevna
AD&D 2nd Edition
432

Boeddu

Forgotten Realms
433
Khaitai Ghentin
AD&D 2nd Edition
434
Aziza bint Diyab
Al-Qadim
435
Talus Mindswift
Spelljammer
436

The Shadowed One

Forgotten Realms
437
Noland Tagart
Greyhawk
438
Tark Wide-Eye
Dragonlance
439
Shag Foultongue
Dragonlance
440
Checklist: 386–440
Greyhawk
441
Cat, Psionic (Tigone)
Dark Sun
442
Dragon, Red
AD&D 2nd Edition
443
Genie, Tasked, Slayer
Al-Qadim
444
Goblin
AD&D 2nd Edition
445
Kamadan
Forgotten Realms
446
Nightmare
Dragonlance
447
Rasclinn
Dark Sun
448
Skeleton
AD&D 2nd Edition
449
Sprite
AD&D 2nd Edition
450
Zaratan
Al-Qadim
451
Kingdom of Furyondy
Greyhawk
Mini-series: Arms of Greyhawk
452
The Great Kingdom
Greyhawk
Mini-series: Arms of Greyhawk
453
Horned Society
Greyhawk
Mini-series: Arms of Greyhawk
454
Lands of Iuz
Greyhawk
Mini-series: Arms of Greyhawk
455
The Kingdom of Nyrond
Greyhawk
Mini-series: Arms of Greyhawk
456
The Shield Lands
Greyhawk
Mini-series: Arms of Greyhawk
457
Archclericy of Veluna
Greyhawk
Mini-series: Arms of Greyhawk
458
The Free City of Greyhawk
Greyhawk
Mini-series: Arms of Greyhawk
459
Viscounty of Verbobonc
Greyhawk
Mini-series: Arms of Greyhawk
460
Khalid's Pouch of Accessibility
Al-Qadim
461
Serpé's

Belt of Swimming

Forgotten Realms
462
Shag's Battle Axe +1
Dragonlance
463
Shahpesh's Incense of Obsession
Al-Qadim
464
Skorian's Drow Chain Mail +0
AD&D 2nd Edition
465
Thuba's Efreeti Bottle
Al-Qadim
466
Thuba's Book of Vile Darkness
Al-Qadim
467
Tithion's Wand of Fire
Ravenloft
468
Klank
Dragonlance
469
Blok Grimface
Dragonlance
470
Dalt Breakback
Dragonlance
471
Kormar Thromdan
Dragonlance
472
Gregory the Valorous
AD&D 2nd Edition
473
Karelia Cogrinder
Greyhawk
474
Tithion
Ravenloft
475
Grabelli the Grey
Spelljammer
476
Basif the Blue
Spelljammer
477
Intier the Indigo
Spelljammer
478

Sagrais Bigelow

Forgotten Realms
479
Khalid al-Karim
Al-Qadim
480

Valurian

Forgotten Realms
481
Phil Krisp
Greyhawk
482
Cymboli Starsong
Spelljammer
483
Seldain
Ravenloft
484
Patron Arabel
Ravenloft
485
Malabeth Tr'rudena
Forgotten Realms
486
Gnaash
Greyhawk
487
Arctor Remick
AD&D 2nd Edition
488
Joolan Entine
Dark Sun
489
Golo Tufty
AD&D 2nd Edition
490
Brindletople
Ravenloft
491
Mortos Ironbeard
AD&D 2nd Edition
492
Gadspar Dunuwin
Dragonlance
493

Elisseer of Shadowdale

Forgotten Realms
494
Alexander Songmaster
AD&D 2nd Edition
495
Checklist: 441–495
AD&D 2nd Edition
1993 rare set
[
]
| # | Name | Setting | Note |
| --- | --- | --- | --- |
| 1 | Kyristan "The Dead King" (Lich) | AD&D 2nd Edition | |
| 2 | Graytch | Dark Sun | |
| 3 | Magnus Arifek | Forgotten Realms | |
| 4 | Wilhemina the Petite | Spelljammer | |
| 5 | Keira Nierna | Forgotten Realms | |
| 6 | Kaele Nierna | Forgotten Realms | |
| 7 | Daltim Flamefist | Forgotten Realms | |
| 8 | Rowan | Dark Sun | |
| 9 | Drasna | Dark Sun | |
| 10 | Casimir of Harmonia | Ravenloft | |
| 11 | Rastibaxas | AD&D 2nd Edition | |
| 12 | Aegis | Dark Sun | |
| 13 | Lord Soth | Ravenloft | |
| 14 | Ugorth | AD&D 2nd Edition | |
| 15 | High Master | Ravenloft | |
| 16 | Sir Ortemus | AD&D 2nd Edition | |
| 17 | Stantree Vilmrick | Dragonlance | |
| 18 | Jaraq the Deceiver | Ravenloft | |
| 19 | Galek Sandstrider | Dark Sun | |
| 20 | Ka'Cha | Dark Sun | |
| 21 | Athasian Dragon | Dark Sun | Sticker card |
| 22 | Hornung the Anarch | AD&D 2nd Edition | |
| 23 | Lerithyn | Forgotten Realms | |
| 24 | Mouse | AD&D 2nd Edition | |
| 25 | Loran | Greyhawk | |
| 26 | Strom the Purple Wizard | AD&D 2nd Edition | |
| 27 | Niche Fireheart | AD&D 2nd Edition | |
| 28 | Blur | AD&D 2nd Edition | |
| 29 | Evard's Black Tentacles | AD&D 2nd Edition | |
| 30 | Glitterdust | AD&D 2nd Edition | |
| 31 | Magic Missile | AD&D 2nd Edition | |
| 32 | Melf's Minute Meteors | AD&D 2nd Edition | |
| 33 | Minor Glove of Invulnerability | AD&D 2nd Edition | |
| 34 | Prismatic Spray | AD&D 2nd Edition | |
| 35 | Pyrotechnics | AD&D 2nd Edition | |
| 36 | Spectral Hand | AD&D 2nd Edition | |
| 37 | Eric Blackthorn | AD&D 2nd Edition | |
| 38 | Logan Starr | Forgotten Realms | |
| 39 | Rashad al-Anwar | Al-Qadim | |
| 40 | Icarus | Spelljammer | |
| 41 | Borys | Dark Sun | Sticker card |
| 42 | Lhaeo | Forgotten Realms | |
| 43 | Darsson Spellmaker | Forgotten Realms | |
| 44 | Selowen | Dragonlance | |
| 45 | Amber | AD&D 2nd Edition | |
| 46 | Create-Your-Own (Warrior) | AD&D 2nd Edition | Mini-series: Create-Your-Own |
| 47 | Create-Your-Own (Warrior) | AD&D 2nd Edition | Mini-series: Create-Your-Own |
| 48 | Create-Your-Own (Wizard) | AD&D 2nd Edition | Mini-series: Create-Your-Own |
| 49 | Create-Your-Own (Wizard) | AD&D 2nd Edition | Mini-series: Create-Your-Own |
| 50 | Create-Your-Own (Priest) | AD&D 2nd Edition | Mini-series: Create-Your-Own |
| 51 | Create-Your-Own (Priest) | AD&D 2nd Edition | Mini-series: Create-Your-Own |
| 52 | Create-Your-Own (Rogue) | AD&D 2nd Edition | Mini-series: Create-Your-Own. Unnumbered due to publishing error[5] |
| 53 | Create-Your-Own (Rogue) | AD&D 2nd Edition | Mini-series: Create-Your-Own. Unnumbered due to publishing error[5] |
| 54 | Create-Your-Own (Psionicist) | AD&D 2nd Edition | Mini-series: Create-Your-Own. Unnumbered due to publishing error[5] |
| 55 | Miguel Hernando de la Montoya | AD&D 2nd Edition | Unnumbered due to publishing error[5] |
| 56 | High Princess Alicia Kendrick | Forgotten Realms | Unnumbered due to publishing error[5] |
| 57 | Prince Brandon Olaffson | Forgotten Realms | Unnumbered due to publishing error[5] |
| 58 | Myrmeen Lhal | Forgotten Realms | Unnumbered due to publishing error[5] |
| 59 | Artus Cimber | Forgotten Realms | Unnumbered due to publishing error[5] |
| 60 | Checklist: 1–60 | AD&D 2nd Edition | |
Appendix
[
]
Notes
[
]
References
[
]