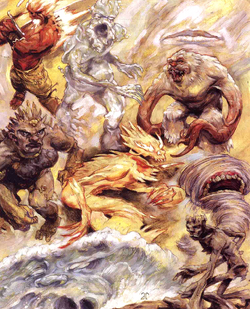 Archomentals, also known as Elemental Princes[1] or collectively Princes of Elemental Good and Evil[2], were powerful beings of the Elemental Planes and rulers over the elementals.[1][2]
Description
[
]
Although archomentals were not truly rulers of their planes, they liked to consider themselves as such and often granted themselves regal titles like Prince or Princess.[1][2]
History
[
]
In the 15th century DR, several archomental-worshiping cults became active in Faerûn. Such cults were ultimately responsible for the Elemental Evil crisis.[3]
Notable Archomentals
[
]
Appendix
[
]
References
[
]