Aumrauth was a realm of aquatic elves located in the Shining Sea circa the Year of the Tankard, 1370 DR.[1]
Geography
Edit
The Aumrauthen territory was between the island of Tharsult and the mouth of the River Scelptar where it poured into the Shining Sea on its eastern shore.[1]
Government
Edit
Aumrauth was a dyarchy jointly ruled by an Exalted Lord and a Lady Queen who were not required to be married to each other. Lords and Ladies generally served until death, so overly ambitious contenders sometimes resorted to assassination.[2] The heraldry of the realm was a long, dark green pennant emblazoned with a large, white, conically spiraled shell.[1]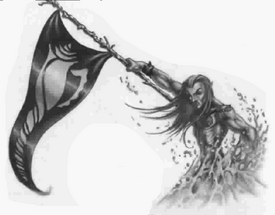 The main trade with the surface world was with fisherfolk that they trusted, exchanging fish, seaweed, and anything else they could harvest that interested the land dwellers for items that caught their fancy. The fisherfolk usually treated the Aumrauthen well because they could get "deep-caught" fish delivered in "seawater sleeves" (whale rib-cages woven with seaweed) with little risk and for almost no effort.[1]
Little was known of this strong and usually quiet realm. As of 1370 DR, the nation of Aumrauth was at peace, but they had a history of clashing with ships flying the colors of Calimshan.[2]
Notable Inhabitants
Edit
Noble families were part of the power structure of this nation. Some of the most prominent included:[2]
References
Edit
Community content is available under
CC-BY-SA
unless otherwise noted.