Banehold, sometimes called the Barrens of Doom and Despair,[1] was a sinister plane of existence.
Description
[
]
Banehold was one of a number of Outer Planes. It was an inhospitable locale, filled with vast deserts of black sand and huge plains of dark granite. There was no water to be found anywhere on the plane (except for the River of Blood), and no sunlight filled the blood-red sky.[2]
Inhabitants
[
]
Deities who made their home on this plane included Bane, Beshaba, Hoar, Loviatar, and Talona. Kuraulyek dwelled in this plane's Underdark.[3]
Structure
[
]
The Barrens of Doom and Despair consisted of a single infinite plane. There were no constituent layers. It linked via the Astral Plane to the planes of the Prime Material (such as Toril) and a number of portals directly connected it with Hammergrim and the Blood Rift. Beshaba's realm, the Blood Tor, linked directly to the Abyss.
Appendix
[
]
References
[
]
Connections
[
]
---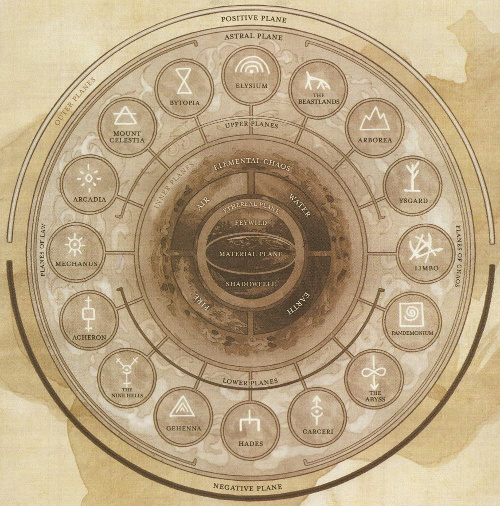 Prime Material plane • Feywild • Shadowfell • Fugue Plane
Transitive Planes: Astral Plane • Ethereal plane
Inner Planes: Elemental Plane of Air • Elemental Plane of Water • Elemental Plane of Earth • Elemental Plane of Fire • Elemental Chaos
Para-Elemental Planes: Frostfell • Swamp of Oblivion • Fountains of Creation • Great Conflagration
Quasi-Elemental Planes: Lightning • Radiance • Minerals • Steam • Vacuum • Ash • Dust • Salt
Outlands: Sigil
Outer Planes: Arcadia • Mount Celestia • Bytopia • Elysium • Beastlands • Arborea • Ysgard • Limbo •
Pandemonium • Abyss (Layers) • Carceri • Hades • Gehenna • Nine Hells • Acheron • Mechanus
Energy planes: Positive Energy plane • Negative Energy plane
Planar Pathways: Infinite Staircase • Oceanus • Mount Olympus • Styx • Yggdrasil
Far Realm
---
Prime Material plane • Cynosure • Fugue Plane
Transitive Planes: Astral Plane • Ethereal plane • Plane of Shadow • Spirit World
Celestial Outer Planes: Arvandor • Brightwater • Dwarfhome • Dweomerheart • Gates of the Moon • Golden Hills • Green Fields • House of Knowledge • House of the Triad
Fiendish Outer Planes: Abyss (Layers) • Barrens of Doom and Despair • Blood Rift • Clangor • Deep Caverns • Demonweb Pits • Fated Depths • Fury's Heart • Hammergrim • Nine Hells • Nishrek • Supreme Throne
Neutral Outer Planes: Dragon Eyrie • Heliopolis • House of Nature • Jotunheim • Warrior's Rest
Inner Planes: Elemental Plane of Air • Elemental Plane of Earth • Elemental Plane of Fire • Elemental Plane of Water • Positive Energy plane • Negative Energy plane
Planar Pathways: Infinite Staircase • River of Blood • World Tree
Far Realm
---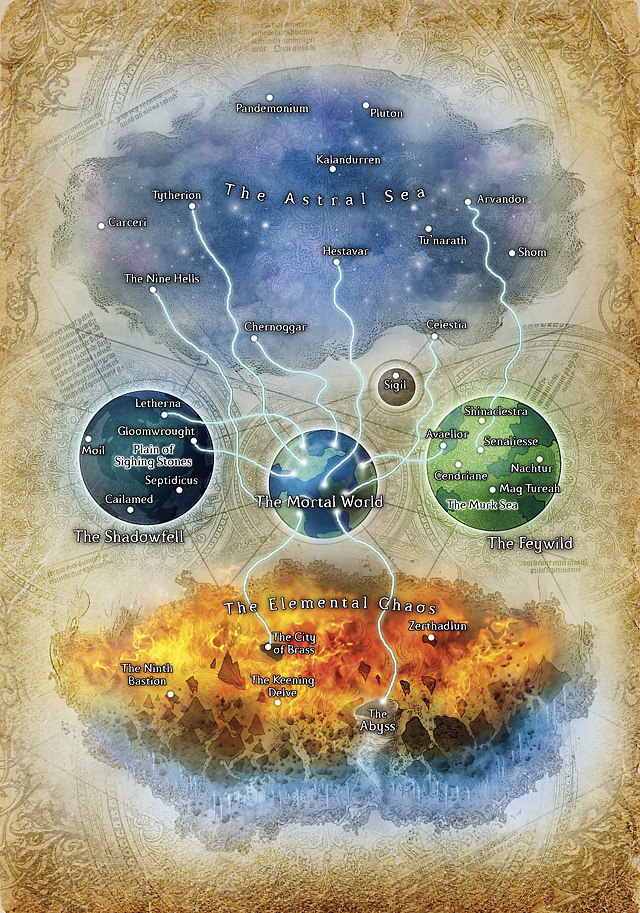 Prime Material plane
Fundamental planes: Astral Sea • Elemental Chaos
Astral dominions: Arvandor • Banehold • Celestia • Cynosure • Deep Wilds • Demonweb Pits • Dismal Caverns • Dwarfhome • Eternal Sun • Fugue Plane • Gates of the Moon • Green Fields • House of Knowledge • Nine Hells • Nishrek • Supreme Throne • Towers of Night • Tu'narath • Warrior's Rest
Elemental realms: Abyss (Layers) • City of Brass • Cresting Spires • Fimbulwinter • Hidden Realm • Muspelheim • Root Hold • Sky Home • Steading • Thraotor • Undying Pyre • Zerthadlun
Parallel planes: Feywild • Shadowfell
Anomalous planes: Far Realm