The Blood Rift was named for the rift that the River of Blood created crossing the planes. It served as the main connection between the Nine Hells and the Abyss, so it was the main battlefield for the Blood War. In addition, it sometimes connected to other lower planes, bringing the eternal struggle there, until it floated away or a deity took action to stop the carnage.
The Blood Rift was very similar to the Barrens of Doom and Despair, with empty plains and rocky badlands, perfect for ambushes and treachery.
Some time during the Hundred Years of Chaos, it was revealed that yugoloths were demons, and the Blood Rift was folded into the Abyss.
This article is incomplete.
You can help the Forgotten Realms Wiki by providing more information.
References
Edit
↑ 1.0 1.1 Richard Baker, James Wyatt (March 2004). Player's Guide to Faerûn. (Wizards of the Coast), p. 146. ISBN 0-7869-3134-5.
↑ Ed Stark, James Jacobs, Erik Mona (June 13, 2006). Fiendish Codex I: Hordes of the Abyss. (Wizards of the Coast), pp. 132–133. ISBN 0-7869-3919-2.
↑ Mike Mearls, Brian R. James, Steve Townshend (July, 2010). Demonomicon. (Wizards of the Coast), pp. 50–57. ISBN 978-0786954926.
Connections
Edit
---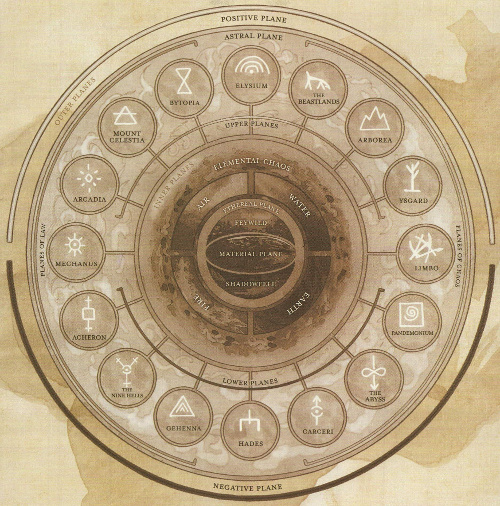 Prime Material plane • Feywild • Shadowfell
Transitive Planes: Astral Plane • Ethereal plane
Inner Planes: Elemental Plane of Air • Elemental Plane of Water • Elemental Plane of Earth • Elemental Plane of Fire • Elemental Chaos
Para-Elemental Planes: Frostfell • Swamp of Oblivion • Fountains of Creation • Great Conflagration
Quasi-Elemental Planes: Lightning • Radiance • Minerals • Steam • Vacuum • Ash • Dust • Salt
Outlands: Sigil
Outer Planes: Arcadia • Mount Celestia • Bytopia • Elysium • Beastlands • Arborea • Ysgard • Limbo •
Pandemonium • Abyss (Layers) • Carceri • Hades • Gehenna • Nine Hells • Acheron • Mechanus
Energy planes: Positive Energy plane • Negative Energy plane
Far Realm
---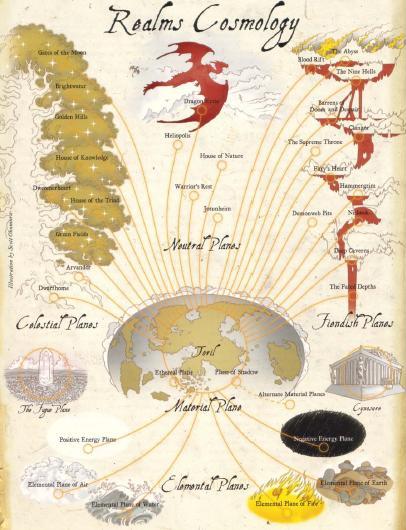 Prime Material plane • Cynosure • Fugue Plane
Transitive Planes: Astral Plane • Ethereal plane • Plane of Shadow
Celestial Outer Planes: Arvandor • Brightwater • Dwarfhome • Dweomerheart • Gates of the Moon • Golden Hills • Green Fields • House of Knowledge • House of the Triad
Fiendish Outer Planes: Abyss (Layers) • Barrens of Doom and Despair • Blood Rift • Clangor • Deep Caverns • Demonweb Pits • Fated Depths • Fury's Heart • Hammergrim • Nine Hells • Nishrek • Supreme Throne
Neutral Outer Planes: Dragon Eyrie • Heliopolis • House of Nature • Jotunheim • Warrior's Rest
Inner Planes: Elemental Plane of Air • Elemental Plane of Earth • Elemental Plane of Fire • Elemental Plane of Water • Positive Energy plane • Negative Energy plane
Far Realm
---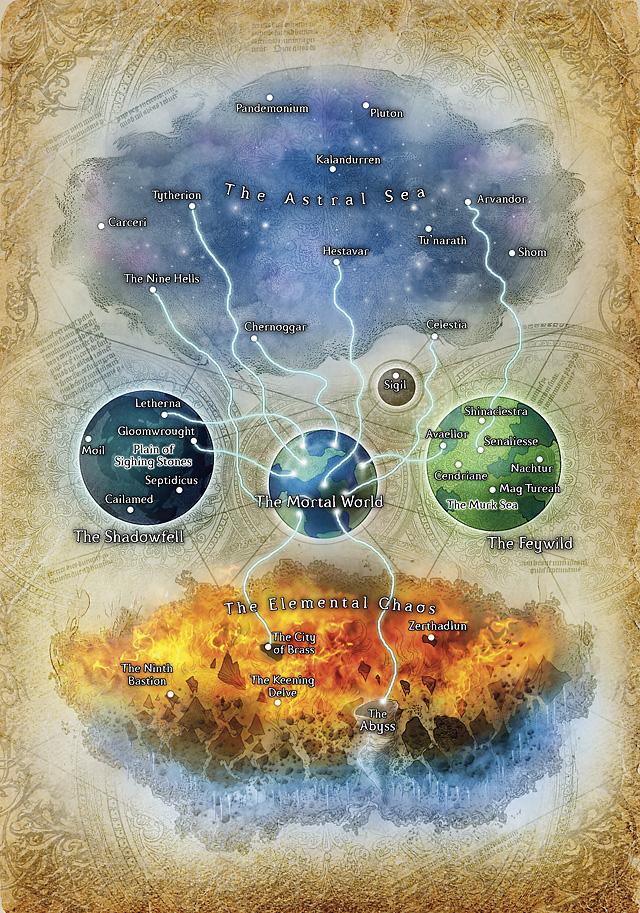 Prime Material plane
Fundamental planes: Astral Sea • Elemental Chaos
Astral dominions: Arvandor • Banehold • Celestia • Cynosure • Deep Wilds • Demonweb Pits • Dismal Caverns • Dwarfhome • Eternal Sun • Fugue Plane • Gates of the Moon • Green Fields • House of Knowledge • Nine Hells • Nishrek • Supreme Throne • Towers of Night • Tu'narath • Warrior's Rest
Elemental realms: Abyss (Layers) • City of Brass • Cresting Spires • Fimbulwinter • Hidden Realm • Muspelheim • Root Hold • Sky Home • Steading • Thraotor • Undying Pyre • Zerthadlun
Parallel planes: Feywild • Shadowfell
Anomalous planes: Far Realm