Brightwater was a Celestial plane[4][5] in the World Tree cosmology model. It was the home plane of the goddesses Lliira,[6][7] Sharess,[6][8] Sune,[6][9] Tymora,[6][10] and Waukeen[6][11] until the Spellplague upset the cosmos. At least a portion of Brightwater survived the Spellplague and became Sune's realm in the Gates of the Moon.[12]
Description
[
]
As a Celestial plane, Brightwater was connected to the trunk of the sentient World Tree which sometimes allowed beings with good and noble purpose to pass unimpeded.[5] Most travelers had to navigate the Astral plane using an astral projection or plane shift spell to visit this paradise.[13] Some of the deities maintained permanent portals to allied realms. Sune and Hanali Celanil from Arvandor shared a portal and Tymora was known to keep a portal open to Green Fields. Sharess, who was known to the Mulhorandi as Bast, had a portal to her realm in Heliopolis.[1]
Brightwater had all the natural beauty of Arvandor but was less wild and more gentrified, with stately mansions, summer homes, winter retreats, beach cabins, cottages in the woods, and happy houses great and small. However, this plane was not well known for its quiet solitude but rather for rollicking adventure, industrious business dealings, thematic parties, thrilling romance, games of chance, roving bands of revelers, and joyous celebration.[1] Waukeen's realm was the hub of the populated portion of Brightwater, with the realms of the other four goddesses arranged around it roughly in quarters. Petitioners, celebrants, gamblers, lovers, and tycoons could travel freely among the realms.[14]
Inhabitants
[
]
Only the devas, planetars, solars, and other angels that served the goddesses were native to Brightwater, the rest of the inhabitants were either petitioners or visitors looking for a good time.[1] Travelers had to exercise caution on this plane because too much revelry could have possibly fatal consequences. When a wandering band of merry makers got close enough, their enthusiasm was intoxicating and mortals found it hard to resist joining the party. If they succumbed, they were swept away in the throng and had the time of their lives, refusing to leave voluntarily. But the food and drink gave no sustenance and they eventually collapsed of malnutrition.[15]
Birch trees grew in Tymora's gardens along with a chaotic selection of other plants and fireflies flickered around the garden after twilight.[16]
Realms
[
]
Great Wheel Cosmology
[
]
In the Great Wheel cosmology Brightwater was the divine realm of Sune, located on Arborea's first layer, Arvandor.[18][19][3] The realm was shared by the goddesses Tymora, Lliira[19][20] and, since about the Time of Troubles, Sharess.[21] As divine realms went, Brightwater was considered a very young and vibrant place. It attracted many visitors through a great variety of diversions and constantly new high-lights.[19]
Appendix
[
]
Notes
[
]
Appearances
[
]
Novels

Referenced only
References
[
]
Connections
[
]
---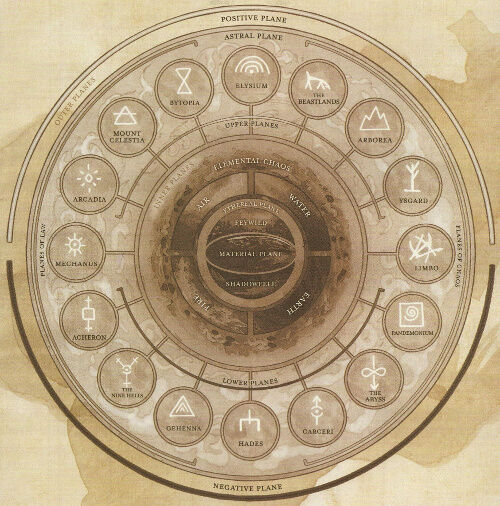 Prime Material plane • Feywild • Shadowfell • Fugue Plane
Transitive Planes: Astral Plane • Ethereal plane
Inner Planes: Elemental Plane of Air • Elemental Plane of Water • Elemental Plane of Earth • Elemental Plane of Fire • Elemental Chaos
Para-Elemental Planes: Frostfell • Swamp of Oblivion • Fountains of Creation • Great Conflagration
Quasi-Elemental Planes: Lightning • Radiance • Minerals • Steam • Vacuum • Ash • Dust • Salt
Outlands: Sigil
Outer Planes: Arcadia • Mount Celestia • Bytopia • Elysium • Beastlands • Arborea • Ysgard • Limbo •
Pandemonium • Abyss (Layers) • Carceri • Hades • Gehenna • Nine Hells • Acheron • Mechanus
Energy planes: Positive Energy plane • Negative Energy plane
Planar Pathways: Infinite Staircase • Oceanus • Mount Olympus • Styx • Yggdrasil
Far Realm
---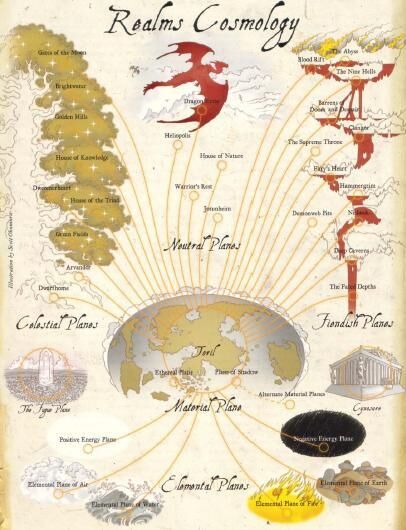 Prime Material plane • Cynosure • Fugue Plane
Transitive Planes: Astral Plane • Ethereal plane • Plane of Shadow • Spirit World
Celestial Outer Planes: Arvandor • Brightwater • Dwarfhome • Dweomerheart • Gates of the Moon • Golden Hills • Green Fields • House of Knowledge • House of the Triad
Fiendish Outer Planes: Abyss (Layers) • Barrens of Doom and Despair • Blood Rift • Clangor • Deep Caverns • Demonweb Pits • Fated Depths • Fury's Heart • Hammergrim • Nine Hells • Nishrek • Supreme Throne
Neutral Outer Planes: Dragon Eyrie • Heliopolis • House of Nature • Jotunheim • Warrior's Rest
Inner Planes: Elemental Plane of Air • Elemental Plane of Earth • Elemental Plane of Fire • Elemental Plane of Water • Positive Energy plane • Negative Energy plane
Planar Pathways: Infinite Staircase • River of Blood • World Tree
Far Realm
---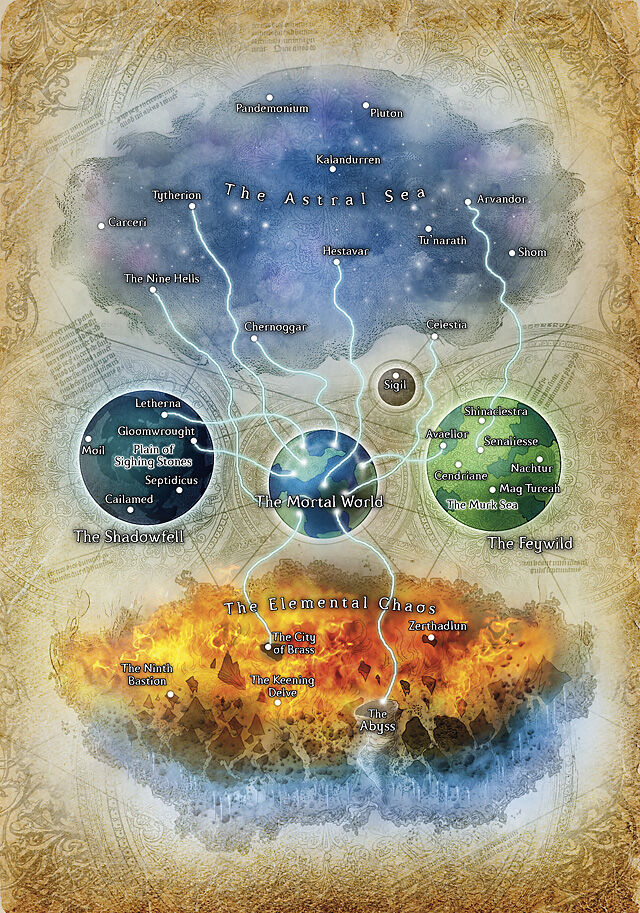 Prime Material plane
Fundamental planes: Astral Sea • Elemental Chaos
Astral dominions: Arvandor • Banehold • Celestia • Cynosure • Deep Wilds • Demonweb Pits • Dismal Caverns • Dwarfhome • Eternal Sun • Fugue Plane • Gates of the Moon • Green Fields • House of Knowledge • Nine Hells • Nishrek • Supreme Throne • Towers of Night • Tu'narath • Warrior's Rest
Elemental realms: Abyss (Layers) • City of Brass • Cresting Spires • Fimbulwinter • Hidden Realm • Muspelheim • Root Hold • Sky Home • Steading • Thraotor • Undying Pyre • Zerthadlun
Parallel planes: Feywild • Shadowfell
Anomalous planes: Far Realm