The Twin Paradises of Bytopia were two layers that formed one of the Outer Planes in the Great Wheel cosmology model representing alignments between lawful good and neutral good.[6][10]
Some characteristics of this plane were ascribed to the World Tree cosmology planes of Golden Hills[11] and the House of the Triad[12] when that cosmology became popular. The Golden Hills became part of Arvandor after the Spellplague and the House of the Triad became known as Celestia[13] as described by the World Axis cosmology.
"
No jink for your dinner? No problem. There's a roof that needs fixing — hop to it, lads!
"
— Kendia, Bytopian innkeeper.
[14]
Description
[
]
The two layers of this plane were joined at one barrier which happened to span the entire sky at about 10 miles (16km) above sea level. Gravity for each layer was normal for that layer but switched direction as soon as one crossed the barrier. The inhabitants of one layer could look up and see the other layer hanging upside down high overhead. Several mountains reached the crossover point and a few met mountains rising up from the other side, allowing careful climbers a way to reach the other layer. Also the space between layers was filled with air, allowing flight from one side to the other. Each layer glowed with a golden-white light.[1]
Dothion
[
]
Dothion was a bucolic land of old forests and huge meadows subject to mild seasonal changes and gentle weather. Portals to Seven Heavens, Elysium, and Concordant Opposition were found in caverns as brightly glowing patterns: concentric circles for the Seven Heavens, radiating lines for Elysium, and both patterns superimposed, which resembled a spider web, for Concordant Opposition. Travelers from the Astral Plane would emerge from the color pools on this layer.[1]
Shurrock
[
]
Across the barrier, Shurrock had much the same landscape features but much harsher weather: summers were hot and winters were long and cold. Storms were more common here, with booming thunder and heavy rains. Life on the Shurrock side was more challenging and kept the inhabitants busy, but both sides were virtuously industrious.[1]
Inhabitants
[
]
The animals in the Twin Paradises were sentient with average intelligence or above, but did not have the ability to speak. Some trees were also intelligent, similar to treants from the Prime Material Plane.[1] The usual menagerie of upper plane creatures were found here,[1] including solars,[15] planetars,[16] hollyphants,[17] devas,[18] foo creatures,[19] baku,[20] and agathia.[21]
Realms
[
]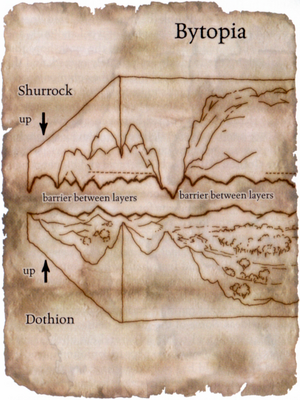 Appendix
[
]
References
[
]
Connections
[
]
The Twin Paradises of Bytopia
---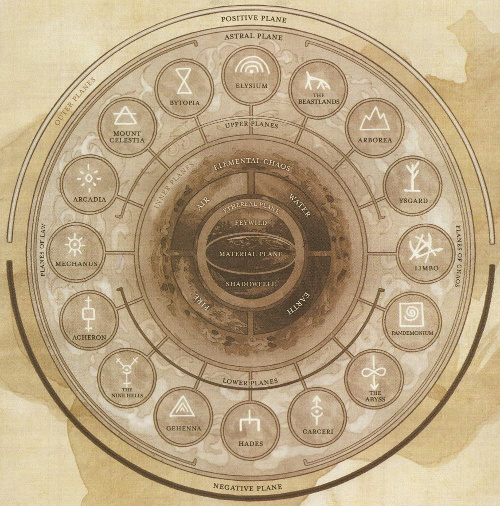 Prime Material plane • Feywild • Shadowfell • Fugue Plane
Transitive Planes: Astral Plane • Ethereal plane
Inner Planes: Elemental Plane of Air • Elemental Plane of Water • Elemental Plane of Earth • Elemental Plane of Fire • Elemental Chaos
Para-Elemental Planes: Frostfell • Swamp of Oblivion • Fountains of Creation • Great Conflagration
Quasi-Elemental Planes: Lightning • Radiance • Minerals • Steam • Vacuum • Ash • Dust • Salt
Outlands: Sigil
Outer Planes: Arcadia • Mount Celestia • Bytopia • Elysium • Beastlands • Arborea • Ysgard • Limbo •
Pandemonium • Abyss (Layers) • Carceri • Hades • Gehenna • Nine Hells • Acheron • Mechanus
Energy planes: Positive Energy plane • Negative Energy plane
Planar Pathways: Infinite Staircase • Oceanus • Mount Olympus • Styx • Yggdrasil
Far Realm
---
Prime Material plane • Cynosure • Fugue Plane
Transitive Planes: Astral Plane • Ethereal plane • Plane of Shadow • Spirit World
Celestial Outer Planes: Arvandor • Brightwater • Dwarfhome • Dweomerheart • Gates of the Moon • Golden Hills • Green Fields • House of Knowledge • House of the Triad
Fiendish Outer Planes: Abyss (Layers) • Barrens of Doom and Despair • Blood Rift • Clangor • Deep Caverns • Demonweb Pits • Fated Depths • Fury's Heart • Hammergrim • Nine Hells • Nishrek • Supreme Throne
Neutral Outer Planes: Dragon Eyrie • Heliopolis • House of Nature • Jotunheim • Warrior's Rest
Inner Planes: Elemental Plane of Air • Elemental Plane of Earth • Elemental Plane of Fire • Elemental Plane of Water • Positive Energy plane • Negative Energy plane
Planar Pathways: Infinite Staircase • River of Blood • World Tree
Far Realm
---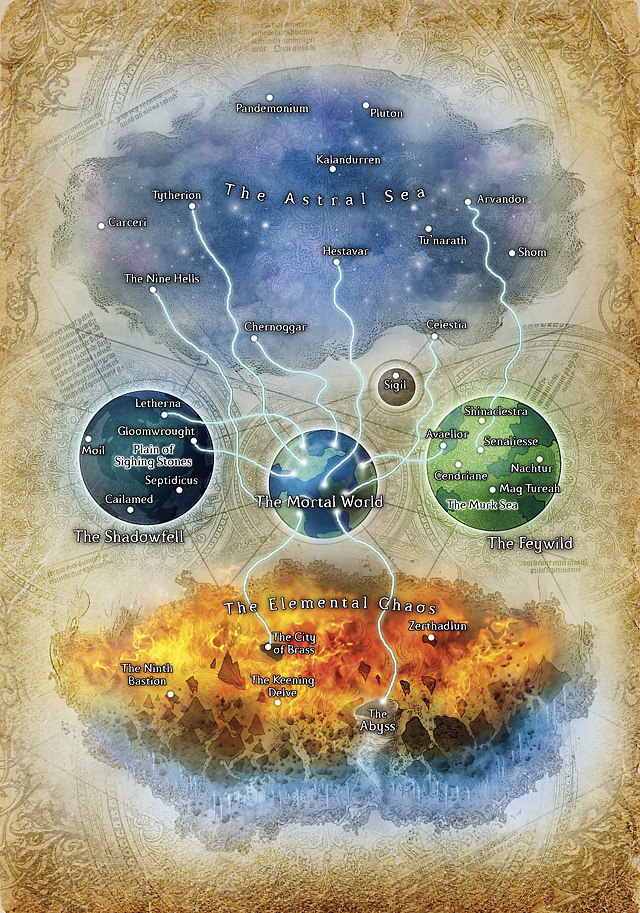 Prime Material plane
Fundamental planes: Astral Sea • Elemental Chaos
Astral dominions: Arvandor • Banehold • Celestia • Cynosure • Deep Wilds • Demonweb Pits • Dismal Caverns • Dwarfhome • Eternal Sun • Fugue Plane • Gates of the Moon • Green Fields • House of Knowledge • Nine Hells • Nishrek • Supreme Throne • Towers of Night • Tu'narath • Warrior's Rest
Elemental realms: Abyss (Layers) • City of Brass • Cresting Spires • Fimbulwinter • Hidden Realm • Muspelheim • Root Hold • Sky Home • Steading • Thraotor • Undying Pyre • Zerthadlun
Parallel planes: Feywild • Shadowfell
Anomalous planes: Far Realm