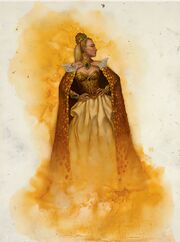 The Year of Maps is over! We added 1,580 new articles on geography, settlements, buildings, and more, and expanded many others. And now the Year of Miracles begins—our most difficult yet, focusing on all things divine. It'll be a miracle if we get through it all.
Given the Finger Defiant, Stabbier (than whom?) journeyed to the lost Imaskari Palace of the Purple Emperor on the uncomfortable back of a granite destrier. There, using a delver's orb, he explored the Great Imperial Library and Imperial Weapons Cache, before having a run-in with a fierce mountain troll.
Very cautiously, Ruf67 investigated the church of Cyric, via Tynnos Argrim's Flames of the Dark Sun at the Mountain of Skulls and Haroun and Jabbar's Company of the Ebon Spur at an undisclosed location. They're as power-hungry, narcissistic, misogynistic, deceitful, fractious, spiteful, and incompetent as we always knew. It's a story as old as time.
Escaping from Lonefang Mountain in a thkaerth-wool cloak, Possessed Priest returned to Baldur's Gate and received healing from happy-go-lucky Tymoran priest Gunnar Thrune (Umberlant priestess Allandra Grey was much less generous). While recuperated, Priest documented divine spells like artisan's blessing, balm of peace, twilight sanctuary, and touch of death.
We welcome one Dndtravellog, who trekked across Amn, first landing at the fishing village of Kalathtyr, then staying at the Battlescarred Bard, before heading to the aptly named Shepherdston, and passing the ruins of Minsor Vale.
We also welcome LtPowers and Holy Codashi, who each checked a divine book out of the Candlekeep library: Lore of Lurue and The Price of Beauty.
In Legacy of the Green Regent: Waylaid Before Twilight, our heroes find themselves on the rocks, and they haven't even started the white-water rafting yet. Will they ever reach the goblin bandit lair?