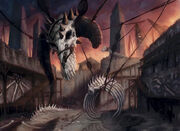 Ir'revrykal also wrote of dragons: Augaurath, a ruler of the High Ice; Alhazmabad, who was lost in time; and Lorragauth, the Chained Wyrm, already dead, one hopes. Then, after reading the teasingly named The Fools Who've Stood Here Before You, he went on the trail of the great mage Archveult Tattercloak, consort of a gold dragon. He documented Archveult's spell dagger (a spell, not a dagger) and read his Thesis on Conditional Ruptures, which sounds like a feat in itself.
We say well met to the voracious Vegepygmy, who first detailed their own kind, the mold folk, whose spores are hazardous to more than one's health. Vegepygmy went on to expand the menageries for countless other monsters, including meenlocks, umber hulks, and banderhobbs. In particular, Vegepygmy beheld more beholder-kin than thought wise, with death kisses, gauths, gazers, spectators, and more.
Community content is available under
CC-BY-SA
unless otherwise noted.