Deciding to see it while he still can, BadCatMan went to the well-defended trade city of Elturel, exploring from the Docks to the High District via the Winter Garden and seeing the imposing Helm's Shieldhall. He learned about the legendary Hellriders and how safe and secure the city was. When he asked about thieves, he learned from the Hellriders just how safe and secure. After doing some detective work on counterfeit Elturian Grey cheeses at the Bent Helm tavern, he spent a sleepless night at the Oar and Wagonwheel Inn, blaming the noise rather than the cheese, but it beat the dungeons. He apologizes for missing the Clacks again, but promises the time was spent working on the wiki in other ways.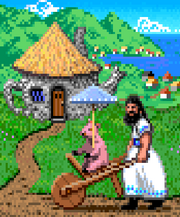 After telling us more than we ever wanted to know about skull lords, bulezaus, gorgimerae, and turnips, Possessed Priest sailed with the Heroes of Ascore to Farr Windward, a colony of (fellow?) outcasts and misfits, meeting Ougo the Strange among others. There he saw an impressive performance of the original Neverwinter Nights epic poem, complete with kumquats on the actors' heads.
Meanwhile, Regis87 continued her Year of Magic, documenting the spells of Maztica's hishnashapers, such as pestilence, scalesnare, and scrollsee, and plumaweavers, with bird charm, blossom, and featherweaving, and modern spells like minor illusion, thaumaturgy, and spirit guardians. After running afoul of a Hell Knight, Regis took refuge on Mount Celestia, ascending through the layers of Solania, Mertion, and Jovar.
Community content is available under
CC-BY-SA
unless otherwise noted.