FANDOM just migrated the FRW to their new Unified Community Platform. This caused some chaos, but it seems stable now. Let us know on Talk or Forum pages if anything is amiss. You may notice some changes to how things look, and some new features and functions, as well as bugs.
Happy Birthday, Forgotten Realms Wiki! Since its creation on October 1st, 2005, it's seen fifteen years; three domain names; three D&D editions; over 120 years of timeline advancement; stacks of sourcebooks, novels, comics, and games; up to 1.6 million visiting devices a month; over 33,400 articles; and countless dedicated editors who've kept it all going and thriving. There are far too many to name, but I thank each and every one for all their hard work and enthusiasm. I thank the fans for reading our articles; we're glad to have given entertainment, inspiration, and guidance to the Realms and D&D. And I thank the designers, writers, and artists for giving us all such a rich world to explore.
Take a look at our infographic on the Twitter page and see our goals and early history here.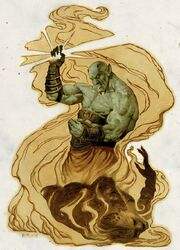 Community content is available under
CC-BY-SA
unless otherwise noted.