The Deep Wilds was a plane in the Astral Sea in the World Axis cosmology model.[1]
Description
[
]
Every type of environment found on Toril was also found in the Deep Wilds, although their counterpart on this plane was much more extreme than that on the Material Plane.[2]
History
[
]
The Deep Wilds were formed in the wake of the Spellplague, being a merging of Fury's Heart and the House of Nature.[1]
Inhabitants
[
]
The Deep Wilds were home to a variety of nature deities including Silvanus, Mielikki, Auril, Malar and Umberlee. Silvanus ruled the plane as a whole and the other deities who dwelled in the Deep Wilds served him.[2]
Realms
[
]
Blood Sea

, the domain of Umberlee that was wracked constantly by gale force winds.
Land of the Hunt, the domain of Malar.
Land Under Eternal Ice, the domain of Auril and reputedly the coldest place in any plane of existence.
Appendix
[
]
This article is incomplete.
You can help the Forgotten Realms Wiki by providing more information.
References
[
]
Connections
[
]
---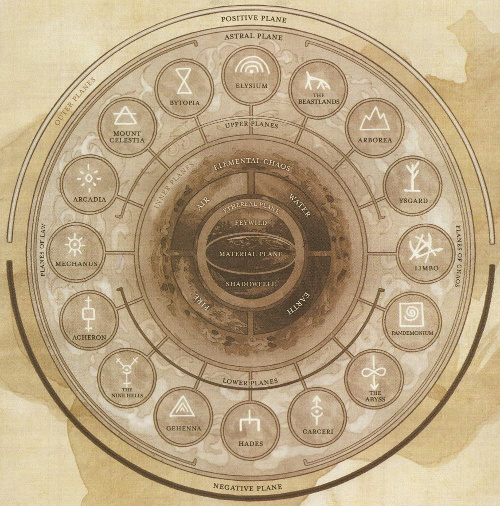 Prime Material plane • Feywild • Shadowfell • Fugue Plane
Transitive Planes: Astral Plane • Ethereal plane
Inner Planes: Elemental Plane of Air • Elemental Plane of Water • Elemental Plane of Earth • Elemental Plane of Fire • Elemental Chaos
Para-Elemental Planes: Frostfell • Swamp of Oblivion • Fountains of Creation • Great Conflagration
Quasi-Elemental Planes: Lightning • Radiance • Minerals • Steam • Vacuum • Ash • Dust • Salt
Outlands: Sigil
Outer Planes: Arcadia • Mount Celestia • Bytopia • Elysium • Beastlands • Arborea • Ysgard • Limbo •
Pandemonium • Abyss (Layers) • Carceri • Hades • Gehenna • Nine Hells • Acheron • Mechanus
Energy planes: Positive Energy plane • Negative Energy plane
Planar Pathways: Infinite Staircase • Oceanus • Mount Olympus • Styx • Yggdrasil
Far Realm
---
Prime Material plane • Cynosure • Fugue Plane
Transitive Planes: Astral Plane • Ethereal plane • Plane of Shadow • Spirit World
Celestial Outer Planes: Arvandor • Brightwater • Dwarfhome • Dweomerheart • Gates of the Moon • Golden Hills • Green Fields • House of Knowledge • House of the Triad
Fiendish Outer Planes: Abyss (Layers) • Barrens of Doom and Despair • Blood Rift • Clangor • Deep Caverns • Demonweb Pits • Fated Depths • Fury's Heart • Hammergrim • Nine Hells • Nishrek • Supreme Throne
Neutral Outer Planes: Dragon Eyrie • Heliopolis • House of Nature • Jotunheim • Warrior's Rest
Inner Planes: Elemental Plane of Air • Elemental Plane of Earth • Elemental Plane of Fire • Elemental Plane of Water • Positive Energy plane • Negative Energy plane
Planar Pathways: Infinite Staircase • River of Blood • World Tree
Far Realm
---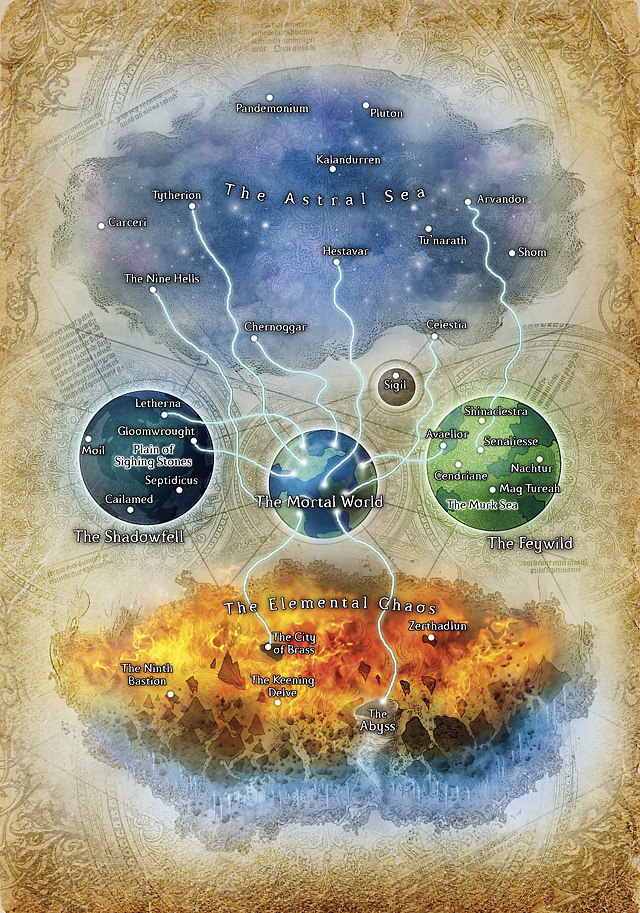 Prime Material plane
Fundamental planes: Astral Sea • Elemental Chaos
Astral dominions: Arvandor • Banehold • Celestia • Cynosure • Deep Wilds • Demonweb Pits • Dismal Caverns • Dwarfhome • Eternal Sun • Fugue Plane • Gates of the Moon • Green Fields • House of Knowledge • Nine Hells • Nishrek • Supreme Throne • Towers of Night • Tu'narath • Warrior's Rest
Elemental realms: Abyss (Layers) • City of Brass • Cresting Spires • Fimbulwinter • Hidden Realm • Muspelheim • Root Hold • Sky Home • Steading • Thraotor • Undying Pyre • Zerthadlun
Parallel planes: Feywild • Shadowfell
Anomalous planes: Far Realm