Demeter (pronounced: /diˈmitɛr/ dee-MEE-ter[1]) was an interloper goddess of fertility[1] and agriculture from the Olympian pantheon.[1][2][6][8] There was no evidence that this deity was directly worshiped in the Realms.[2][note 1]
Description
[
]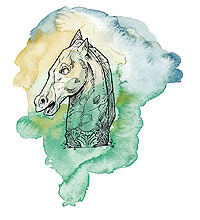 This goddess generally appeared in the form of a beautiful,[6][8] motherly woman that was draped in robes whose colors varied depending upon the season. A lush green hue for the spring and summer, a golden hue for autumn, and a brown or black hue in the winter.[1] Her avatar also sometimes took the form of a mare.[6]
Personality
[
]
Demeter was a generally benevolent deity[6] and almost never held grudges.[2]
Abilities
[
]
Demeter had some resistance to harm from fire. She could cast at will the spells could teleport without error and plane shift.[9] She was able to perceive anything within 10 miles (16 kilometers) of worshipers, holy sites, sacred objects, as well as any location where his name or one of his many titles had been spoken in the last hour. And could sense anything that affects cultivated crops the instant it happened.[9]
Demeter was capable of shapechanging at will,[6][8] in a manner similar to the Wild Shape ability of druids. She could take the form of all but gargantuan animals, including dire animals, six times per day. While she could take the form of an elemental three times per day.[1] At will she could also polymorph others and create any type of weather for any length of time.[6][8]
Demeter could summon, control,[8] and speak with any type of plant or animal she willed.[6] She was also capable of creating any magical item that commanded or controlled plants, but these never exceeded a value of 30,000 gold pieces.[9]
Her avatar form was capable of casting spells from the spheres of animal, elemental, healing, and weather.[6] Some claimed she could also cast spells from the school of illusion, though this was uncertain.[note 2] Some of the many spells her avatar form was capable of casting included the following:[1]
antimagic field, barkskin, changestaff,

command plants

,

control plants

, earthquake, elemental swarm (as an earth spell only), entangle, iron body, magic stone, mind blank, plant growth, prismatic sphere, protection from elements, repel wood, repulsion, sanctuary, shambler, shield other, soften earth and stone, spell immunity, spell resistance, spike stones, stone shape, stoneskin, wall of stone, and wall of thorns.
Possessions
[
]
Demeter possessed a chariot that was pulled by two ancient green dragons.[8]
She wielded a longspear[1] that was made of ash wood and carried a +2 enchantment,[8] though in later years this enchantment was enhanced to a +5.[1] Additionally, her spear's enchantment made it so that trees would sprout from any wound made by it.[6]
Realm
[
]
Demeter lived in a rather common-looking cottage amidst an immense field of golden grain in the divine realm known as Olympus.[2]
History
[
]
Demeter was among the first six Olympians,[2] born to the Greater Titan Cronus. After a curse was placed on him by his mother, swearing that one day his children would usurp him, Cronus proceeded to swallow Demeter alongside four of her siblings — Hades, Hera, Hestia, and Poseidon. Her sixth sibling, Zeus, would be smuggled away and years later return to free them all from their imprisonment.[10]
Demeter went on to be the wife of Poseidon for a time, eventually parting ways as he took up residence in Aquallor. She then went on to marry Zeus and bore him a daughter named Persephone. This child would later be abducted into the Underworld by her brother Hades,[2] after having obtained permission from Zeus to marry her. Hearing his daughter's cries for help Demeter ran off in search of her, doing so for nine days before she learned that Hades had taken her. She went into mourning, wandering listlessly for some time,[9] until resorting to preventing the growth of the crops of Olympian worshipers until Persephone was returned.[11] However, Persephone had already sealed her fate by partaking in the food of Hades's realm.[12][13] Zeus would intervene in the matter, brokering a compromise that allowed Persephone[11] to spend part of her time in the underworld and part of her time in Olympus,[12] what mortals would consider equivalent to six months.[13]
Demeter would go on to mourn the loss of Persephone every winter,[1] during which time the crops of Olympian worshipers would not grow,[11] and hold a longstanding grudge against Hades for what he had done.[2]
Relationships
[
]
Throughout their time knowing each other, Demeter had always gotten on well with the Faerûnian goddess Chauntea.[2]
Her favored proxy was a human by the name of Triptolemus. He drove a chariot pulled by a pair of bronze dragons and scattered grain seeds wherever he went.[2]
Appendix
[
]
Notes
[
]
External Links
[
]
References
[
]
Connections
[
]
Powers of
Olympus
who have influenced the Forgotten Realms