Dismal Caverns was an Astral dominion[2] in the World Axis cosmology model. Prior to the Spellplague it was known as Deep Caverns in the World Tree cosmology model.[4] It was the home plane of the Great Mother, Ilsensine, Laogzed,[5] and Ghaunadaur.[3]
Description
[
]
This plane was a great solid mass of rock perforated by caverns, chasms, and tunnels of all sizes. There was no sky and no light[1] except for that given off by luminous fungi and molten lava flows.[3] Portions of the Caverns were subject to swift winds that howled through the maze of tunnels.[1] Mapping the labyrinth of tunnels was completely impossible because within the demesnes of the deities the passageways and walls obeyed their will and could open, close, change direction, or collapse on an infernal whim.[6]
Inhabitants
[
]
Dismal Caverns was the afterlife destination of most beholder, illithid, and troglodyte petitioners, and they appeared here much the same as they had in life. Their behavior was also similar as in their former lives and the disparate groups viewed each other with disdain, hatred, or animosity.[1] Oozes, slimes, and abominations of all kinds also gathered here under the lurking eye of Ghaunadaur.[7] The constant howling and particularly desolate and mournful tone of the winds that blew through regions of the Dismal Caverns attracted many howlers from their native Supreme Throne.[1]
Realms
[
]
The realms of the most powerful inhabitants were widely separated because of the dislike and distrust between their rulers and it was difficult to determine where one domain ended and another began.[1]
Appendix
[
]
References
[
]
Connections
[
]
---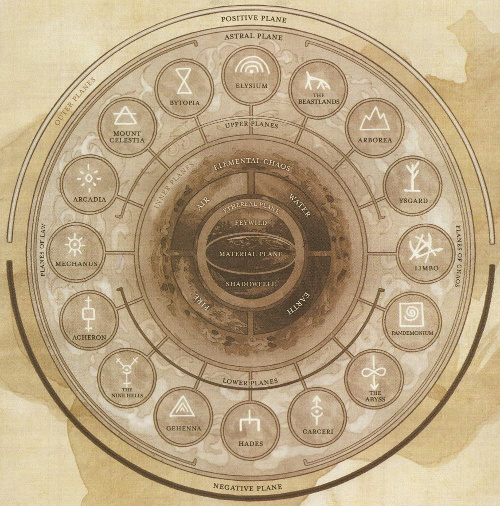 Prime Material plane • Feywild • Shadowfell • Fugue Plane
Transitive Planes: Astral Plane • Ethereal plane
Inner Planes: Elemental Plane of Air • Elemental Plane of Water • Elemental Plane of Earth • Elemental Plane of Fire • Elemental Chaos
Para-Elemental Planes: Frostfell • Swamp of Oblivion • Fountains of Creation • Great Conflagration
Quasi-Elemental Planes: Lightning • Radiance • Minerals • Steam • Vacuum • Ash • Dust • Salt
Outlands: Sigil
Outer Planes: Arcadia • Mount Celestia • Bytopia • Elysium • Beastlands • Arborea • Ysgard • Limbo •
Pandemonium • Abyss (Layers) • Carceri • Hades • Gehenna • Nine Hells • Acheron • Mechanus
Energy planes: Positive Energy plane • Negative Energy plane
Planar Pathways: Infinite Staircase • Oceanus • Mount Olympus • Styx • Yggdrasil
Far Realm
---
Prime Material plane • Cynosure • Fugue Plane
Transitive Planes: Astral Plane • Ethereal plane • Plane of Shadow • Spirit World
Celestial Outer Planes: Arvandor • Brightwater • Dwarfhome • Dweomerheart • Gates of the Moon • Golden Hills • Green Fields • House of Knowledge • House of the Triad
Fiendish Outer Planes: Abyss (Layers) • Barrens of Doom and Despair • Blood Rift • Clangor • Deep Caverns • Demonweb Pits • Fated Depths • Fury's Heart • Hammergrim • Nine Hells • Nishrek • Supreme Throne
Neutral Outer Planes: Dragon Eyrie • Heliopolis • House of Nature • Jotunheim • Warrior's Rest
Inner Planes: Elemental Plane of Air • Elemental Plane of Earth • Elemental Plane of Fire • Elemental Plane of Water • Positive Energy plane • Negative Energy plane
Planar Pathways: Infinite Staircase • River of Blood • World Tree
Far Realm
---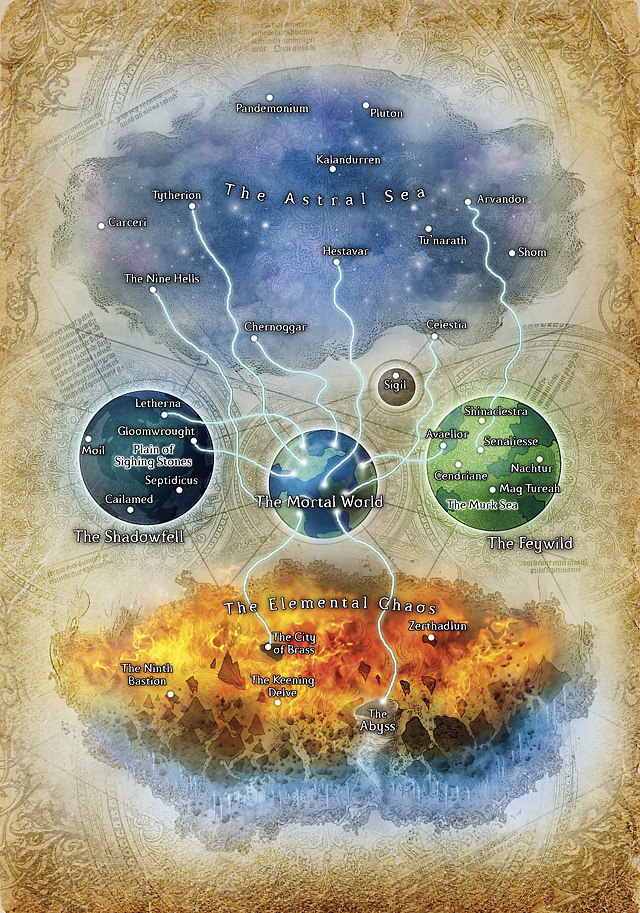 Prime Material plane
Fundamental planes: Astral Sea • Elemental Chaos
Astral dominions: Arvandor • Banehold • Celestia • Cynosure • Deep Wilds • Demonweb Pits • Dismal Caverns • Dwarfhome • Eternal Sun • Fugue Plane • Gates of the Moon • Green Fields • House of Knowledge • Nine Hells • Nishrek • Supreme Throne • Towers of Night • Tu'narath • Warrior's Rest
Elemental realms: Abyss (Layers) • City of Brass • Cresting Spires • Fimbulwinter • Hidden Realm • Muspelheim • Root Hold • Sky Home • Steading • Thraotor • Undying Pyre • Zerthadlun
Parallel planes: Feywild • Shadowfell
Anomalous planes: Far Realm