Drakes were draconic creatures, distant and lesser cousins to true dragons. They were smaller and not as powerful as dragons but were much easier to train, so they were commonly used as mounts.[5]
They were often used as guards by dragons, or they were given to the dragons' humanoid servants.[5][1]
Types of drakes
[
]
The sheer variety of the drakes meant that there were different groups of drakes, including the elemental drakes, the felldrakes, and the greater drakes.
Elemental drakes
[
]
Elemental drakes were fierce creatures with elemental heritage. They tended to be around 12 ft (3.7 m) long and closely resembled lithe dragons in form.[6] The black firedrake was a hybrid population descended from both fire drakes and a black dragon.[7]
Greater drakes
[
]
The various kinds of greater drakes were little-known, due to primarily dwelling in secluded wilderness regions far from civilization; additionally, their distinctly draconic form meant that they were often mistaken for young dragons. They were close in size to a large horse and were about as intelligent as one. Greater drakes could be trained as aerial steeds. Most species possessed a breathe weapon that originated from a bladder-like organ in the throat. They hatched from eggs and molted their skin several times as they grew to their full size. Greater drakes had an average lifespan of about fifty years.[8]
Felldrakes
[
]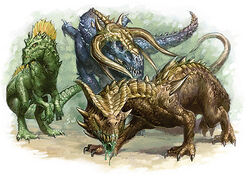 The felldrakes were created by Bahamut himself and carried his blood in their veins, making them fierce, loyal, and good at heart. They originated when a group of powerful elven wizards helped Bahamut turn back a demonic invasion, and were meant to guard the elves against future invasions.[9]
Familiar drakes
[
]
Not a well-known or well-described grouping, these drakes are more intelligent and, notably, go through distinct age categories through which they increased in physical and magical power. Somehow related to the faerie dragon, it was possible to summon a younger one as a familiar.[10]
Crystal drake

Demon drake

Faerie drake

Shadow drake
Other drakes
[
]
Appendix
[
]
See also
[
]
Abyssal drake - a confusingly named fiend that was related to wyverns and dragons.
Crow's-nest dragon - a dragonet which was sometimes called the spiretop drake.
Eyedrake - not any kind of true drake at all, but the result of a beholder dreaming of dragons.
Appearances
[
]
Adventures

Novels
Further reading
[
]
References
[
]
Connections
[
]