Dungeons & Dragons Starter Set is a Featured Source! It is one of the best documented and most complete sources on the Forgotten Realms Wiki.
However, if you can update it or further improve it, then please feel free to contribute.
The Dungeons & Dragons Starter Set is a boxed set for the 5th edition of Dungeons & Dragons. Intended to serve as a basic introduction to tabletop D&D, it contains a set of basic rules, an adventure, several pre-made character sheets, and a set of dice. The adventure is Lost Mine of Phandelver, an introductory adventure module for 4–5 player-characters taking them from 1st level to 5th as they battle goblins and bandits whilst trying to explore the eponymous mines.
"
Everything you need to start playing the world's greatest roleplaying game.
Explore subterranean labyrinths! Plunder hoards of treasure! Battle legendary monsters!
The Dungeons & Dragons
Starter Set
is your gateway to action-packed stories of the imagination. This box contains the essential rules of the game plus everything you need to play heroic characters on perilous adventures in worlds of fantasy.
"
Contents
[
]
Starter Set Rulebook, a 32-page booklet containing a basic set of rules for adventurers levels 1–5.
Lost Mine of Phandelver, a 64-page adventure booklet
5 pregenerated character sheets
6 game dice
Summary
[
]
Lost Mine of Phandelver
[
]
A trio of dwarf explorers—Gundren, Nundro, and Tharden Rockseeker—recently located the ancient Wave Echo Cave, the location of the mysterious Forge of Spells. Gundren, with map in hand, heads north to recruit aid. A new group of adventurers are contracted in Neverwinter to escort Gundren Rockseeker's mining equipment down the High Road to Phandalin. Gundren and a knight, Sildar Hallwinter, go on ahead. However, word of the cave's discovery reaches a drow known as the Black Spider, who captures one of the Rockseeker brothers and starts to excavate the mine. However, the mine is crawling with undead and other hazards. In order to keep the cave's location hidden, and his activity quiet, the Black Spider hires Iarno Albrek, an ex-member of the Lords' Alliance. Albrek leads the Redbrands, a notorious group of bandits, and they continuously harass the nearby townsfolk of Phandalin, keeping it under tight control.
On their way back down south, both Gundren and Sildar are ambushed by goblins of the Cragmaw tribe. Gundren is taken by the goblins to Cragmaw Castle, whilst Sildar is taken to the Cragmaw Hideout. The adventurers follow the same route, and are also ambushed by the goblins. After fending them off, they either find their way to the hideout or arrive at Phandalin. The townsfolk of Phandalin are having a hard time whilst the Redbrand bandits are about, and the adventurers may investigate their hideout. In doing so, they may face off against Iarno Albrek. Following this, and acquiring important information, the adventurers can head to the Cragmaw Castle or Wave Echo Cave, if they somehow acquired knowledge of its whereabouts. If they arrive at the castle, they take down the Cragmaw tribe and find Gundren's map (and Gundren too, if he is still alive).
The adventurers finally locate Wave Echo Cave and begin to explore the dark caverns. One of the Rockseeker brothers has been slain near the entrance. After taking down several enemies, including doppelgangers and maybe even the Black Spider himself, they have the opportunity to rescue Nundro Rockseeker. The adventure concludes when the victorious party locates the Forge of Spells, and find out its mystical powers.
Index
[
]
Rulebook
[
]
Adventuring Gear

backpack • bedroll • bell • blanket • book • candle • carpenter's tools • case • chalk • clothing • component pouch • crowbar • grappling hook • hammer (sledge) • healer's kit • holy symbol • hourglass • ink • ink pen • lantern (bullseye, hooded) • mason's tools • mess kit • mirror • oil • paper • perfume • pick • piton • playing cards • robe • rope • sealing wax • shovel • signal whistle • ring • tent • thieves' tools • tinderbox • torch • waterskin • whetstone
Items

Armor

Coinage

Food & Drink

Tack

Weapons
Magic

Schools

abjuration • conjuration • divination • enchantment • evocation • illusion • necromancy • transmutation

Potions

Spells

aid • augury • beacon of hope • bless • blur • burning hands • charm person • command • comprehend languages • cure wounds • dancing lights • darkness • detect magic • dispel magic • fireball • flaming sphere • fly • guidance • guiding bolt • healing word • hold person • identify • inflict wounds • invisibility • lesser restoration • light • lightning bolt • mage armor • mage hand • magic missile • mass healing word • misty step • prayer of healing • prestidigitation • protection from energy • ray of frost • resistance • revivify • sacred flame • sanctuary • shield • shield of faith • shocking grasp • silence • sleep • spider climb • spiritual weapon • suggestion • thaumaturgy • thunderwave • warding bond • web

Misc
Lost Mine of Phandelver
[
]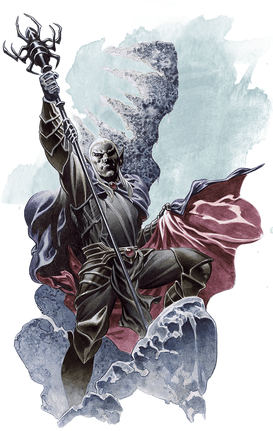 Characters

Agatha • Ander • Brughor Axe-Biter • Carp Alderleaf • Daran Edermath • Droop • Elmar Barthen • Elsa • Favric • Freda • Garaele • Gog • Grista • Grol • Gundren Rockseeker • Halia Thornton • Hamun Kost • Harbin Wester • Iarno "Glasstaff" Albrek • Klarg • Lanar • Lhupo • Linene Graywind • Mirna Dendrar • Mormesk • Mosk • Nars Dendrar • Narth • Nezznar (The Black Spider) • Nilsa Dendrar • Nundro Rockseeker • Pip Stonehill • Qelline Alderleaf • Reidoth • Ripper • Sildar Hallwinter • Snarl • Targor Bloodsword • Tharden Rockseeker • Thel Dendrar • Thistle • Toblen Stonehill • Trilena Stonehill • Urmon • Venomfang • Vhalak • Vyerith • Yeemik • Yegg

Referenced only
Creatures

banshee • bugbear • doppleganger • dragon • drow • dwarf • elf • flameskull • ghoul • giant spider • gnome • goblin • green dragon • grick • half-elf • halfling • hobgoblin • horse • human • nothic • ochre jelly • ogre • orc • owlbear • ox • rat • skeleton • spectator • stirge • twig blight • undead • wolf • wraith • zombie

Referenced only
Locations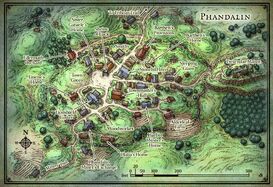 Agatha's Grove • Alderleaf Farm • Barthen's Provisions • Brown Horse • Conyberry • Cragmaw Castle • Cragmaw Hideout • Crags • Edermath Orchard • Forge of Spells • High Road • Icespire Peak • Kryptgarden Forest • Leilon • Lionshield Coster (Phandalin) • Mere of Dead Men • Mount Hotenow • Neverwinter • Neverwinter Wood • Old Owl Well • Phandalin • Phandalin Miner's Exchange • Shrine of Luck • Sleeping Giant • Starmetal Hills • Stonehill Inn • Sword Coast • Sword Coast North • Sword Mountains • Thundertree • Townmaster's Hall • Tresendar Manor • Triboar Trail • Wave Echo Cave • Wyvern Tor

Referenced only
Magic
Books

Potions

Scrolls

Trinkets

Weapons

Wands
Misc
Organizations
Appendix
[
]
Notes
[
]
↑ Pages 30‒31 of Lost Mine of Phandelver describe the eruption of Mount Hotenow (1451 DR) as occurring "30 years ago", which would place the adventure in 1481 DR. However, pages 103 and 179 of Acquisitions Incorporated, a later source, state that the events described in the adventure happen five years after both Lost Mine of Phandelver and Princes of the Apocalypse. Since the latter is explicitly set in 1491 DR, and considering this answer by Ed Greenwood about dating the adventure, this wiki will use 1491 DR for events related to this sourcebook.
Gallery
[
]
Connections
[
]