Dweomerheart was a Celestial plane[4][5] in the World Tree cosmology model and was also the name of the scintillating city that was the realm of Mystra here[1] in the World Tree model and on the plane of Elysium[7] in the Great Wheel model. The other deities of magic, Azuth, Savras, and Velsharoon, also made their homes on this plane not far from Mystra's domain.[1]
Dweomerheart was destroyed in a cataclysmic explosion in the Year of Blue Fire, 1385 DR, after Cyric assassinated Mystra causing the Spellplague.[8] Though the deities of Dweomerheart largely perished, most of the faithful of Mystra, Azuth, and the other gods dwelling there were transported safely to the Fugue Plane where they were restored and re-assigned, many of them ending up either in Towers of Night, Gates of the Moon, or Kelemvor's own City of Judgment.[9]
Description
[
]
This plane was mostly uninhabited mountain ranges, teeming with wildlife,[note 1] with no known portals to the other planes of existence. The only way to access this plane other than traveling through the Astral was via branches of the World Tree itself, which connected to other Celestial planes.[1]
The domains of the deities residing on this plane all occupied a single mountain with a flat top which was adorned with Mystra's shining city of magic, Dweomerheart. Dedicated to the appreciation and study of magic, especially to the creation of new magic, the city was the ultimate university for the Art. The city itself was the quintessence of alteration, powered by conjuration through evocation, all wrapped in illusions that changed daily. It was a high honor to be asked to exercise one's creativity in casting the glamors and redecorating the city for a day.[2][1]
The domains of Azuth, Savras, and Velsharoon were all sets of caverns and caves beneath the high plateau.[1]
Inhabitants
[
]
Apart from the petitioners and the usual angels that served their deities, the only known inhabitants of this plane were the mysterious mercane looking for trading opportunities, and the inevitables: lawful[note 2] constructs created to enforce the fundamental laws of the multiverse.[1]
Realms
[
]
Appendix
[
]
Notes
[
]
References
[
]
Connections
[
]
---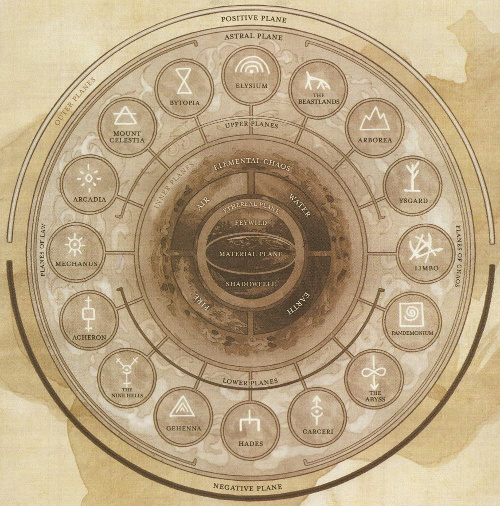 Prime Material plane • Feywild • Shadowfell • Fugue Plane
Transitive Planes: Astral Plane • Ethereal plane
Inner Planes: Elemental Plane of Air • Elemental Plane of Water • Elemental Plane of Earth • Elemental Plane of Fire • Elemental Chaos
Para-Elemental Planes: Frostfell • Swamp of Oblivion • Fountains of Creation • Great Conflagration
Quasi-Elemental Planes: Lightning • Radiance • Minerals • Steam • Vacuum • Ash • Dust • Salt
Outlands: Sigil
Outer Planes: Arcadia • Mount Celestia • Bytopia • Elysium • Beastlands • Arborea • Ysgard • Limbo •
Pandemonium • Abyss (Layers) • Carceri • Hades • Gehenna • Nine Hells • Acheron • Mechanus
Energy planes: Positive Energy plane • Negative Energy plane
Planar Pathways: Infinite Staircase • Oceanus • Mount Olympus • Styx • Yggdrasil
Far Realm
---
Prime Material plane • Cynosure • Fugue Plane
Transitive Planes: Astral Plane • Ethereal plane • Plane of Shadow • Spirit World
Celestial Outer Planes: Arvandor • Brightwater • Dwarfhome • Dweomerheart • Gates of the Moon • Golden Hills • Green Fields • House of Knowledge • House of the Triad
Fiendish Outer Planes: Abyss (Layers) • Barrens of Doom and Despair • Blood Rift • Clangor • Deep Caverns • Demonweb Pits • Fated Depths • Fury's Heart • Hammergrim • Nine Hells • Nishrek • Supreme Throne
Neutral Outer Planes: Dragon Eyrie • Heliopolis • House of Nature • Jotunheim • Warrior's Rest
Inner Planes: Elemental Plane of Air • Elemental Plane of Earth • Elemental Plane of Fire • Elemental Plane of Water • Positive Energy plane • Negative Energy plane
Planar Pathways: Infinite Staircase • River of Blood • World Tree
Far Realm
---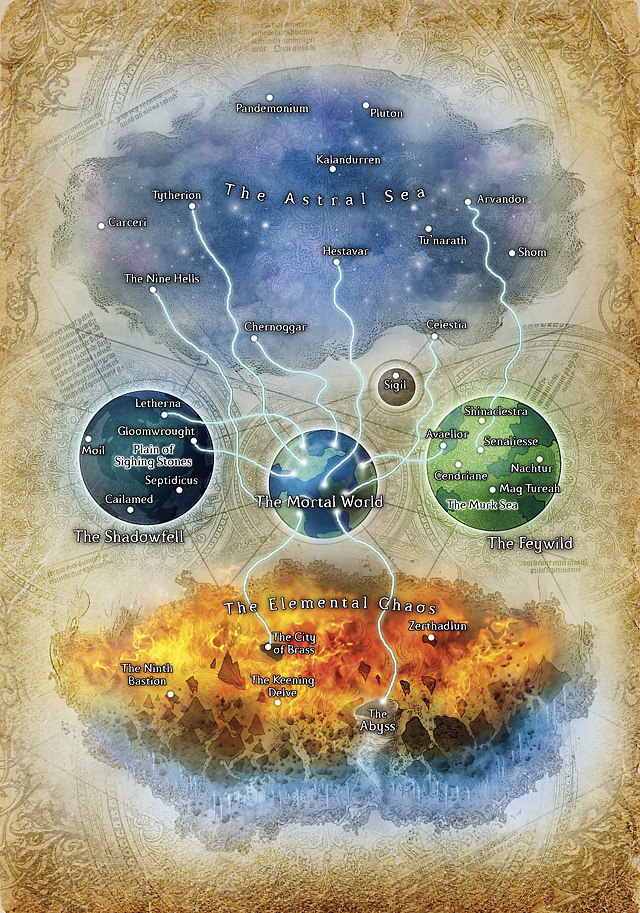 Prime Material plane
Fundamental planes: Astral Sea • Elemental Chaos
Astral dominions: Arvandor • Banehold • Celestia • Cynosure • Deep Wilds • Demonweb Pits • Dismal Caverns • Dwarfhome • Eternal Sun • Fugue Plane • Gates of the Moon • Green Fields • House of Knowledge • Nine Hells • Nishrek • Supreme Throne • Towers of Night • Tu'narath • Warrior's Rest
Elemental realms: Abyss (Layers) • City of Brass • Cresting Spires • Fimbulwinter • Hidden Realm • Muspelheim • Root Hold • Sky Home • Steading • Thraotor • Undying Pyre • Zerthadlun
Parallel planes: Feywild • Shadowfell
Anomalous planes: Far Realm