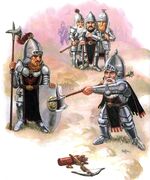 Earthfast
was a
shield dwarven
city in the
Earthfast Mountains
between
Impiltur
and
the Vast
, stretching from a high mountain valley down to the
Earthroot
area of the
Underdark
. It was a war-torn place, under constant siege from
orcs
and
goblins
in the 14th century
DR
. Though much of the city was abandoned, it was home to
Alagh Rorncaurak
, the Battlecavern of Unquenched Valor, a vast chasm and natural cathedral to the god
Clangeddin Silverbeard
and a key defense of the city.
Unending war took a terrible toll on the dwarves. Many women and children were slain, leaving men who all honored their parents as war-heroes. Earthfast dwarves were battle-hardened veterans, grim and moody sorts who worked and fought in utter silence, seeing stealth as a virtue and vital defense. They were even head-hunters, seizing the skulls of foes and stacking them in tidy pyramids in a great cavern. The greater the foe, the better the skull.
Nevertheless, Earthfast was an honorable ally who would still come to another's aid. They were allies of Impiltur early in its history. Centuries later, after befriending the renegade "Mithril Princess" Alusair of Cormyr, who helped break the siege, Earthfast dwarves joined King Azoun IV in his Crusade against the Tuigan Horde, defending and saving all of Faerûn at high cost to themselves.
Community content is available under
CC-BY-SA
unless otherwise noted.