Felldrakes were a group of drakes created by Bahamut.[1]
Description
[
]
The felldrakes were all relatively small, wingless dragons.[1]
Personality
[
]
All felldrakes were fierce, loyal, and good at heart, thanks to the blood of Bahamut that ran within them.[1]
Abilities
[
]
Like all dragons, felldrakes had darkvision and low-light vision, and were immune to magic that induced sleep or paralysis.
Society
[
]
Felldrakes lived alongside elves as guards and protectors.[1]
History
[
]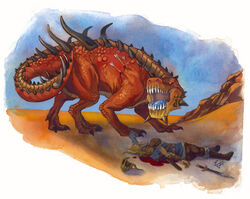 Felldrakes were created by Bahamut after a group of powerful elven mages helped him defeat a demonic invasion. He then created the felldrakes to guard the elves against future incursions.[1]
Appendix
[
]
Appearances
[
]
Adventures 

Organized Play & Licensed Adventures 
References
[
]
Connections
[
]