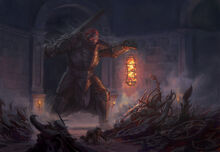 Giant fire beetles were nocturnal giant beetles.
Description
Edit
Giant fire beetles were the smallest of all the giant beetles known to scholars.[1] They grew to be about two to two-and-a-half feet long (0.6 to 0.9 meters.)[3][1]
The glands of the giant fire beetle were prized by adventurers and miners because of their luminous glands.[3][1] These glands were located above each eye[3][1] and near the abdomen[1] and glowed a red color.[3][1] If removed, the glands would continue glowing for several days.[3][1]
Giant fire beetles were omnivores, but their mandibles were still strong enough to cause great injury to a human.[1]
Locations
Edit
Giant fire beetles could be found in clusters or colonies in warmer flatlands.[3] They lived both above and below ground.[1]
An intelligent variation of fire beetles were known to live in the celestial planes. These were often sent in answer to a good clerics summoning spells.[4]
Appearances
Edit
Adventures
Computer games
Reference
Edit