This Needs past tense, revision, proper referencing, and/or formatting requires cleanup.
Please discuss this issue on the talk page and improve it if you can.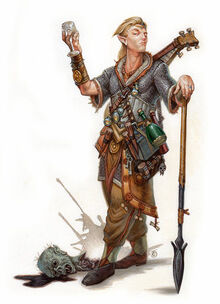 The grave domain was a deity domain pertaining to the line between life and death. Deities of this domain were aware of the fundamental importance of death and the afterlife and regarded the undead as abominations. Therefore, clerics of this domain were concerned with ensuring peace for the dead and comfort for the dying, as well as delaying death for those that still had great accomplishments ahead of them.[1]
Kelemvor • Naralis Analor • Osiris • Segojan Earthcaller • Sehanine Moonbow • Urogalan • Vandria Gilmadrith
Clerics who chose this domain were granted free access to these spells (they could cast them at any time without having to prepare them in advance).[2] Spells in this domain were:[1]
1st level 

2nd level 

3rd level 

4th level 

5th level 
In addition, grave domain clerics gained access to the following powers:[1]
Channel divinity 
References
Edit
Connections
Edit
Deity Domains
3rd, 3.5, and 5th Editions
Community content is available under
CC-BY-SA
unless otherwise noted.