The Great Conflagration, also known as the Para-Elemental Plane of Smoke and the Plane of Ash,[1] was the Inner Plane at the intersection of the Planes of Air and Fire. It was a place of hot and noxious vapors and gases.[2][3][5]
Geography
Edit
The plane was an endless firestorm of hot smoke and ash, fueled by the winds of the Plane of Air mixed with the fires and magma of the Plane of Fire. In some locations, the ashes coalesced into floating solid regions that could be used as shelters for fugitives and outlaws.[1]
References
Edit
↑ 1.0 1.1 1.2 Mike Mearls, Jeremy Crawford, Christopher Perkins, James Wyatt (2014). Dungeon Master's Guide 5th edition. (Wizards of the Coast), p. 53. ISBN 978-0786965622.
↑ 2.0 2.1 2.2 Monte Cook and William W. Connors (December 7, 1998). The Inner Planes. Edited by Michele Carter and Ray Vallese. (TSR, Inc.), pp. 86–91. ISBN 0-7869-0736-3.
↑ 3.0 3.1 3.2 David "Zeb" Cook (1994). Planescape Campaign Setting, A DM Guide to the Planes. Edited by David Wise. (TSR, Inc), pp. 32–33. ISBN 978-1560768340.
↑ Jeff Grubb (April 1987). "Plane Speaking: Tuning in to the Outer Planes". In Roger E. Moore ed. Dragon #120 (TSR, Inc.), pp. 42–43.
↑ 5.0 5.1 Jeff Grubb (July 1987). Manual of the Planes 1st edition. (TSR), p. 51. ISBN 0880383992.
Connections
Edit
---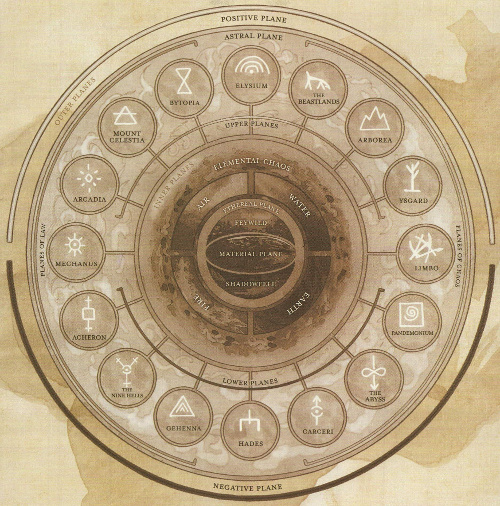 Prime Material plane • Feywild • Shadowfell
Transitive Planes: Astral Plane • Ethereal plane
Inner Planes: Elemental Plane of Air • Elemental Plane of Water • Elemental Plane of Earth • Elemental Plane of Fire • Elemental Chaos
Para-Elemental Planes: Frostfell • Swamp of Oblivion • Fountains of Creation • Great Conflagration
Quasi-Elemental Planes: Lightning • Radiance • Minerals • Steam • Vacuum • Ash • Dust • Salt
Outlands: Sigil
Outer Planes: Arcadia • Mount Celestia • Bytopia • Elysium • Beastlands • Arborea • Ysgard • Limbo •
Pandemonium • Abyss (Layers) • Carceri • Hades • Gehenna • Nine Hells • Acheron • Mechanus
Energy planes: Positive Energy plane • Negative Energy plane
Far Realm
---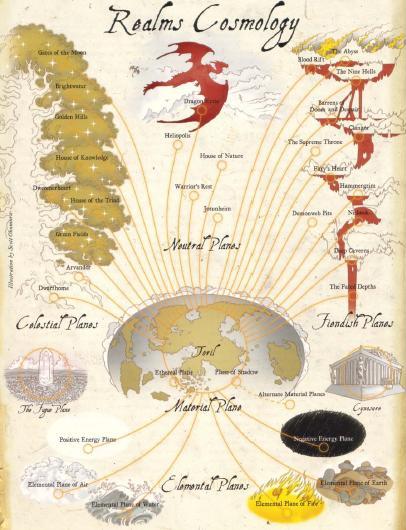 Prime Material plane • Cynosure • Fugue Plane
Transitive Planes: Astral Plane • Ethereal plane • Plane of Shadow
Celestial Outer Planes: Arvandor • Brightwater • Dwarfhome • Dweomerheart • Gates of the Moon • Golden Hills • Green Fields • House of Knowledge • House of the Triad
Fiendish Outer Planes: Abyss (Layers) • Barrens of Doom and Despair • Blood Rift • Clangor • Deep Caverns • Demonweb Pits • Fated Depths • Fury's Heart • Hammergrim • Nine Hells • Nishrek • Supreme Throne
Neutral Outer Planes: Dragon Eyrie • Heliopolis • House of Nature • Jotunheim • Warrior's Rest
Inner Planes: Elemental Plane of Air • Elemental Plane of Earth • Elemental Plane of Fire • Elemental Plane of Water • Positive Energy plane • Negative Energy plane
Far Realm
---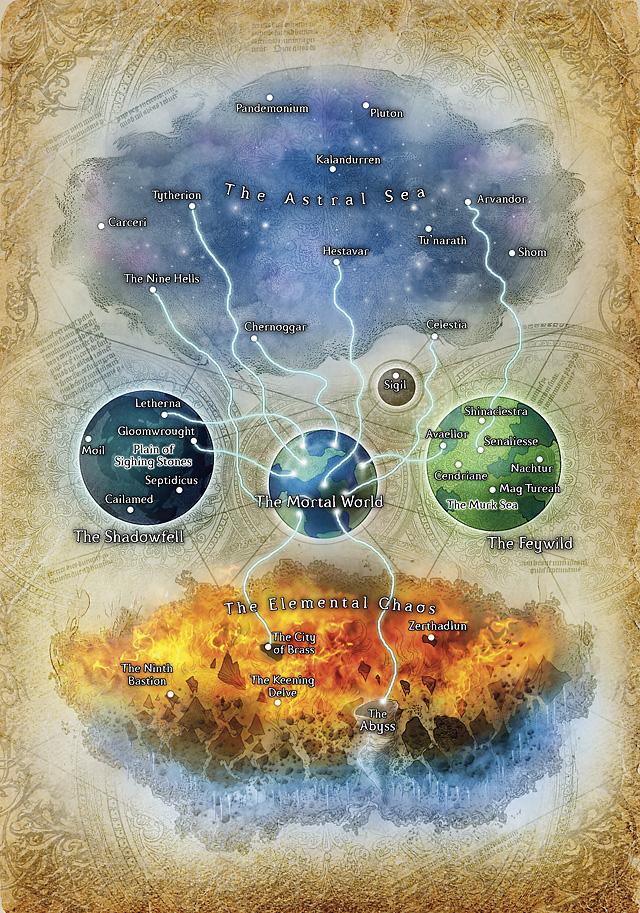 Prime Material plane
Fundamental planes: Astral Sea • Elemental Chaos
Astral dominions: Arvandor • Banehold • Celestia • Cynosure • Deep Wilds • Demonweb Pits • Dismal Caverns • Dwarfhome • Eternal Sun • Fugue Plane • Gates of the Moon • Green Fields • House of Knowledge • Nine Hells • Nishrek • Supreme Throne • Towers of Night • Tu'narath • Warrior's Rest
Elemental realms: Abyss (Layers) • City of Brass • Cresting Spires • Fimbulwinter • Hidden Realm • Muspelheim • Root Hold • Sky Home • Steading • Thraotor • Undying Pyre • Zerthadlun
Parallel planes: Feywild • Shadowfell
Anomalous planes: Far Realm