Gwaeron Windstrom (pronounced: /ˈgwɛərɒn ˈwɪndstrɑːm/ GWAIR-on WIND-strahm[5]) was the Faerûnian demigod of tracking and the patron of rangers. The skills the Master of Tracking taught his followers were used to combat those, whether wild monster or careless hunter, who threatened the balance between civilization and nature.[5][6]
Description
[
]
Gwaeron always appeared as a tall, incredibly muscular human male with white hair and a long white beard that flowed and whipped in the wind. He always wore clothing suitable for wilderness travel, but never wore anything above his waist. He was normally silent, and when he did speak it was in terse sentences with little physical sign of emotion.[5][6]
Realm
[
]
Gwaeron was said to sleep in a stand of trees just west of the town of Triboar, known as Gwaeron's Slumber.[5]
Relationships
[
]
Along with Lurue and Shiallia, the Master of Tracking served Mielikki by teaching her rangers the way to read forest signs. Given his small following and similar tenets to those of Mielikki, it was possible that he would be subsumed as an aspect of the Forest Queen, even by accident. Gwaeron reported indirectly to Silvanus, and had forged alliances with the deities of the elven, gnome, and halfling pantheons whose portfolios most closely match those of Mielikki, Silvanus, and his own.[5]
Gwaeron opposed Malar the Beastlord, and was at risk of falling prey to his depredations if not careful.[5] They shared this hatred with the deity Nobanion and two sometimes coordinated their efforts against Malar.[8]
Worshipers
[
]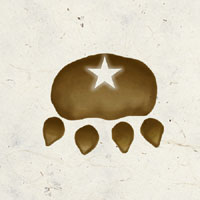 Gwaeron's followers were mainly rangers of North Faerûn. He represented them well in their trade, and was believed to speak with Mielikki on their behalf. Many rangers believed Mielikki was too wild and mysterious to pay attention to them, and so many who might have pledged their heart to her directly turned to Gwaeron as a proxy instead.[1]
There were no temples dedicated to the Master Tracker, but many wilderness trails had markers designated with his holy symbol which doubled as small shrines.[1]
History
[
]
Gwaeron roamed the North as a mortal ranger many centuries ago.[5] He was raised to demigod status by Mielikki after slaying an avatar of Malar and several of his manifestations in a short period of time, and had served the Lady of the Forests ever since.[6]
In the Time of Troubles, Gwaeron pursued Malar out of the North.[6]
Appendix
[
]
Gallery
[
]
References
[
]
↑ 1.0 1.1 1.2 1.3 1.4 1.5 1.6 Steve Kenson, et al. (November 2015). Sword Coast Adventurer's Guide. Edited by Kim Mohan. (Wizards of the Coast), pp. 21, 29. ISBN 978-0-7869-6580-9.
↑ Ed Greenwood (1993). Volo's Guide to the North. (TSR, Inc), p. 85. ISBN 1-5607-6678-6.
↑ Mike Mearls, Jeremy Crawford (2014). Player's Handbook 5th edition. (Wizards of the Coast), pp. 59–62. ISBN 978-0-7869-6560-1.
↑ Ed Greenwood, Sean K. Reynolds, Skip Williams, Rob Heinsoo (June 2001). Forgotten Realms Campaign Setting 3rd edition. (Wizards of the Coast), p. 235. ISBN 0-7869-1836-5.
↑ 5.0 5.1 5.2 5.3 5.4 5.5 5.6 5.7 Eric L. Boyd, Erik Mona (May 2002). Faiths and Pantheons. Edited by Gwendolyn F.M. Kestrel, et al. (Wizards of the Coast), pp. 96–97. ISBN 0-7869-2759-3.
↑ 6.0 6.1 6.2 6.3 6.4 6.5 Eric L. Boyd (September 1997). Powers & Pantheons. Edited by Julia Martin. (TSR, Inc.), pp. 26–28. ISBN 978-0786906574.
↑ Sean K. Reynolds (2002-05-04). Deity Do's and Don'ts (Zipped PDF). Web Enhancement for Faiths and Pantheons. Wizards of the Coast. p. 12. Archived from the original on 2016-11-01. Retrieved on 2018-09-08.
↑ Eric L. Boyd (September 1997). Powers & Pantheons. Edited by Julia Martin. (TSR, Inc.), p. 41. ISBN 978-0786906574.
Connections
[
]