The Hiilgauntlet (pronounced: /ˈhilgɔːntlɛt/ HEEL-gawnt-let[3]) family were members of the Waterdhavian nobility in the mid—14th century DR.[3] They made their fortunes being mercenaries and making military gear for fighters.[1][2][3]
Organization
[
]
By the 1357 DR,[3] and until at least 1372 DR, the family was led by Lord Jhassin with his consort Salu.[3] Their eldest son and heir was Jhassin II.[2][3] As of 1372, there were twenty-one living members of noble rank[3] and one undead member, Lord Hund Hiilgauntlet.[4][5]
Base of Operations
[
]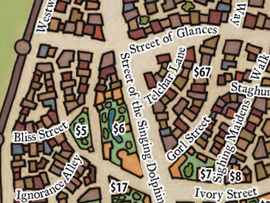 House Hiilgauntlet was located in the Sea Ward of Waterdeep at the southern end of the block bounded by Sighing Maiden's Walk on the east and Gorl Street on the west. The walled estate of three-story buildings surrounding a garden area had a long frontage on Ivory Street directly across from the Tower of Luck. A very short leg of the perimeter overlooked the Street of the Singing Dolphin. Immediately across Sighing Maiden's Walk was the Blue Alley.[6][7][8][9][10][11][12][13]
Possessions
[
]
The Hiilgauntlets also technically owned Lord Hund's Tomb on the Arcane Chambers level of Undermountain. Lord Hund had it built to his specifications and then became a mummy to dwell there and be entertained by bumbling adventurers.[4][5]
Relationships
[
]
There was some bad blood between the Hiilgauntlets and the Eltorchul family after Lord Hund paid a small fortune to one of the scions of House Eltorchul for the location of a gate into Undermountain he and his brothers had discovered. Lord Hund used the gate to safely get workmen and mages down to build a tomb. After completion, Lord Hund put to death the young Eltorchul lord and most of the workers that constructed the tomb, turning them into undead guardians of his new abode. The other Eltorchul brothers retaliated but could not breach the traps and defenders, so they hired mages to destroy the gate to seal Hund in and then ransacked Hund's villa and kidnapped his daughter.[5]
The Hiilgauntlets were secretly relieved at Lord Hund's disappearance. The stolen daughter eventually fell in love and married one of the Eltorchul brothers and they had children of their own.[5]
History
[
]
The Hiilgauntlets were of Illuskan descent and the family was ennobled in the wave of elevations of the merchant gentry in the Year of the Cockatrice, 1248 DR. As of 1372 DR, there were twenty-one living members and one undead.[3][4]
Members
[
]
Appendix
[
]
References
[
]
Connections
[
]