Hlondeth was an independent city-state at the end of the Vilhon Reach which controlled a region of mountainous territory to the southwest of Turmish. The city had a longtime association with serpents, and was ruled by the Extaminos family, with mixed blood that was not quite human. The matriarch of the Extaminos family was Dediana Extaminos who had a snake's tail instead of legs. She ruled over the city with a light hand. Her mate was First Consort Ssibalentanamas, a spirit naga cleric of Sseth, who was also known as First Keeper of the Sacred Eggs, his main task was guarding the yuan-ti brood chambers.
Dediana's heir was Dmetrio Extaminos, who has been connected for a few years with Glisena Foesmasher, eldest daughter of Baron Thuragar of Sespech.[1]
Relationships
Edit
Very tense for quite a while, for Dmetrio Extaminos son of Dediana Extaminos was in love with the baron's eldest daughter. While he is yet unsuccessful, no-one has sent him packing.[2]
Buildings
Edit
Great Aviary of Extaminos
Edit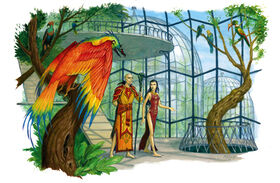 The great Aviary of Extaminos was claimed to be the most wondrous building in the city. It was completed in 1368 DR.[1]
This article is incomplete.
You can help the Forgotten Realms Wiki by providing more information.
Further Reading
Edit
References
Edit
Community content is available under
CC-BY-SA
unless otherwise noted.