The House of the Triad exemplifies the rule of law upholding the principles of good. It is a resplendent plane of majestic marble halls, gleaming palaces, and heavenly radiance.
Inhabitants
[
]
The enormous central mountain, Celestia, is the home of the archons, ruled by Zaphkiel, and is something of a divine realm itself, though no deity lives there. Many of them live on the other surrounding mountains, serving Helm, Ilmater, Torm, or Tyr. Angels serve the Triad as well, and take on the bulk of the missions to other planes. Also, formians live here and serve both Helm and Siamorphe on occasion, but generally they live ordered lives without interruption from the divine.
Petitioners
[
]
Most of the petitioners here are lantern archons, who have no planar commitment and can leave the House at will. Those who follow Helm or Siamorphe, or otherwise lean more toward neutrality than good, keep the forms they wore in life. They gain the benefits of immunity to electrical attacks, cannot be petrified, and are able to withstand phyical attacks better than they did in life.
Deities
[
]
Helm - The Vigilant One, resides on

Everwatch

, which is a floating watchtower of the plane. Whenever a visitor comes to this plane, Everwatch is there with its guardian. The guardian, covered in a suit of mithral full plate, detects the alignment and purposes of visitors and can call heavenly defenders in the case of invasion.
Torm - The True Deity's realm is the mountain called

Trueheart

. Torm's palace is in the heart of the realm and resembles a huge military fortress, with walls of mithral, battlements of diamond, and gates of adamantine. It is guarded by legions of angels and archons serving the cause of good and law.
Siamorphe - Between the Court and Celestia lies a beautiful valley. This is the realms of Siamorphe, who lives in an Alabaster Palace, surrounded by perfect gardens and fountains.
Bahamut - Co-ruled Mercuria, the second heaven of Celestia, during his time as a celestial paragon. He returned to Celestia after it had had been cast off onto the Astral Sea when he replaced Tyr as god of justice.
Access to the House of the Triad
[
]
There are no known portals to or from the House of the Triad, however, it is connected to other celestial planes through branches of the World Tree.
Appendix
[
]
References
[
]
Connections
[
]
---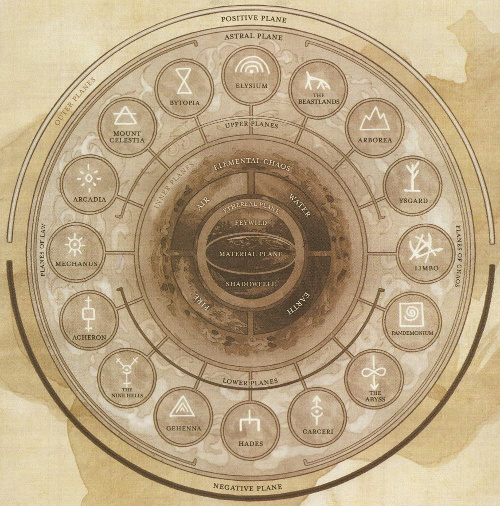 Prime Material plane • Feywild • Shadowfell • Fugue Plane
Transitive Planes: Astral Plane • Ethereal plane
Inner Planes: Elemental Plane of Air • Elemental Plane of Water • Elemental Plane of Earth • Elemental Plane of Fire • Elemental Chaos
Para-Elemental Planes: Frostfell • Swamp of Oblivion • Fountains of Creation • Great Conflagration
Quasi-Elemental Planes: Lightning • Radiance • Minerals • Steam • Vacuum • Ash • Dust • Salt
Outlands: Sigil
Outer Planes: Arcadia • Mount Celestia • Bytopia • Elysium • Beastlands • Arborea • Ysgard • Limbo •
Pandemonium • Abyss (Layers) • Carceri • Hades • Gehenna • Nine Hells • Acheron • Mechanus
Energy planes: Positive Energy plane • Negative Energy plane
Planar Pathways: Infinite Staircase • Oceanus • Mount Olympus • Styx • Yggdrasil
Far Realm
---
Prime Material plane • Cynosure • Fugue Plane
Transitive Planes: Astral Plane • Ethereal plane • Plane of Shadow • Spirit World
Celestial Outer Planes: Arvandor • Brightwater • Dwarfhome • Dweomerheart • Gates of the Moon • Golden Hills • Green Fields • House of Knowledge • House of the Triad
Fiendish Outer Planes: Abyss (Layers) • Barrens of Doom and Despair • Blood Rift • Clangor • Deep Caverns • Demonweb Pits • Fated Depths • Fury's Heart • Hammergrim • Nine Hells • Nishrek • Supreme Throne
Neutral Outer Planes: Dragon Eyrie • Heliopolis • House of Nature • Jotunheim • Warrior's Rest
Inner Planes: Elemental Plane of Air • Elemental Plane of Earth • Elemental Plane of Fire • Elemental Plane of Water • Positive Energy plane • Negative Energy plane
Planar Pathways: Infinite Staircase • River of Blood • World Tree
Far Realm
---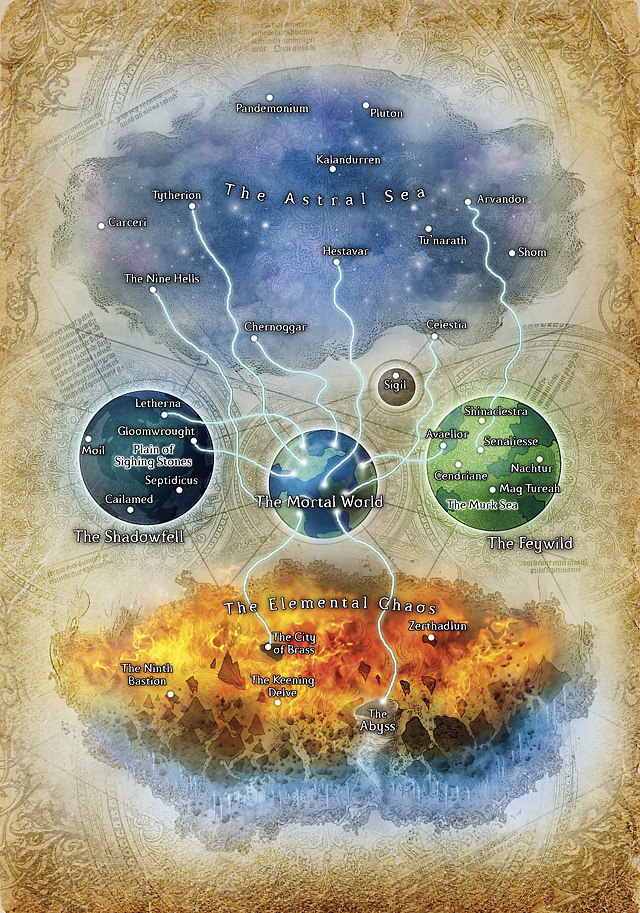 Prime Material plane
Fundamental planes: Astral Sea • Elemental Chaos
Astral dominions: Arvandor • Banehold • Celestia • Cynosure • Deep Wilds • Demonweb Pits • Dismal Caverns • Dwarfhome • Eternal Sun • Fugue Plane • Gates of the Moon • Green Fields • House of Knowledge • Nine Hells • Nishrek • Supreme Throne • Towers of Night • Tu'narath • Warrior's Rest
Elemental realms: Abyss (Layers) • City of Brass • Cresting Spires • Fimbulwinter • Hidden Realm • Muspelheim • Root Hold • Sky Home • Steading • Thraotor • Undying Pyre • Zerthadlun
Parallel planes: Feywild • Shadowfell
Anomalous planes: Far Realm