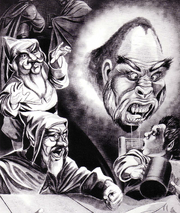 The Illusion school includes spells that deceive the senses or minds of others. They cause people to see things that are not there, not see things that are there, hear phantom noises, or remember things that never happened. Among these spells are included invisibility and disguise self.[1] A wizard who specializes in the schools of illusion is referred to as an illusionist.[2]
Subschools
[
]
Appendix
[
]
This article is incomplete.
You can help the Forgotten Realms Wiki by providing more information.
See Also
[
]
External Links
[
]
References
[
]
Connections
[
]