Ironfang Deep, sometimes mistakenly labeled as Ironfang Keep[2], or the Kingdom of Ironfang by the dwarves,[3] was the main underground settlement in the Mountains of the Alaoreum of the Orsraun Mountains in Turmish.[3]
Description
[
]
Ironfang Deep was an independent mountain city-kingdom that stretched deep into the heart of the Alaoreum. It was one of the very few non-human settlements of the Vilhon Reach.[3]
Government
[
]
Ironfang Deep was ruled by "the most wise and humble King." King Anthrus Strongarm guided the city-kingdom through the treacherous Turmish War of 1220 and the bloody Campaign of Darkness against duergar.[3]
Trade
[
]
Historically, and resulting from bitter conflicts with the humans of the Reach, proud Ironfang was wary of outsiders, evaluating the motives of others with extreme cynicism. Despite that, the dwarves engaged in a great amount of trade, mostly with their Turmite neighbors and an occasional merchant from Telpir.[7] Ironfang Deep purchased Turmish goods and traded it for mined precious metals and various minerals.[3] Ironfang was especially renowned for its great-quality gemstones and gold.[4]
History
[
]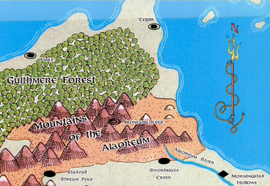 As the human population started settling in the Vilhon Reach by the Year of Patriots, −37 DR, dwarves of the Orsraun Mountains have already been flourishing in Ironfang. The human settlements started engaging in trade with the dwarves.[5]
Peace between secluded dwarves of Ironfang was shattered in the Year of the Toppled Tree, 1220 DR. Turmish warlord Sjorn Sendreth went to war against his dwarven neighbors, spreading death across the Alaoreum. The conflict lasted for 20 years, filled with Turmite attacks and dwarves defending against aggressors.[1] In the Year of the Lost Lady, 1241 DR, the Ironfang Deep dwarves collapsed a mountain on top of the surface part of their underground city in an attempt to secure themselves from Sjorn Sendreth's armies that were looming on the horizon.[8][1] For the next 5o years, dwarves of Ironfang remained safe from human aggressors while entering a bloody war with the dark dwarves - the Campaign of Darkness. The Year of the Singing Skull, 1297 DR ended Ironfang's isolation as the dwarves of Ironfang emerged from their tunnels and joined the surface world once again.[9]
As of the Year of the Tankard, 1370 DR, the Campaign of Darkness was long over; however, clashes with duergar were still quite common, keeping the dwarves of Ironfang on high alert. The goblins of the Ancient Ax tribe have menaced Ironfang seemingly for countless centuries and, as of the late-14th century DR, remained a constant threat, regularly helming attacks on the city-kingdom.[4]
Notable Locations
[
]
Ironfang had a minor shrine to the human deity Helm, the Vigilant One.[3]
Appendix
[
]
Appearances
[
]
Novels

Referenced only
References
[
]