The Kothont (pronounced: /ˈkoʊθɔːnt/ KOTH-awnt[2]) clan was a member of the nobility of Waterdeep, circa the Year of Wild Magic, 1372 DR.[3] They made their fortunes in the fur-trapping trade and the husbandry of various herd beasts.[1][2][3]
From at least the Year of the Prince, 1357 DR,[1] to at least the Year of Wild Magic, 1372 DR, the patriarch of the family was Lord Alaous Kothont also known as "Lord Goldbeard". His consort was Lady Byllia and their eldest son was Dragos.[2][3] As of 1372 DR, there were twenty-seven members of the noble family,[3] although Dalrosz Kothont had been shunned for dabbling in necromancy.[4]
The Kothonts were the first noble family to host the dangerously decadent spectacle known as the Black Bucket Hunt.[5]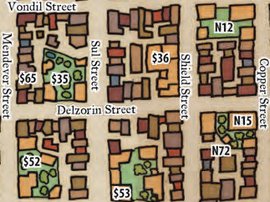 The Kothont family villa was in a walled compound of one- and two-story buildings located on the southwest corner of Delzorin Street and Copper Street in the North Ward of Waterdeep.[6][7][8][9][10][11][12][13] Immediately across Copper Street to the east was the former Maernos family villa that became Holyhands House after the passing of the last member of that noble line.[14][15] On the other side of the alley southwest of the compound was the home and shop of Obelos "The Only" Braeril.[13]
In addition to their villa in Waterdeep and pastureland for their herds, the Kothonts once had a house in Amphail,[3] but only because Dalrosz Kothont was disowned by the family for practicing necromancy. He moved to Amphail and continued his illicit experiments on corpses and captured brigands until he mysteriously disappeared. The house eventually became Mother Gothal's festhall.[4][16][17]
The Kothont family were of Illuskan descent and followers of Chauntea. The family was ennobled in the Year of the Cockatrice, 1248 DR. As of 1372 DR, there were twenty-seven living members.[3]
When Dalrosz disappeared, various mongrelfolk that were apparently the results of his experiments escaped the house in Amphail. Local legend said that their descendants still roamed the nearby hills and were hazardous to the local fauna and the occasional hapless traveler.[4]
Lord Grimmun Kothont disappeared (wearing a ring of invisibility) sometime in the 15th century DR for at least three years and was generally believed to have fallen into insanity. The family believed he still ate food from the pantry, wore clothes from his closets, bathed in the heated pools of water in the cellars intended for horticulture, and watched over his daughters when they had visitors or went visiting around the city.[18] Lord Grimmun was also one of the speculated voices of a locally famous talking painting that belonged to the Eagleshield family.[19]
Community content is available under
CC-BY-SA
unless otherwise noted.