The Lanngolyn (pronounced: /ˈlɑːngoʊlɪn/ LANN-go-linn[2]) family were part of the nobility of Waterdeep, circa the Year of Wild Magic, 1372 DR.[3] They were well-known in the textile industry and had significant interests in shipping goods in and out of Waterdeep.[1][2][3]
Lady Tresh Lanngolyn was the matriarch of the family from at least the Year of the Prince, 1357 DR,[1] to at least the Year of Wild Magic, 1372 DR. Her consort was Ormaes "Seamaster" Lanngolyn and their eldest daughter, Tryssia, was the designated heir.[2] As of 1372 DR, this noble family had twelve living members.[3]
The family's reputation and influence in the textile industry went hand in hand with Lady Tresh's leadership as Master of the Most Excellent Order of Weavers and Dyers.[4][5]
The Lanngolyn family villa was a walled compound of one- and three-story buildings located in the North Ward on the southeast corner of the intersection of Delzorin Street with the High Road. Directly across Delzorin Street was the Massalan family villa. The east side of their property was bounded by Ilzantil Street.[6][7][8][9][10][11][12][13]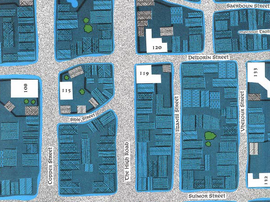 The Lanngolyn family were originally from the island nation of Lantan off the coast of Chult. They brought with them the worship of Gond and a love of textiles. The clan was ennobled in the Year of the Sunset Winds, 1309 DR.[3]
In 1372 DR,[14] Tryssia Lanngolyn was kidnapped by the Unseen and held in the lair of the greater doppelganger, Telakin.[15] She was reportedly there for almost a month before being rescued by adventurers.[16]
Community content is available under
CC-BY-SA
unless otherwise noted.