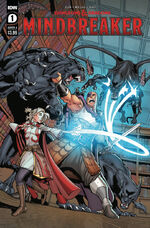 Mindbreaker #1, released on October 20th, 2021, is the first issue in the comic series Mindbreaker which features the Heroes of Baldur's Gate and serves as a prelude to Baldur's Gate III.
"
Changed by their experiences in Avernus, Krydle, Shandie, Delina, Nerys, Minsc, and Boo return home to Baldur's Gate to find that something much more insidious has taken root… what could be behind the odd behavior of the Head Librarian of the Knowledge-Hold?
"
Dragon+ 39 was released on September 22nd, 2021.
This latest issue contains information on The Wild Beyond the Witchlight as well as the D&D Annual 2022. It also looks at the upcoming Fizban's Treasury of Dragons and a future update for the mobile game Warriors of Waterdeep.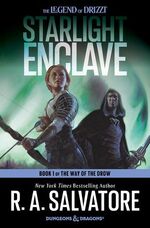 Starlight Enclave, released on August 3rd, 2021, is a novel featuring Drizzt Do'Urden by R.A. Salvatore, and the first entry in the The Way of the Drow series.
"
After the settling dust of the demon uprising and two years of peace, rumblings from the Menzoberranzan drow have Jarlaxle nervous. Worried his allies may be pulled into a Civil War between the great Houses, he is eager to ensure Zaknafein is armed with weapons befitting his skill, including one in particular: Khazid'hea. A powerful artifact, the sword known as "Cutter" has started wars, corrupted its users, and spilled the blood of many, many people. Nonetheless—or maybe because of that—the rogue Jarlaxle and a small group of friends will go on an expedition looking for the weapon's last wielder, Doum'wielle, in the freezing north, for she may be the key to unlocking the sword's potential…and perhaps the key to preventing the bloodshed looming over the Underdark.
"