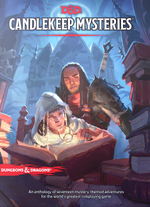 Candlekeep Mysteries is an upcoming anthology for the 5th-edition Dungeons & Dragons ruleset that will be released on March 16th 2021. It will feature a collection of many mystery-themed adventures.
"
An anthology of seventeen mystery-themed adventures for the world's greatest roleplaying game.
"
At the Spine of the World #4 by AJ Mendez and Aimee Garcia is the upcoming issue in the new At the Spine of the World series published by IDW Publishing in March 2021.
"
To rescue one of their own, Runa, Saarvin, and Patience must brave the mines! Out of the snow, can they survive the onslaught of enemies who await them?
"
Dragon+ 36 was released on February 24th, 2021.
For the Realms, it has several maps for Icewind Dale: Rime of the Frostmaiden, Ghosts of Saltmarsh and Waterdeep: Dragon Heist. It also features interviews with the contributors of the upcoming Candlekeep Mysteries.
Community content is available under
CC-BY-SA
unless otherwise noted.