Neverwinter: Dragonslayer, released on June 14th, 2022, is an expansion module for the massively-multiplayer role-playing game Neverwinter.
"
Following the events of Dragonbone Vale, the Shield of the North successfully drove Valindra Shadowmantle out of the Sword Coast, but not before she managed to cast a flawed version of the Scaleblight Mythal. The malevolent spell awakened countless dragons to the phenomenon of dragonsight, twisting their motivations and driving them to wild rage. The call for help sounds out once more in Dragonslayer, where players will need to hunt down these deadly dragons, alongside fellow dragonslayers in hopes of saving the Sword Coast.
"
Commander Legends: Battle for Baldur's Gate, released on June 10th, 2022, is a Magic: The Gathering set themed around the city of Baldur's Gate and the Baldur's Gate series of video games.
"
Dungeons & Dragons storytelling meets Magic's most social format in a new crossover multiplayer experience for the ages. Turn every Commander game into an adventure with iconic D&D characters and spells. And create your own powerful character from the ground up with the return of Commander Draft.
"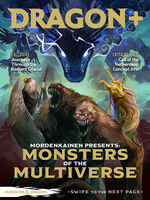 Dragon+ 41 was released on March 22nd, 2022.
This issue has a look at the upcoming Journeys Through the Radiant Citadel, the Dragonbone Vale expansion for Neverwinter, and the playable races of Mordenkainen Presents: Monsters of the Multiverse. It also presents artwork and maps for Candlekeep Mysteries and Fizban's Treasury of Dragons. Finally, there is a discussion of translating D&D to other languages.