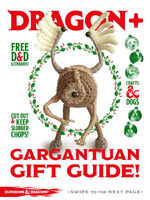 Dragon+ #29
was released on December 13, 2019.
For the Realms, this issue gives previews of the upcoming Dungeons & Dragons: Dark Alliance video game, the Dungeon Mayhem: Battle for Baldur's Gate card game expansion, and the Warriors of Waterdeep mobile game. There's also a side-quest for Baldur's Gate: Descent into Avernus, Mordenkainen's Fiendish Folio, Volume 1: Monsters Malevolent and Benign, more maps of the month, a holiday gift guide, and even a cut-out model of Slobberchops the tressym.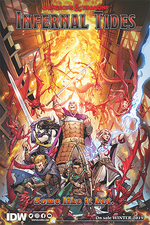 Infernal Tides #1
by
Jim Zub
with art by
Max Dunbar
is the first of a new five-issue comic series published by
IDW Publishing
, on December 11, 2019. It takes the
Heroes of Baldur's Gate
on a tie-in with
Descent into Avernus
.
| | | |
| --- | --- | --- |
| " | In Infernal Tides, fan-favorite Minsc and his friends are caught in the middle of devil-tainted corruption that has taken hold of Baldur's Gate. Unraveling the secret of its source will take the heroes to unexpected places and threaten the sanctity of their very souls. Even if they survive this perilous journey, there will be Hell to pay! | " |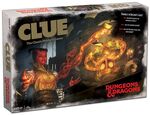 CLUE: Dungeons & Dragons
is a
Cluedo
game for D&D released in October 2019. It's set within the
Descent into Avernus
storyline.
| | | |
| --- | --- | --- |
| " | An Infernal Puzzle Box, delivered by a Hellrider of Elturel, has been stolen from the party of adventurers. Determined to reclaim their box of infernal secrets, one of Zariel's minions has slain and secretly replaced an adventurer, unbeknownst to the rest of the members! In CLUE: Dungeons & Dragons, it's up to you to determine WHO has been replaced by a devil in disguise, WHAT weapon was used in the execution, and WHERE in the Forgotten Realms the Infernal puzzle box could be hidden. | " |
Community content is available under
CC-BY-SA
unless otherwise noted.