Baldur's Gate: Descent into Avernus
by
Christopher Perkins
is a 5
th
-edition
Dungeons & Dragons
adventure module released on September 17, 2019. It sees players adventure from
Baldur's Gate
down to
Avernus
, the first of the
Nine Hells
.
| | | |
| --- | --- | --- |
| " | Welcome to Baldur's Gate, a city of ambition and corruption situated at the crossroads of the Sword Coast. You've just started your adventuring career, but already find yourself embroiled in a plot that sprawls from the shadows of Baldur's Gate to the front lines of the planes-spanning Blood War! Do you have what it takes to turn infernal war machines and nefarious contracts against the archdevil Zariel and her diabolical hordes? And can you ever hope to find your way home safely when pitted against the infinite evils of the Nine Hells? | " |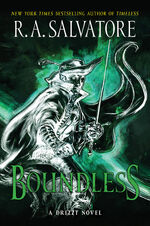 Boundless
by
R.A. Salvatore
is the second entry in the
Generations
trilogy featuring
Drizzt Do'Urden
. It was released on September 10
th
. The novel's story is split into two parts: one following Drizzt in the present time of the Realms, and the other focusing on
Zaknafein
and
Jarlaxle
's adventures in the distant past.
| | | |
| --- | --- | --- |
| " | Split between time and two worlds, Zaknafein had always been conflicted. That inner turmoil was magnified by his inferior position as a male dark elf in the matriarchal drow society. Only his status as one of the greatest warriors—as well as his friendship with the mercenary Jarlaxle—kept him sane. When he finally perished, he was content knowing he left behind a legacy as substantial as his son Drizzt... | " |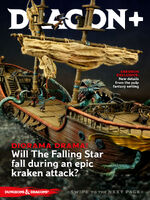 Dragon+ #28
was released on October 30, 2019.
For the Realms, this issue gives previews of the Warriors of Waterdeep mobile game, a Tyranny of Dragons Special Edition, a Descent into Avernus Soundpack, and new Icons of the Realms. There are articles on the Nine Hells, infernal war machines, and neo-otyughs, and a short story set in Elturel, as well as Maps of the Month for Baldur's Gate.
Community content is available under
CC-BY-SA
unless otherwise noted.