Neverwinter: Dragonbone Vale, released on January 11th, 2022, is an expansion module for the massively-multiplayer role-playing game Neverwinter.
"
In Dragonbone Vale, the evil lich Valindra Shadowmantle has returned to threaten the Sword Coast alongside the Cult of the Dragon, who have come to possess an ancient artifact with the potential to amplify their foul rituals of undeath. Under the leadership of famed wizard Elminster Aumar, the brave Heroes of Neverwinter will need to work with the allied factions of Protector's Enclave, to reclaim the Dragonbone Vale and put a stop to the Cult's plans.
"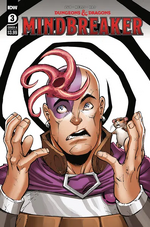 Mindbreaker #3, released on December 15th, 2021, is the third issue in the comic series Mindbreaker which features the Heroes of Baldur's Gate and serves as a prelude to Baldur's Gate III.
"
Following last issue's disastrous turn of events, some of our heroes are missing, and the mind flayer threat is twisting ever deeper into the workings of the city. What secrets will be revealed, and what steps will the remaining Baldur's Gate heroes take to save their friends?
"
Dragon+ 40 was released on November 23rd, 2021.
This latest issue focuses on a Dungeons & Dragons holiday gift guide, and contains an interview with the author of Dungeon Academy: No Humans Allowed!. Maps and art from Candlekeep Mysteries and Fizban's Treasury of Dragons are provided.