The Maernos (pronounced: /ˈmeɪɛrnoʊz/ MAY-er-noz[2]) family was a human noble family in Waterdeep.[1] The family line died out when Ultas Maernos passed away without a living spouse or heirs sometime around 1370 DR.[note 1]
The family patriarch was Ultas Maernos in the Year of the Banner, 1368 DR. He was a widower, having lost his wife and children to the plague in Amn in the Year of the Saddle, 1345 DR.[2] He refused to remarry and the noble house went defunct after his death.[3]
The Maernos family retained a trio of halfling adventurers that became known as the Defenders Three.[4]
The family coat-of-arms consisted of a pair of praying hands with green sleeves and three silver spear heads on a royal blue field.[1][2]
House Maernos was primarily in the moneylending and financial services business, and specialized in assisting the various temples in Waterdeep with money matters.[1][2]
In 1368 DR, Lord Maernos gave significant financial help to the newly recognized prince Haedrak Rhindaun III in his bid to rescue Zaranda Star and take over the throne of Tethyr.[5]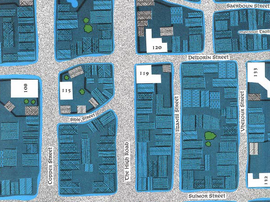 The family villa and compound were located in the North Ward between Copper Street and the High Road about five blocks south of the Upper Towers.[6][7][8][9][10][11] The north side of the compound faced Delzorin Street and the south side faced Sidle Street.[11] The south wall was adorned with roaring lions' head sculptures.[12][13]
With no heirs, Ultas petitioned the Lord's Court in 1368 DR to be allowed to bequeath his holdings and wealth to the ten major temples and the Plinth, to be equally distributed by the Lord's Court. The family compound was to be converted into a temple specifically for use by the non-human residents of Waterdeep. After a closed-door session, the Magisters and the Lord's Court agreed to allow his request. By this time, Ultas had already started renovating his villa, buying paintings, carvings, and sculptures by elven, dwarven, and halfling artists appropriate for a place of worship.[14]
After Ultas' passing, the Maernos compound became known as Holyhands House and was run by the Defenders Three.[15] As of the 1490s DR, it was still in operation.[16][17][note 2]
The temples that were recipients of Ultas Maernos' largess were:[18]
Video Games
Community content is available under
CC-BY-SA
unless otherwise noted.