The Manthar (pronounced: /ˈmɑːnθɑːr/ MAN-thar[2]) family was part of the nobility of Waterdeep, circa the Year of Wild Magic, 1372 DR.[3] They had diverse interests in the metal trade, mercenary services, and fine perfumes.[1][2][3]
House Manthar provided swords-for-hire to those that could afford the service. They also had significant investments in trading metals and perfumes. From at least the Year of the Prince, 1357 DR,[1] to at least the Year of Wild Magic, 1372 DR,[3] the patriarch of the family was Lord Ithnil. His consort was Lady Churyl, and they had at least one son, Carn.[2][3]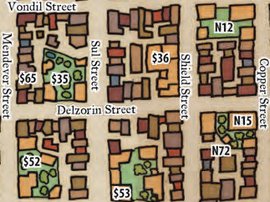 The Manthar family home was a mansion on the northwest corner of Shield Street and Delzorin Street at the very edge of the Sea Ward (across Shield Street was the Sultlue family villa in the North Ward). The Manthar compound was made up of some low, 1-story buildings and a 3-story villa in the middle of the block.[4][5][6][7][8][9][10][11]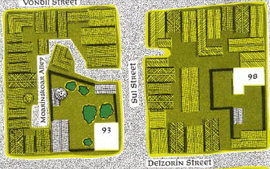 The Manthars were of Illuskan descent and remained fairly neutral in outlook as befitted mercenaries. The family was ennobled in the Year of Flowers, 1265 DR, and numbered forty-one living members as of 1372 DR.[3]
On the 9th of Deepwinter in the Year of the Tankard, 1370 DR, Lord Carn's lover and fiancé, Lady Syleda Krimmevol, gave birth to fraternal twins, and they had plans to marry on Greengrass of that year. However, unknown to everyone except the Unseen, Lady Syleda had been replaced by a greater doppelganger before she even arrived in Waterdeep. This was part of a program by the Unseen to get one of their mirrorkin to be an heir to a noble house. The children bore striking resemblance to their parents because they were also mirrorkin.[12]
Fearful that Syleda's true nature would be discovered, the Unseen recalled her on Tarsakh 30—the day before the wedding—and the sudden abandonment of her children and fiancé was generally credited to foul play.[13]
Community content is available under
CC-BY-SA
unless otherwise noted.