Mielikki (pronounced: /maɪˈliki/ my-LEE-kee[3][12][8][9] 

 listen), also referred to as the Lady of the Forest, the Supreme Ranger, and the Forest Queen, was the neutral good goddess of autumn, forests, and dryads and other forest creatures and the patron of druids and rangers in the Faerûnian pantheon and the Finnish pantheon.[3][4][5][6][12][8][9][10][11] Scholars of other lands proposed she was known as Khelliara, the Forest Maiden, in Rashemen,[5][16][15][29] She also had an aspect as Khalreshaar on the isle of Evermeet.[14]
Personality
[
]
Mielikki was cheerful with a ready smile and had confidence in herself and her path.[12][8][9] However, while she fully showed that confidence when in small groups, she was averse to formal speaking and being in charge of larger groups.[12] She did not consider people her friends lightly, but she demonstrated fierce loyalty and protectiveness to those she did.[12][8][9] Her views tended to be those of the archetypal ranger.[6] Yet, in the late 15th century DR, mortals saw her as distant and spiritual, and not as human as some other gods. While not uncaring of mortals, her attention and blessings could be harder to attract.[11]
While she knew that death was a part of life and some must die so that others may live, she could not just accept injuries and deaths of both animals and friends. She regularly healed such stricken beings as she found them, rather than leave them to be part of the circle of life as Silvanus would.[12][8][9]
Description
[
]
Mielikki's preferred avatar was the Supreme Ranger, where she appeared as a tall woman of robust and shapely build and lithe grace. She moved with the spring of a leaping buck and the ease of a prowling panther. Her russet-colored hair was long and unbound so it hung around her shoulders and down her back, while her eyes were large and brown, and deep like pools. Her clothes were dull green and brown in color and she wore the leather armor commonly used by rangers.[12][9][30]
Her other avatar was the Forest Queen, seeming to be a young maiden who had golden-hued moss and leaves for hair. She wore sheer yellow and green gossamer robes, even in chill winter weather, and had summer songbirds fluttering around her person.[3][1][6][12][9]
No matter her chosen form, Mielikki was 10 feet (3 meters) tall, spoke in a rich low purr, and always walked on the air so her feet never made contact with ground, and thus didn't leave any tracks and didn't make any sound. Occasionally, she had a stag's antlers emerging from her forehead, either already present when she appeared or growing slowly as mortals watched, though she displayed these less often after Beshaba adopted black antlers as her symbol, and had almost abandoned it by 1372 DR.[12][9]
Abilities
[
]
She was a supremely talented tracker, better than Malar and surpassed perhaps only by Gwaeron Windstrom.[31][12] As a master ranger and druid, she was skilled in all aspects of survival, hunting, wilderness lore, and more, and she was particularly skilled in bowmaking. Her greatest favored enemies were undead, shapechangers, and dragons, followed by giants and animals. She was instantly alerted to any action that was despoiling a forest or threatened to do so.[9]
She could cast spells from any school of magic bar those of necromancy and illusion and from any sphere bar the reversed, harmful forms of spells in the healing sphere and necromantic sphere. Moreover, she cast all spells from the animal sphere and plant sphere that involved of course animals and plants at twice their normal power in all aspects and they were harder to resist.[12] She cast spells as a druid and commanded all the spells and powers of the Animal, Good, Plant, and Travel domains.[9] In addition, she had the psionic defense intellect fortress.[1]
In particular, simply by touching any tree, she could create treants at will and she could summon twelve forest creatures of one type to her side every two minutes, and they obeyed their goddess unto death. Her very presence cancelled all mind-altering effects, such as charms and psionics, on all good and non-evil creatures up to 20​ to ​30 yards (18​ to ​27 meters) from her person. She was herself immune to necromancy spells and reversed, harmful forms of healing and necromantic sphere spells, and her very touch destroyed undead.[1][32] She could summon great packs of wolves or flocks of hawks[1] or up to a dozen or so unicorns; command plant creatures up to 13 miles (21 kilometers) away; and speak to animals and cause them to grow in size or become intelligent, or else fall asleep.[9] No woodland creature could harm her, even those controlled by others.[1]
In combat, Mielikki was skilled in fighting with twin scimitars, her hornblades, and in archery.[32][9] However, she did not engage in melee often, and favored her fists when she did. She would rather rely on her own skills and magic. She also sometimes used a bow, but its arrows struck not to inflict injury but to bring life—where they landed, forest plants appeared and grew in a matter of moments, even entangling whoever she wished.[32]
When not appearing as one of her avatars, Mielikki manifested most often in the form of a white unicorn that glowed and galloped in the air. This could teleport anywhere in Faerûn as she willed, communicate mentally with all living creatures, and cast spells with a touch of its alicorn. On other occasions, she appeared as a floating, glowing light of a blue-white or a green, gold, and rust hue. Through it, she could speak, envelop and carry items, and use her magic.[25][34] More subtly, she could be felt when gazing in wonderment at a unicorn and in the hearts of those who walked in peace in the woods.[33] But the faithful believed her most common manifestation was her whispering voice, echoing forever through all the forests of the world via the rustling of leaves.[33][35] After a time of meditation and introspection, a good and faithful worshiper could listen to and comprehend these whispers. Some bards and rangers tried writing them down, and though they got different results each time, they generally found messages of understanding and preserving the forests and wildlife, and long-term listeners apparently became talented in tracking, survival, and zoology.[35]
To do her work, Mielikki might send dryads, satyrs, sprites, swanmays, treants, or unicorns, and forest animals like hawks, wolves, and songbirds.[25][34] Her colors were green and red.[34]
Activities
[
]
Mielikki most enjoyed exploring all the forests of Faerûn.[12] In fact, she once claimed to Moongentle Lharinn that she'd never explored the deserts, ice-capped mountains, or cities of the world.[36] She cared for and defended these forests,[18] and especially the High Forest, according to the druids there.[37] Though their reasons were unknown to mortals, she and Eldath protected the High Forest and prevented it from being logged by humans, elves, and others, and her followers claimed she would personally bring destruction down on those who would despoil it, regardless of their reasons.[38][39][1] In particular, she was said to wander the Unicorn's Run, a river within the High Forest, and to live nearby, and was often sighted in the area. Harpers held this to be obviously true and even made hazardous pilgrimages up the river.[40][41] South of it, the Delimbiyr Crescent, too, was believed by the Harpers to be her favored hunting ground.[42] She watched over and protected the whole Delimbiyr Vale, desiring to make the land a sanctuary for her faith and a showpiece of her ideals of harmony between nature and civilization.[43]
She also watched over rangers, druids, dryads and other forest beings,[1][2] and good people and lost children in any woodland, regardless of how evil the threats against them. In forest places that inspired wonder, Mielikki was said to prevail over all.[11] She was the most responsive of deities, according to Elminster, always answering those who prayed to her and not only when convenient. She gave aid to the faithful within a year of their asking, and if she did not, she told them why they had not measured up, and only completing a great quest could change her mind.[44] Sometimes, so that she might test the conduct of her rangers, Mielikki posed as a mortal woman lost and alone in the woods. But those who were observant would see she made no trail, and that her feet didn't even touch the ground.[25]
On Greengrass, Midsummer Night, and Shieldmeet, Mielikki brought herds of unicorns together to ride through the forests all night long and teleport as many times as they liked and up to three times their normal range. At such times her faithful were allowed to ride them bareback, so they ended up travelling far and seeing the world.[8][9][45]
Divine Realm
[
]
Mielikki had long dwelled upon the Prime Material plane itself,[3][1][5][6][12][2] and though the precise location was unknown to others,[6] she made her home in a hidden grove near the headwaters of the Unicorn Run.[36] She only established a divine realm in the Outer Planes in the Year of the Gauntlet, 1369 DR. It's likely she helped Eldath move out there too.[46][12]
After that, she resided in the Grove of the Unicorns, which in the Great Wheel cosmology was found in Krigala, topmost layer of the Beastlands,[12][2] and in the World Tree cosmology was located within the House of Nature.[47][23]
Following the Spellplague, by the late 15th century DR, Mielikki resided with Silvanus in his domain[18] in the Deep Wilds in the World Axis cosmology.[20]
Possessions
[
]
When in battle, Mielikki sometimes fought with her two scimitar-sized hornblades, known as the Hornblades,[32][9] which she sometimes lent to mortal rangers who embarked on great quests on her behalf.[32] She also had her longbow, named Hartsong.[32][9]
Relationships
[
]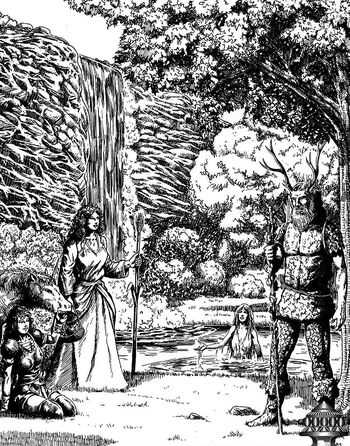 Mielikki was a servant of Silvanus, the Oak-Father, together with Chauntea, the Grain Goddess, and Eldath, the Goddess of Singing Water.[3][5][12][8][9][27][48][7][49] Mielikki, Eldath, and Silvanus counted each other as allies, worked in harmony, and held true trust and affection for one another, and these relationships were mirrored in the alliances of their churches and priests.[12][11][46] Mielikki's calmness tended to ease Silvanus's rage at those who harmed nature.[33] Although her followers sometimes referred to her with the honorific Daughter to Silvanus, Mielikki was not actually the daughter of Silvanus; rather, she considered him a father figure. This led to some confusion and a false myth told that Mielikki was the outcome of an affair between Silvanus and Hanali Celanil, an elven goddess of love. Particular proponents of this were the half-elf followers of her Khalreshaar aspect.[6][12][14] Similarly, she thought of Eldath like a sister.[12][9] So close was their relationship that she gave her fellow goddess the nickname 'Datha' and they had been seen to hug one another like sisters.[30][46][note 1] Despite these bonds, Mielikki followed her own path.[11]
She was in turn served by Gwaeron Windstrom, Lurue, and Shiallia.[27][5][12][8][9][50] Gwaeron served as Mielikki's messenger to the elven, gnomish, and halfling pantheons when she needed a favor, owing to his good relations with them. He also served as her intermediary with mortals, usually rangers, in the North when direct speech was required, for which he was titled the Mouth of Mielikki.[51][52][53] When mortals prayed to her through him, he tracked her down to whichever forest she was concealed in and delivered the message.[11][53] On some of her expeditions, Gwaeron accompanied Mielikki to lend her aid in tracking and in training her own rangers.[12][52] When pressed into battle, which was rare, Mielikki rode upon the back of Lurue the Unicorn, who was a friend and ally.[12][8][9][54][11] Because of this close association and Mielikki's own unicorn symbol, some mortals confused the two.[11] Lastly, Shiallia lent her services in planting seeds and nurturing seedling in the High Forest and in midwifing for pregnant forest animals.[12] After the Spellplague, Shiallia was counted as Mielikki's exarch.[20]
Mielikki was also allies with Shaundakul, Lathander, and Nobanion, and was of course an enemy of Malar, Moander, Myrkul, Talona, and Talos.[12][8][9][55][56] Talos and Malar particularly hated Mielikki's dream for the Delimbiyr Crescent, and often had their cults bring destruction and bloodshed to her land and her people thee.[43] Among the non-human gods, she was an ally of Marthammor Duin of the dwarven pantheon; Angharradh (who took a motherly interest in her), Corellon Larethian, Rillifane Rallathil, and Solonor Thelandira (they were known to be romantically linked) of the elven pantheon; Baervan Wildwanderer of the gnome pantheon; and Sheela Peryroyl of the halfling pantheon.[57] As Khalreshaar, she was believed to serve Rillifane Rallathil.[14] She was counted among the so-called Gentle Sisters[36] and as part of the Sacred Hexad.[58]
Further afield, Mielikki was on good terms with the Oerth deity Ehlonna. The two woodland goddesses got together often to catch up, relax, and drink oakroot tea. Though Ehlonna had no presence on Toril, Mielikki answered prayers on her behalf for any of Ehlonna's followers who happened to arrive there.[59][note 2] The two goddesses even shared a divine realm, the Grove of the Unicorns.[2]
Moreover, Mielikki had two mortal champions.[12][60][43] One, in the late 14th century DR, was Lady Jeryth Phaulkon of Waterdeep, titled the Chosen Star of Mielikki, Our Lady's Champion, and even the Granddaughter of Silvanus. To be her chosen, the goddess granted her certain powers to make her a steadfast forest warrior.[12][60] She charged Jeryth with defending the High Forest on her behalf.[38] But a more long-standing champion was the Green Regent, a chosen of Mielikki entrusted with defending the Delimbiyr Vale and her dream for it. Over centuries, every four years, this role was passed from person to person, each one chosen by Mielikki according to her current needs. In a special rite in Loudwater conducted by the Circle of the Stag, she picked all kinds of people, and often not the most likely, but always proving to be right for the role and for her plans. The Green Regents were supported by their Scions, the remaining candidates picked by the goddess.[43][61] She communicated with the Green Regents through dreams.[62] On the planes, her proxies were Tiera and Lemminkainen.[2]
Symbol
[
]
Her traditional holy symbol was a white unicorn's head, golden horned and blue eyed, facing sinister, that is, to the left.[5][6][12][9] An alternative symbol showed a white unicorn over a green field.[27][12] An older symbol was a white star on a green leaf,[27][6] specifically a tiny and dazzlingly bright white star balanced on a green leaf of oak or ash that was open and verdant.[12] Within the Finnish pantheon, her symbol was an evergreen tree.[1][2]
Worshipers
[
]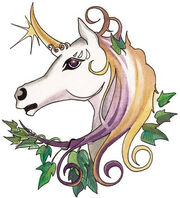 Mielikki's worshipers were concentrated in the northern parts of Faerûn,[12][25] namely in the Delimbiyr Crescent and Loudwater,[42][43] High Forest, the North, the Silver Marches, and in the city of Silverymoon; in the Dalelands, particularly Archendale, Daggerdale, Harrowdale, and Shadowdale; and in Cormanthor, as in Elventree. In the east, they could be found in Rashemen, Aglarond, and the Great Dale, and in the south as far as the Chondalwood.[63][64] She was among the major non-elven deities venerated in Myth Drannor in Cormanthyr before its fall.[65]
In these places, she was venerated by woodsmen among the humans, elves (especially wood elves), and half-elves, as well as by dryads, hamadryads, and treants,[12][25][66] and by forest creatures with no common gods of their own.[7] Common folk appealed to her when children were lost in the forest, so she might protect and guide them. Woodcutters left simple shrines to her in thanks for their safety and for the wood they'd taken, and such shrines marked the limits of future hunting and logging. Otherwise, the Lady of the Forest was little talked about, except in peaceful woodland settings.[11]
The majority of rangers revered Mielikki, as their leader, their watchful mother, and the supreme ranger.[25] They were among her most fervent followers.[7] Yet many of the rangers of the North prayed to Gwaeron Windstrom instead, worrying that Mielikki was too divine, wild, primal, and mysterious to be beseeched directly, while Gwaeron at least was once a mortal ranger like them.[53][11] Among adventurers, Mielikki was followed by rangers of all temperaments,[4][28][5] by druids,[67] and by clerics and thieves of good or chaotic bent.[28][4] Many Harpers also followed Mielikki,[25] as did most members of the Emerald Enclave.[68]
Under her Khalreshaar aspect on Evermeet, she was mainly worshiped by a growing cult of half-elves. They believed her to be the daughter of Silvanus and Hanali Celanil, and as such, the first truly half-elven deity..[14]
History
[
]
Mielikki hailed from the Finnish pantheon.[3][69] Though her fellow gods were tiring of life, Mielikki was still too young and vibrant to give in to their apathy, and so chose to establish a new following on Toril among its many nature-worshipers to stay strong. It's likely that Loviatar pursued her there to do the same, because of her old hatred for her.[2]
Followers of the Sacred Hexad believed their six nature deities made the forests of the world, particularly the great forest Cormanthor. They held that Mielikki and Rillifane had planted trees of all species and sizes.[58]
An early legend held that while Mielikki drank from the shallows of River Rauvin, the newly foaled goddess Lurue appeared before her in a shaft of moonlight. They became friends and Mielikki taught Lurue to chase the moon through the forests of the North. This site was later held to be sacred to both goddesses. Centuries later, the pair returned, in the guise of a ranger and her steed, and there found Moonsilver Inn and Silverymoon Town (established 574 DR[70]). They loved the place for the people's desire to build in harmony with the land, rather than cut the forests and despoil it. They blessed the inn, making it a sanctuary for the good, and the city of Silverymoon grew up around it.[71][72][73] In the late 1400s DR, however, it was told that, after Mielikki was finished creating the forests, she sought a guardian and representative on the Material Plane to keep watch there. Agreeing, Selûne created Lurue and sent her to work for Mielikki.[74]
An ancient and unsupported legend told that the human Khala of Imaskar had devoted themselves to the god Bane the Black Lord and perpetrated numerous atrocities. For their deeds, the gods of law inflicted curses upon them. Among them, Mielikki accused them of acting like beasts but committing human evils, and thus cursed them to cast human shadows to remind them on their crimes and lost souls. Out of all the gods' curses was born the peryton, a vicious, stag-headed, eagle-bodied beast.[75]
In the Year of the Bloodcrystals, 627 DR, the mage Ecamane Truesilver and his nine apprentices arrived in Silverymoon to found a magic school, saying that five goddesses—Mielikki, Eldath, Lurue, Mystra, and Sehanine Moonbow—had called them there.[76][77]
Among more than a dozen other deities, Mielikki manifested at the Dancing Place in High Dale in inspire the formation of the Harpers in the Year of the Dawn Rose, 720 DR.[78][79] Mielikki continued to support the Harpers, by imbuing her power in their forest campsites, refuges, and meeting spots; blessing Master Harpers with tracking skills;[80] and Harper priests with a swift step.[81]
The great hamadryad sorceress known as the Hamagess sacrificed herself to protect the High Forest from infestation by Abyssal vegetation during the rise of Hellgate Keep in the Year of the Curse, 882 DR. Centuries afterward, "the Hamagess" would be adopted by the Mielikkians as an obscure name for the goddess herself.[82]
When the mighty mortal ranger Gwaeron Windstrom hunted and killed a number of manifestations and even an avatar of Malar the Beastlord, one after the other, Mielikki made him a demigod in her service and his church would grow out of hers.[52][53]
In the 11th century DR, a priestess of Mielikki that lived in Amphail, Asaudrae Daerantree, was killed by hunters while in the form of a stag, giving rise to the Rite of the Stag Lass. Many of the faith and some in Amphail would come to believe Asaudrae to be Mielikki herself.[83][84][44]
After the line of the Green Regents had been broken by the Rensha lords of the Delimbiyr Vale for more than a century and a half, Mielikki intervened in the Year of Spilled Blood, 1315 DR. She took the form of a unicorn being hunted by a band of mercenary hunters hired by Pasuuk Rensha to seize its horn. After weeks, they tracked and finally tricked it into teleporting into a trap they'd set at a treacherous bend in the Unicorn Run. Or so they thought. The newest member, Nanathlor Greysword, was ordered to inflict the killing strike—but hesitated, his heart breaking as he gazed into her eyes. Nanathlor vowed he would not kill such a magnificent beast and that he would defend it against all that would despoil it. Twelve hunters joined him, and together they mutinied against their captain. Afterward, Mielikki revealed herself as an avatar and made Nanathlor her new Green Regent and those who stood with him the Scions. Furthermore, she asked Nanathlor and his comrades to liberate the Delimbiyr Vale from the rule of the Renshas, which they did in the ensuing War of the Returned Regent.[43]
In the 1350s DR, Mielikki favored Florin Falconhand, setting him quests, appearing to him no less than seven times, and even having her avatar begin a romantic relationship with him.[85][10] One of these appearances was at the Green Door inn in Essembra, Battledale, where she also slew three swordsmen who'd killed the women there; Mielikki made them decay like leaves in autumn.[86] Finally, in the Year of the Worm, 1356 DR, appearing before the Knights of Myth Drannor in the ruins of that city, she bade him to marry Dove Silverhand, in her words, "because this union—and its issue—are needful". Their child was Azalar Falconhand.[85][10][87]
When the gods were cast down to the mortal world by Ao on Kythorn 15 in the Year of Shadows, 1358 DR, Mielikki was among the few Gentle Sisters who prayed to the overgod for guidance on how they should comport themselves. Yet they fell like the others, with Mielikki landing in, and destroying, her own grove by the headwaters of the Unicorn's Run. As she lay alone, stunned, and wracked with burning pain, Ao commanded Mielikki to "Know true mercy, kindness, and humility. Find the Tablets of Fate that divine hands stole away from Helm's guardianship. Hope, and pray, and show lesser beings help and compassion." Not knowing how to find the tablets nor anything beyond her forests, Mielikki sought out the great mortal sage and Harper friend Elminster of Shadowdale. On the way, she heard Moongentle Lharinn, a Harper ranger who'd kept vigil and prayed to Mielikki all through the night for guidance, and came to her in the cold misty dawn, appearing quite human. Mielikki told Moongentle all that had happened and told her to spread the word to all "good and gentle creatures" before going on her way.[36] During the ensuing Time of Troubles, Mielikki adapted well to avatar form and did not abandon her responsibilities,[88] and since she already resided on the Prime Material plane, she suffered little. However, so many stray gods wandering the world gave her faithful no end of grief.[5][12] She was also seen in the company of Eldath.[46] In one incident, on Kythorn 19, in the Misty Forest, Elminster apparently summoned both Mielikki and Eldath to his side to intercede for three Mielikkian rangers held captive and threatened with sacrifice by the crazed Eldathyn priest Ramtharage Druin. They declared they were sisters and friends and Ramthar was utterly shocked by meeting the two goddesses and released the rangers. The goddesses embraced one another, shook hands with Elminster, and departed, but not before Mielikki tousled his hair and told him he'd done well.[30]
In the chaos of the aftermath, Mielikki claimed the portfolio of autumn from the deceased god Myrkul.[6][12] Despite this, Mielikki came to recognize that, with her service to Silvanus, as his power was growing, her own was dwindling, threatening to reduce her to a demigoddess or less.[6][6]
When Lander was slain by the assassin Bhadla in the Year of the Turret, 1360 DR, he had a vision of the goddess Mielikki, who told the young ranger he had successfully completed his task to aid the Bedine.[89]
In the Year of the Shield, 1367 DR, Mielikki appeared in a dream to Jeryth Phaulkon, a noble of Waterdeep, and offered to make her her chosen. Her reasons were more practical than mystical: initially, she wanted her new champion to stop the Hoar Fang gnolls from laying waste to the Lurkwood, and Jeryth happened to be their captive at the time. Imbued with the goddess's powers, Jeryth freed herself and her companions, met the Harper Bran Skorlsun, and defeated the gnolls. Similarly, Mielikki appeared in a dream to Briosar Helmsing, one of her priests, and gave him a quest to meet up with Jeryth.[60]
Finally, in the Year of the Gauntlet, 1369 DR, Mielikki ordered a complete restructuring of her clergy, including the reintroduction of druids. The action not only arrested the decline of her power, but bolstered it and gave her enough to establish her first divine realm in the Outer Planes.[12][25]
In the early 1370s DR, Mielikki guided the young Azalar Falconhand to become a ranger who would slay the Susurrus and lead the good fey back into the Living Wood of Shadowdale. With the aid of adventurers, he achieved this in the Year of Risen Elfkin, 1375 DR.[87] He was also proclaimed Lord of Shadowdale and brought fey back to the area.[90]
In the events of the Spellplague in the Year of Blue Fire, 1385 DR, when a unicorn—possibly an avatar of Mielikki, or at least one of her servants—took Catti-brie and Regis away to a private paradise called Iruladoon she had prepared for them that would remain untouched by the turmoil to follow. This was presumably done as a favor to Drizzt Do'Urden.[91]
Appendix
[
]
Background
[
]
Mielikki is based on the Finnish forest goddess of the same name, as depicted in the 1st-edition Deities & Demigods, page 60.[4][3]
Notes
[
]
Appearances
[
]
Novels
References
[
]
Connections
[
]