Miniature giant space hamsters, sometimes called giant pygmy space hamsters,[4] were one of the many variants of giant space hamsters that could be encountered across different worlds.[3]
Description
[
]
According to Minsc, a miniature giant space hamster was a giant space hamster that had been miniaturized.[5] They were identical in size to regular hamsters.[3]
Like all giant space hamsters, they were not naturally evolving creatures, but were instead created by gnomes originally from Krynn. Gnomes experimented with giant space hamster breeding by mixing enchanted substances from a variety of monsters into the process, which produced several varieties of giant space hamster. Among those, miniature giant space hamsters were one of the more unusual varieties.[3]
These creatures were apparently quite intelligent and had the ability to talk in whispers, though most of the time they just made normal hamster squeaks.[5] According to advertising brochures found in Sigil, they were gentle with children.[6]
Ecology
[
]
Unlike most giant space hamster variants, miniature giant space hamsters did not fill the ecological niches usually associated with large animals such as rhinos and elephants and were instead usually kept as pets.[3]
The Prime Exotics shop in Sigil sold miniature giant space hamsters for 1 gp each. Availability was limited.[6]
The Infernal Rapture restaurant in the Nine Hells often served cooked miniature giant space hamsters. They had been deep fried, and seasoned with herbs and tears.[7]
Notable Miniature Giant Space Hamsters
[
]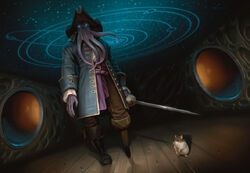 Appendix
[
]
Notes
[
]
Appearances
[
]
Adventures

Referenced only

Novels

Baldur's Gate II: Shadows of Amn novelization

Comics

Computer games
External Links
[
]
Disclaimer: The views expressed in the following links do not necessarily represent the views of the editors of this wiki, nor does any lore presented necessarily adhere to established canon.

References
[
]
↑ 1.0 1.1 Christopher Perkins (November 2018). Waterdeep: Dungeon of the Mad Mage. Edited by Jeremy Crawford. (Wizards of the Coast), p. 251. ISBN 978-0-7869-6626-4.
↑ Mike Mearls, Jeremy Crawford, Christopher Perkins (2014-09-30). Monster Manual 5th edition. Edited by Scott Fitzgerald Gray. (Wizards of the Coast), p. 335. ISBN 978-0786965614.
↑ 3.0 3.1 3.2 3.3 3.4 3.5 Jeff Grubb (1990). Monstrous Compendium Spelljammer Appendix 1. Edited by Mike Breault. (TSR, Inc.), pp. 28–29. ISBN 0-88038-871-4.
↑ Ed Greenwood, Matt Sernett, Steve Winter (August 20, 2013). "Campaign Guide". In Dawn J. Geluso ed. Murder in Baldur's Gate (Wizards of the Coast), p. 13. ISBN 0-7869-6463-4.
↑ 5.0 5.1 5.2 BioWare (December 1998). Designed by James Ohlen. Baldur's Gate. Black Isle Studios.
↑ 6.0 6.1 Wolfgang Baur, Rick Swan (June 1995). In the Cage: A Guide to Sigil. Edited by Karen S. Boomgarden. (TSR, Inc.), p. 126. ISBN 978-0786901111.
↑ Adam Lee, et al. (September 2019). Baldur's Gate: Descent into Avernus. Edited by Michele Carter, et al. (Wizards of the Coast), p. 245. ISBN 978-0-7869-6687-5.