Neverwinter: Curse of Icewind Dale is a campaign expansion module for the Neverwinter massive-multiplayer role-playing game. Released in August 2014, the expansion added a new campaign, several new adventure zones, a new epic skirmish along with numerous other updates.
"
Log in and experience the new Heroic Encounters and open-world PvP combat while working as a mercenary for one of two opposing mercenary groups, the
Ten-Towners
or the
Arcane Brotherhood
.
"
— Excerpt from the Curse of Icewind Dale Live Announcement.
[1]
In the Year of the Iron Dwarf's Vengeance, 1485 DR, a mysterious substance known as black ice was discovered in Icewind Dale. This substance could be forged into extremely powerful weapons and armor, but drove people into violent, murderous rage after prolonged exposure. Nonetheless, its high value resulted in both the Ten Towns and the Arcane Brotherhood fighting over claims of black ice deposits.
Meanwhile, the undead army of the long-dead wizard Akar Kessel began to rise once more, now empowered by black ice. The substance also drove the local Reghed barbarian and frost giant tribes into a frenzy. Ultimately, it was discovered the Akar Kessel himself had returned as an undead wight and was rebuilding his forces to continue the conquest he had begun before his death. To help counter this threat, Sergeant Knox sent the Heroes of Sleeping Dragon Bridge to recover artifacts of the Neverwinter Nine from a hidden vault beneath Castle Never. With these artifacts, they were able to destroy Akar Kessel once more before he could lay waste to the region.[note 1]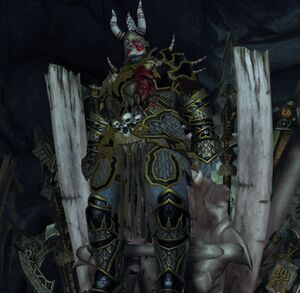 Akar Kessell • Aelred Windsinger • Alden Lowell • Anara the Cerulean • Atenas Swift • Bael Thrymskald • Baerick Hammerstone • Biggrin • Beorne Steelstrike • Bowen Brant • Captain Dunmish • Eglendar • Fenton Hale • Flint Vreesh • Grigoi Skrimshander • Gurth Grimstalker • Jubal Oakstaff • Kinnera Foxwood • Lodos Battlehammer • Noramos Battleheart • Notan Ivoryknife • Queen of Hammerstone • Rolf the Relentless • Rory Hammerstone • Stokely Silverstream • Ugus Battlehammer
Paragon path
bear (polar) • fish (knucklehead trout) • giant (frost) • human (Reghedmen) • remorhaz • troll (fell • ice) • wight • wolf (winter) • yeti

Companions
Jewels
Substances
Weapons
Buildings
Landmarks
Regions
Settlements
Referenced only
Items
Referenced only
↑ Due to conflicts with the 5th edition adventure modules, not all plot elements of the Neverwinter video game and its expansions are considered canon. This is especially true in instances where the most plot-crucial encounters in both the adventures and expansion modules coincide with one another.
Community content is available under
CC-BY-SA
unless otherwise noted.