Ophidians (pronounced: /oʊˈfɪdiɑːnz/ o-FID-ee-anz[5], also pluralized as ophidia and also known as snakemen[1][3]) were a cruel race of serpentfolk[6] that often served as slaves to the yuan-ti[1][2] or spirit nagas.[3] With the pterafolk, they were counted among the "Hidden Folk".[7]
Description
Edit
Ophidians had snake-like bodies, except that they were neither long nor thin, with short and stubby[7] humanoid appendages.[1][2][note 1] They stood upright.[7] They had forked tongues like serpents.[1][2] They had the ability to change their scale color to match their environment,[1][2][7] but their natural color was a spotted green or yellow,[1][2][7] with some individuals having some black, brown, or red scales.[2][7] The greens could range from dark-brownish green to pale blue-green and black scales could also be a faded gray-black.[3]
Abilities
Edit
Besides their ability to change color, ophidians had a poisonous bite that was also cursed, similar to the bite of a lycanthrope. Any humanoid bitten by an ophidian was in danger of magically morphing into an ophidian, beginning within one to five days.[1][2] A victim would also lose his or her memories[1][2] and would be filled with an urge to return to wherever the bite occurred.[1] This process usually took fourteen days[1][2] but could range from eight to sixteen days.[3] The spells remove disease or remove curse, could stop the transformation, but they would not reverse the process. That required the power of a heal, regeneration, or stronger spell. If the change was already complete, only a wish or miracle could restore the victim.[1][2]
Ophidian poison became inert and lost its magical curse only a few minutes after leaving the snakeman's body.[1]
Ophidians were capable climbers[2][7] and swimmers,[2] and like true snakes had the ability to unhinge their jaws to allow them to swallow larger prey. By this means, some ophidians would swallow halflings whole.[1]
Personality
Edit
Ophidians took a natural delight in destruction and torture of others.[7]
Ophidians were not very intelligent creatures.[2] They seemed quite content to follow the orders of their more intelligent masters.[7] Magic was of no interest to the ophidians, nor were they usually skilled enough to master it,[7] though there were some exceptions to this rule.[8]
Ophidians were fond of snakes and sometimes kept giant constrictor snakes as companions.[1]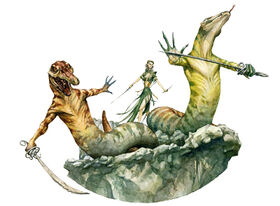 The yuan-ti used ophidians as front-line troops.[7] Ophidians usually armed themselves with weapons, preferring scimitars,[2] swords, clubs, or maces, but occasionally using battleaxes or scourges. About half carried shields.[1] These weapons were always provided by their masters or scavenged; they did not have the skill to craft their own weapons.[7] They strongly disliked the use of ranged weapons.[2]
They stalked their prey and would set up ambushes, preferring warm-blooded victims, such as small animals,[1] making skillful use of their natural camouflage.[2]
Most ophidians were found in the Serpent Hills,[2][7] but they could be found anywhere snakes could live, preferring hot jungles or underground terrain.[1][2]
Ophidians were generally a subservient race, acting as slaves to yuan-ti,[1][2][7] dark[7] and spirit nagas,[1][2][7][3] or black or green dragons.[1] As such, they had little culture of their own. If an ophidian's master was slain or lost, it was likely to seek another one out.[7]
Ophidians that were not slaves lived in small family groups, led by the oldest female.[1] On occasion, ophidians might ally with lizardfolk, but they would never live with them.[1]
A family of ophidians typically would adopt an ophidian created by one of their own bites.[1]
Life Cycle
Edit
Mating season for ophidians was year-round. Mating was always initiated by females, with a hypnotizing dance. Females laid between two and seven eggs roughly two months after mating, placing them in a shallow hole and covering them.[1] After depositing the eggs, the mother would abandon them.[7] Eggs took about three months to hatch.[7] Young ophidians would swarm about looking for food unless directed by another creature.[7] A brood surviving adulthood together tended to go on to form its own family group,[1] although ophidians did not form strong bonds with their kin.[7]
Ophidians living as slaves under the yuan-ti had their mates chosen for them by their masters as part of breeding programs.[7]
Ophidians spoke their own language[1] and usually yuan-ti.[2] About half[1] could also speak Common[2] or a language of the region in which they lived.[1] Some learned to speak Draconic.[2]
They did not have their own religion, but sometimes worshiped the powerful beings they served by offering gifts. Some even worshiped giant constrictor snakes.[1][2] Clerics were almost unheard of among the snakemen, although some became adepts.[2] Enslaved ophidians, of course, worshiped whatever gods they were instructed to worship.[7]
Ophidians originally came from the Forest of Wyrms, though most did not live in that area.[2][7]
Yuan-ti legends claimed that ophidians all descended from a single human tribe in the Shining Plains[2] that had followed the snake cult of Varae.[9] These cultist eventually found a powerful artifact from the Netherese House Orogoth within the ruined sarrukh city of Ss'thar'tiss'ssun[9] located in the Forest of Wyrms[2] that transformed them into ophidians and gave them the curse to pass on to their victims.[2][9] This transformation was said to have occurred in 375 DR,[9] yet ophidians were already a part of the kingdom of Najara, which fell in 90 DR,[10][7] so this story could not be entirely true.
In truth, ophidians were created twice. The human ancestors of the first ophidians came from servants of House Orogoth. Around −2300 DR,[11][8] during the Silver Age of Netheril, the wizards of the House accidentally placed the "Serpent Curse" upon their servants.[7][8]
For centuries, these early tribes of ophidians fought amongst themselves and against other races, such as lizardfolk and gnomes.[8] During this time, they worshiped dragons[7][8] and lived primarily in the High Moor and the Serpent Hills.[7]
From there, they migrated to the Forest of Wyrms in −361 DR,[8] where they discovered Ss'thar'tiss'ssun.[7][8] The ophidians found the Naja Fountain[8] and after the fall of Netheril helped establish Najara under the rulership of a ha-naga king named Terpenzi and a group of yuan-ti nobles,[7] the Hss'tafi tribe,[8] which were summoned to Najara by magics taught to the ophidians by Terpenzi.[8]
After the fall of Najara in 90 DR, most ophidians migrated back to the Serpent Hills, but others traveled south to more tropical lands.[7]
A second group of ophidians were then created in 361 DR. A large migration of humans from the Shoon Imperium and Cormyr brought new settlers into the Shining Plains, and Varae-worshipers from among these immigrants indeed rediscovered Ss'thar'tiss'ssun and the artifact of House Orogoth, which turned the entire group into ophidians as had happened so many centuries before.[12]
By 1372 DR, the bulk of the population of the Serpent Hills was ophidians.[4]
The skin of ophidians could be made into a type of leather armor that maintained a small degree of color-changing ability.[13]
↑

Sources and images conflict as to whether an ophidian's appendages include legs or only arms.
References
Edit
↑ 1.00 1.01 1.02 1.03 1.04 1.05 1.06 1.07 1.08 1.09 1.10 1.11 1.12 1.13 1.14 1.15 1.16 1.17 1.18 1.19 1.20 1.21 1.22 1.23 1.24 1.25 1.26 1.27 1.28 1.29 1.30 1.31 1.32 1.33 1.34 1.35 1.36 1.37 1.38 David Wise ed. (December 1994). Monstrous Compendium Annual Volume One. (TSR, Inc). ISBN 156076838X.
↑ 2.00 2.01 2.02 2.03 2.04 2.05 2.06 2.07 2.08 2.09 2.10 2.11 2.12 2.13 2.14 2.15 2.16 2.17 2.18 2.19 2.20 2.21 2.22 2.23 2.24 2.25 2.26 2.27 2.28 2.29 2.30 2.31 2.32 2.33 Eric Cagle, Jesse Decker, James Jacobs, Erik Mona, Matthew Sernett, Chris Thomasson, and James Wyatt (April 2003). Fiend Folio. (Wizards of the Coast), pp. 133–134. ISBN 0-7869-2780-1.
↑ 3.0 3.1 3.2 3.3 3.4 3.5 Gary Gygax (August 1983). Monster Manual II 1st edition. (TSR, Inc), p. 97. ISBN 0-88038-031-4.
↑ 4.0 4.1 James Wyatt (2001-07-11). "The Winding Serpent: Serpent Hills". Perilous Gateways. Wizards of the Coast. Archived from the original on 2016-08-16. Retrieved on 2014-12-12.
↑ Frank Mentzer (January 1985). "Ay pronunseeAYshun gyd". In Kim Mohan ed. Dragon #93 (TSR, Inc.), p. 28.
↑ Ed Greenwood, Eric L. Boyd, Darrin Drader (July 2004). Serpent Kingdoms. (Wizards of the Coast), p. 5. ISBN 0-7869-3277-5.
↑ 7.00 7.01 7.02 7.03 7.04 7.05 7.06 7.07 7.08 7.09 7.10 7.11 7.12 7.13 7.14 7.15 7.16 7.17 7.18 7.19 7.20 7.21 7.22 7.23 7.24 7.25 7.26 7.27 7.28 7.29 7.30 Ed Greenwood, Eric L. Boyd, Darrin Drader (July 2004). Serpent Kingdoms. (Wizards of the Coast), pp. 49–50. ISBN 0-7869-3277-5.
↑ 8.0 8.1 8.2 8.3 8.4 8.5 8.6 8.7 8.8 8.9 Ed Greenwood, Eric L. Boyd, Darrin Drader (July 2004). Serpent Kingdoms. (Wizards of the Coast), p. 111. ISBN 0-7869-3277-5.
↑ 9.0 9.1 9.2 9.3 Brian R. James and Ed Greenwood (September, 2007). The Grand History of the Realms. (Wizards of the Coast), p. 72. ISBN 978-0-7869-4731-7.
↑ Brian R. James and Ed Greenwood (September, 2007). The Grand History of the Realms. (Wizards of the Coast), p. 61. ISBN 978-0-7869-4731-7.
↑ Brian R. James and Ed Greenwood (September, 2007). The Grand History of the Realms. (Wizards of the Coast), p. 33. ISBN 978-0-7869-4731-7.
↑ Ed Greenwood, Eric L. Boyd, Darrin Drader (July 2004). Serpent Kingdoms. (Wizards of the Coast), p. 112. ISBN 0-7869-3277-5.
↑ Ed Greenwood, Eric L. Boyd, Darrin Drader (July 2004). Serpent Kingdoms. (Wizards of the Coast), p. 148. ISBN 0-7869-3277-5.
Connections
Edit
Community content is available under
CC-BY-SA
unless otherwise noted.