Panthers were black-furred jungle wildcats similar to jaguars, leopards, and mountain lions.[3]
Description
[
]
Like all cats in the leopard family, panthers typically weighed 120 pounds (55 kilograms) and were around four feet (120 centimeters) in length.[3]
Behavior
[
]
Panthers were nighttime hunters, relying on their strong sense of smell and alert senses. They were expert climbers and had superb balance.[3]
Combat
[
]
Panthers would pounce on their prey after stalking them and would hold tightly with their jaws while raking with their claws.[3]
Sub-Species
[
]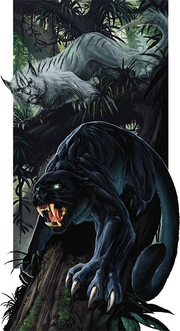 Panthers which were warped by the magical energies of the Feywild and Shadowfell could become fey panthers and spectral panthers respectively. These species were capable of traveling between their respective plane and the material.[2]
Reputation
[
]
Panthers were a favored animal of the god Tempus. Solonor Thelandira favored great cats in general, as did Thard Harr.[5]
Notable Panthers
[
]
Guenhwyvar was an astral panther summoned by Drizzt Do'Urden via a figurine of wondrous power. She was an unusually large and intelligent panther.[6]
The noble House Matrell of Arrabar kept guard panthers in the gardens of the family mansion.[7]
Appendix
[
]
Note
[
]
Appearances
[
]
References
[
]
↑ Mike Mearls, Jeremy Crawford, Christopher Perkins (2014-09-30). Monster Manual 5th edition. Edited by Scott Fitzgerald Gray. (Wizards of the Coast), p. 333. ISBN 978-0786965614.
↑ 2.0 2.1 Mike Mearls, Stephen Schubert, James Wyatt (June 2008). Monster Manual 4th edition. (Wizards of the Coast), p. 213. ISBN 978-0-7869-4852-9.
↑ 3.0 3.1 3.2 3.3 3.4 3.5 3.6 3.7 3.8 Skip Williams, Jonathan Tweet, Monte Cook (July 2003). Monster Manual v.3.5. (Wizards of the Coast), p. 274. ISBN 0-7869-2893-X.
↑ Doug Stewart (June 1993). Monstrous Manual. (TSR, Inc), p. 36. ISBN 1-5607-6619-0.
↑ Sean K. Reynolds (2002-05-04). Deity Do's and Don'ts (Zipped PDF). Web Enhancement for Faiths and Pantheons. Wizards of the Coast. p. 14. Archived from the original on 2016-11-01. Retrieved on 2018-09-08.
↑ Ed Greenwood, Sean K. Reynolds, Skip Williams, Rob Heinsoo (June 2001). Forgotten Realms Campaign Setting 3rd edition. (Wizards of the Coast), pp. 177–178. ISBN 0-7869-1836-5.
↑ Thomas M. Reid (November 2003). The Sapphire Crescent. (Wizards of the Coast), chap. 1, p. 21–22. ISBN 0-7869-3027-6.
Connections
[
]