Pixies were a race of sprites native to the Feywild.
Description
[
]
Pixies resembled tiny elves, with reports placing them variously at 2.5 feet (0.76 meters)[7][6][4] to as little as 1 foot (0.3 meters)[1] in height. Pixies had silvery, moth-like wings and preferred to wear brightly colored clothing.[6]
Personality
[
]
Pixies were mischievous sprites that enjoyed playing pranks on people. Such pranks included leading travelers astray and tricking misers into parting with their wealth.[6]
Abilities
[
]
Pixies had a number of innate magical abilities, such as being naturally invisible. At will, they could replicate the spells polymorph self, know alignment, dispel magic, dancing lights, and ESP. Once per day, they could turn invisible for as long as they desired, cause confusion at a touch, and create an illusion with both visual and audible components; this illusion would remain until dispelled. Some pixies could replicate the spell Otto's irresistible dance once a day.[6]
In combat, pixies wielded appropriately sized swords and bows. Their arrows were sometimes drugged with a potion that caused complete memory loss.[6]
Society
[
]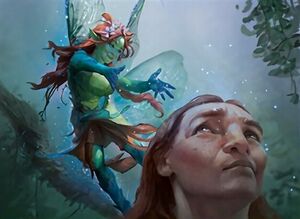 Pixie villages each had different clans or families in it; community loyalty was very important to pixies.[6]
Although pixies carried no treasure with them, they were known to have tiny hoards in their homes in order to impress visitors.[6]
Diet
[
]
Pixies were active at nighttime. They were herbivorous, eating fruit and nectar.[6]
Homelands
[
]
Pixies tended to lived in temperate forest regions, making their villages in deep forest caves.[6]
In North Faerûn, they inhabited the woods of Cormanthyr.[10] In Northwest Faerûn, they inhabited the Laughing Hollow.[11]
Beyond Faerûn, pixies inhabited caves deep in the forests of Evermeet.[12] On the Moonshae Isles they could be found in many of its deciduous and coniferous forests, in particular the Myrloch Vale,[13] as well as the kingdom of Sarifal and Llyrath Forest on Gwynneth Isle.[14]
In the Unapproachable East, pixies could be found around the woodlands of Aglarond. Including the grassy meadow known as Halendos.[15]
Beyond the Prime Material plane, some pixies could be found in the Elemental Plane of Air.[16]
Religion
[
]
The pixies that inhabited Evermeet were known to worship Titania, Oberon, and other members of the Seelie Court.[12]
Usage
[
]
Crushed pixie wings made pixie dust, also called dust of disappearance. The creation of this dust was, naturally, frowned upon by pixies.[6]
History
[
]
Pixies were among the creatures believed to have been created by the fey creator race.[17]
Maerovyna, a druid of Chauntea who led the Harvest House in Daggerford in the mid-to-late 14th century DR, was served by two pixies, a grizzly bear, and a leopard who were ready to defend her with their lives.[18]
Rumors & Legends
[
]
One legend in the Feywild claimed that pixies stole the secret of making honey from a goblet of mead belonging to the Summer Queen and then sold it to the bee species as a whole.[19]
Notable Pixies
[
]
Appendix
[
]
This article is incomplete.
You can help the Forgotten Realms Wiki by providing more information.
See Also
[
]
Gallery
[
]
Appearances
[
]
Adventures

Novels

Referenced only

Video Games

Neverwinter Nights series (Neverwinter Nights • Neverwinter Nights 2 • Neverwinter Nights: Darkness over Daggerford • Neverwinter Nights: Tyrants of the Moonsea) • Idle Champions of the Forgotten Realms

Card Games

Organized Play & Licensed Adventures

Lost Temple of the Fey Gods •

Scout's Honor

• The Tower of Ahghairon'
Further Reading
[
]
References
[
]
Connections
[
]