"Patronage" is a short story by David Cook included in the 1993 anthology Realms of Valor. It revisits the lama Koja of Khazari from the Empires trilogy.
Now based at the temple of Deneir in Procampur, Koja seeks to tell the truth about the Tuigan by writing and publishing a book based on his experiences, while he reminisces of his homeland of Khazari. Koja looks into printing his book and seeks funding from the city's nobles, before receiving a gift from a powerful benefactor.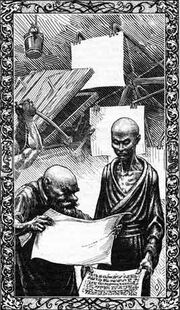 Characters

Aguul • Deneir • Foxe • Inkstain • Jozul Piniago • Koja • Orn Thavil

Referenced only
Wenslan Amthur • Azoun IV • Chih • Deara • Thom Reaverson • Talamic • Torg mac Cei • Ulin • Yamun Khahan
Locations

Buildings & Sites: Lady's Happy Hall • Red Mountain Temple • temple of Deneir
Settlements: Procampur
Realms: the Vast • Khazari

Referenced only
Cormyr • Dwarves' Deep • Griffin's Claw • Heartlands • Inner Sea • Manass • Red Mountain • Suzail • Shou Lung • Thesk • Waterdeep
Magic
Religion

Faiths: Path of Enlightenment
Miscellaneous

A History of the Tuigan • butter tea • duke • gold lion • kumiss • lama • Life among the Tuigan • History of the Crusade • Lay of the Purple Dragons • paitza • palanquin • paper • parchment • printing press • tsampo • Yanitsava

Referenced only
bard • cymbal • ironlord • king • prayerbook • prayerwheel • thultyrl
Community content is available under
CC-BY-SA
unless otherwise noted.