The Reghed Glacier was a glacial wasteland north of the Spine of the World.[1]
Geography
Edit
The Reghed Glacier formed the eastern boundary of Icewind Dale and was bordered by the Spine of the World to the south. To the east of the glacier was a frozen wasteland; beyond that (north of Lurkwood and the Valley of Khedrun) began the enormous Endless Ice Sea glacier. The Reghed Glacier was sometimes confused with the Endless Ice Sea.[1]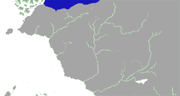 Inhabitants
Edit
The Reghedman barbarians of Icewind Dale took their name from this glacier.[2]
The Reghed Glacier was home to the white dragon Ingeloakastimizilian (known as Icingdeath), who was slain by Wulfgar.[3] Icingdeath's underground lair was located beneath the Evermelt hot springs.[1]
References
Edit
Community content is available under
CC-BY-SA
unless otherwise noted.