Sleep Sound is an official animated short story published by Wizards of the Coast about the early life and adventures of Drizzt Do'Urden. It was written by R.A. Salvatore, the author of the Legend of Drizzt, and narrated by Benedict Cumberbatch. It was released on Youtube on May 21, 2021.[1]
"
Sleep sound in the darkness, or burn in the light alone...
"
— Narration by Benedict Cumberbatch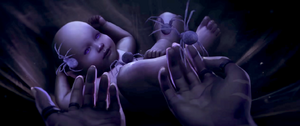 The drow who would become the legendary hero, Drizzt Do'Urden, is born in Menzoberranzan.
Many years later, Drizzt is now an adolescent and receives his signature blades, scimitars. He is given them by high-ranking females of drow society after the weapons descend from spider webs.[note 1] As a right of passage, Drizzt ascends to the surface with his fellow drow. Here, he enters Icewind Dale for the first time to slay a group of surface dwellers living in a manor. However, Drizzt hesitates, and does not go along with the kill.[note 2] Drizzt is exposed by his mother for not following through with the act, and he heads to the surface.[note 3]
Finally on the surface, Drizzt and his astral panther companion, Guenhwyvar, seek shelter in a cave. The drow renegade finds a new set of allies: Bruenor Battlehammer, Catti-brie, and Wulfgar. Together, they fight off foes together, and slay numerous yetis. Drizzt then becomes intimate with Catti-brie and they embrace each other.[note 4]
Time leaps backwards to the birth of Drizzt, sleeping sound in a spider's web. Surrounded by members of House Do'Urden, and their arachnid companions, Malice Do'Urden prepares to kill her newborn son. However, Drizzt is spared.[note 5]
Time leaps forward one last time, to Drizzt and Guenhwyvar walking together side by side in the tranquility of Icewind Dale.
Regions
Settlements
Community content is available under
CC-BY-SA
unless otherwise noted.