A spell was a power or ability that performed magic, and was cast by direct or indirect usage of the Weave.[1]
Description
[
]
There were several types of spells in the Realms, though many of their definitions changed throughout the span of time. Creatures that had innate supernatural abilities, even those that were related to the Weave, were not spells. Generally, magic-users manipulated the Weave directly to cast arcane spells,[3] whilst priests relied on their deities to cast divine spells.[4]
Spells, however, could be cast by using magic items, such wands, and could be copied onto scrolls or into spellbooks.[4]
Someone who could cast a spell of any kind was known as a spellcaster.[1]
Notable Spells
[
]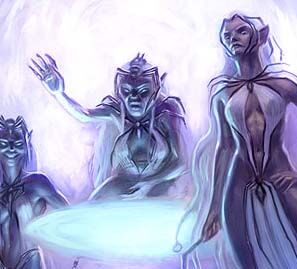 Notable Spellcasters
[
]
Appendix
[
]
References
[
]