Spellfire: Master the Magic was a collectible card game (CCG) created by TSR, Inc. and based on their popular Dungeons & Dragons role playing game. The game appeared in 1994, shortly after the introduction of Magic: The Gathering, in the wake of the success enjoyed by trading card games.[1]
Editions
[
]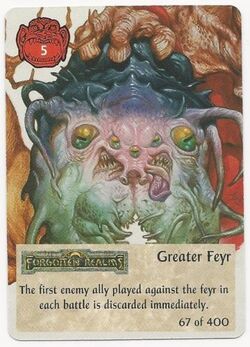 The first release had a selection of 400 cards, which included cards from the Forgotten Realms, Dark Sun, and Greyhawk settings.[2] The basic set came packaged in a double deck (55 cards per deck), in three levels of rarity (Common, Uncommon, and Rare), and booster packs were also sold which included 25 additional cards not available in the basic set.[2]
The second edition starter pack fixed some misprints and replaced 20 first edition cards with 20 different chase cards. The artwork for the new chase cards consisted mostly of photos with fantasy-related artifacts or people in costume. The rest of this set remained identical to the first edition. The Ravenloft, Dragonlance, and Forgotten Realms booster series were released soon after the second edition. These were well received by players.
The third edition starter made some significant changes by adding powers to cards that previously had none, without changing the names and artwork. There were also significant rules corrections and updates. The Artifacts, Powers, Underdark, Runes & Ruins, and Birthright booster series added many new dimensions to the game.
The fourth edition came in a red and black double-pack, and featured 520 cards taken from every expansion and mainline set, augmented by over 200 new designs.[3] Cards missed from re-evaluation during the 3rd edition shake-up have been revitalized here.[3] The red box in this twin-deck pack includes a 55-card deck playable directly from the packet, while the black box includes a set of revised rules and a booster pack of 12 cards from the Dragonomicon expansion.[3] By the time the fourth edition starter pack made its debut, the future of TSR was uncertain, leading to production problems. Three more booster series, Draconomicon, Nightstalkers, and Dungeons, were released. Though they all sold out immediately, these sets were produced in small quantities. Shortly thereafter, Wizards of the Coast bought out TSR.
Before it was discontinued, Spellfire was released in six languages (English, Spanish, Portuguese, Italian, German, and French) and five editions, as well as having eleven expansions or "booster sets". Several years after Wizards of the Coast acquired TSR, they announced that they would be re-releasing Spellfire, but the project was canceled.
| Release Date | Edition / Booster | Special Features |
| --- | --- | --- |
| June 1994 | 1st Edition | First AD&D champions |
| August 1994 | Ravenloft | Rule Cards, Limbo, Power Activation |
| August 1994 | 2nd Edition | 20 rares replaced from 1st Edition |
| September 1994 | Dragonlance | Racial definitions, swimmers, earthwalkers |
| November 1994 | Forgotten Realms | |
| May 1995 | Artifacts | Darksun-oriented |
| September 1995 | Powers | Avatar champion |
| October 1995 | 3rd Edition | 20 additional rares replaced from 2nd Edition |
| December 1995 | The Underdark | Attack-oriented |
| February 1996 | Runes & Ruins | Unarmed combat cards |
| May 1996 | Birthright | Regents and blood abilities |
| July 1996 | 4th Edition | Strengthened previous key cards |
| July 1996 | Draconomicon | Dragon-oriented |
| September 1996 | Nightstalkers | Undead-oriented |
| October 1997 | Dungeons | Dungeon card |
Gameplay
[
]
Spellfire can accommodate any number of players with no need for changes to the rules.[2] The players try to put six Realms cards into play, and can play one per turn.[2] Holdings cards can be played on a Realm (one per Realm) to give it special qualities that help defend it from attack.[2] Heroes, Wizards, Clerics, Monsters, Spells, Magic Items, Artifacts, Allies and Events are used to defend a player's realms and also to attack the realms of other players.[2] After a realm is successfully attacked, it is considered razed and turned face down, and can only be restored through the use of other cards.[2]
Realms - Realms represent kingdoms, cities, and empires from the AD&D worlds that have sided with the player in question. The game can be won only by playing realms. It is common for a player's opponents to attack his realms or to destroy them by other means, such as spells or events. Realms are played in a pyramid-shaped formation and must be played from front to back; i.e., the first realm played goes at the top (or point) of the pyramid, the next two go in the spaces below that (left then right), and the last three go in the spaces below that. These spaces are typically labeled by letter, with the first space "A" and the last "F". In other words, the formation looks like this:
                                               A
                                              B C
                                             D E F

Champions - During their turn, a player may play champions into their "pool." They may also outfit them with magic items and artifacts. Champions are probably the most important cards in the game, as they are used to attack and defend realms. The types of champions in the original game were heroes, monsters, clerics, and wizards; later, psionicists, regents, and thieves were added.
If the player at any time had no realms, razed or unrazed, in their formation, all of the cards in their pool would be discarded at the end of their turn.
Adventurers - This is a card type that gains powers based on other adventurers being in the pool. An adventurer who enters combat retains powers as if he was in the pool.
Allies - These cards are added to a champion to increase its adjusted level. They are not considered to be a specific type of champion (hero, wizard, monster, etc.) even if the picture looks like they should be. Some allies are considered to be undead, dragons, flyers, earthwalkers, or to possess some other classification related to movement or race.
Artifacts - These powerful items can be attached only to a champion from the same world as the artifact. Each champion can have only one artifact attached to him at a time.
Clerics - These champions can cast cleric spells as a part of their icon abilities. Clerics are immune to the Fear of Undead rule.
Events - These cards can be played at any time, unless a specific time to play is stated on the card. Each has a special power that takes effect immediately.
Heroes - This is a type of champion whose icon gives them the ability to use unarmed combat cards.
Holdings - A holding is attached to a realm during phase 2 of a player's turn. A holding must be from the same world as the realm, unless otherwise stated by a special power.
Monsters - Monsters can use magical items and artifacts normally, in addition to whatever other special powers they posses. The red monster icon does not possess an icon power.
Spells - Wizards and clerics can cast spells as part of their champion's icon ability. Wizards cast only wizard spells and clerics cast only cleric spells. Each spell lists whether it is defensive or offensive.
Thieves - This type of champion can use thief skills as part of the champion's icon ability (the same way a cleric can cast cleric spells). Thieves can also use allies, magical items, artifacts of the same world, and any other cards allowable by their special powers.
Wizards - These champions can cast wizard spells as part of their icon abilities.
Cards
[
]
Only cards from the Forgotten Realms setting are listed.
First Edition
[
]
Second Edition
[
]
| Number | Card Name | Card Type |
| --- | --- | --- |
| 404/420 | Chaos Shield | Artifact |
| 408/420 | Living Scroll | Monster |
| 409/420 | Ren's Bell of Death | Artifact |
| 410/420 | Labyrinth Map of Shucc | Artifact |
| 417/420 | Mind Flayer Lord | Monster |
Third Edition
[
]
Fourth Edition
[
]
| Number | Card Name | Card Type |
| --- | --- | --- |
| 1/520 | Menzoberranzan | Realm |
| 2/520 | Ruins of Zentil Keep | Realm |
| 3/520 | Sembia | Realm |
| 4/520 | Myth Drannor | Realm |
| 5/520 | Icewind Dale | Realm |
| 6/520 | Damara | Realm |
| 7/520 | Daggerdale | Realm |
| 8/520 | Evermeet | Realm |
| 9/520 | The Trollmoors | Realm |
| 10/520 | The Coral Kingdom | Realm |
| 11/520 | Raurin | Realm |
| 12/520 | The Vilhon Reach | Realm |
| 13/520 | Giant's Run Mountains | Realm |
| 73/520 | Mulmaster | Holding |
| 74/520 | Blackstaff Tower | Holding |
| 75/520 | Candlekeep | Holding |
| 76/520 | Mithral Hall | Holding |
| 77/520 | Moonwell | Holding |
| 78/520 | Nagawater | Holding |
| 79/520 | Tilverton | Holding |
| 80/520 | Lhespenbog | Holding |
| 81/520 | Adderswamp | Holding |
| 253/520 | Drizzt Do'Urden | Hero |
| 254/520 | The Harpers | Hero |
| 255/520 | Helm | Hero |
| 262/520 | Pereghost | Monster |
| 263/520 | Dracolich | Monster |
| 264/520 | Stone Giant | Monster |
| 271/520 | Elminster the Mage | Wizard |
| 272/520 | Vangerdahast | Wizard |
| 273/520 | Ambassador Carrague | Wizard |
| 280/520 | Amaril | Cleric |
| 281/520 | Clerics of Malar | Cleric |
| 282/520 | Adon | Cleric |
| 316/520 | Borin Moradinson | Cleric |
| 317/520 | Mallin Dimmerswill | Cleric |
| 318/520 | Arden Glimrock | Cleric |
| 319/520 | Drider | Monster |
| 320/520 | Eye Tyrant | Monster |
| 321/520 | Roper | Monster |
| 322/520 | Malleyahl | Hero |
| 323/520 | Malaruat | Hero |
| 324/520 | Maleficent | Hero |
| 325/520 | Isika | Hero |
| 334/520 | Iserik | Hero |
| 455/520 | The Ring of Winter | Artifact |
| 458/520 | Guenhwyvar | Artifact |
| 485/520 | Titania | Wizard |
| 486/520 | Verenestra | Cleric |
| 487/520 | Midnight, Goddess of Magic | Wizard |
| 516/520 | Towers of Menzoberranzan | Holding |
Forgotten Realms Edition
[
]
Forgotten Realms Chase Cards
[
]
| Number | Card Name | Card Type |
| --- | --- | --- |
| 01/25 | Thrice Hearty Cup of Balder the Red | Cleric Spell |
| 02/25 | Cold Cup of Calamity | Event |
| 03/25 | Vessel of Vaporous Stones | Event |
| 04/25 | Mug of the Earthbound | Wizard Spell |
| 05/25 | Hawksflight Grail | Artifact |
| 06/25 | Vessel of Misty Passage | Event |
| 07/25 | Teapot of the Golden Temple | Magical Item |
| 08/25 | Ebony Cup of Fate | Artifact |
| 09/25 | Hero's Chalice | Magical Item |
| 10/25 | Day That Will Live in Infamy | Event |
| 11/25 | Unusually Good Fortune | Event |
| 12/25 | Apple of His Eye | Event |
| 13/25 | Golden Touch | Wizard Spell |
| 14/25 | Feather Flight | Wizard Spell |
| 15/25 | Golden Barter | Wizard Spell |
| 16/25 | Dagger of Deception | Magical Item |
| 17/25 | Wyrm of Earthwalking | Magical Item |
| 18/25 | Bell of Might | Magical Item |
| 19/25 | Muragh Brilstagg | Ally |
| 20/25 | Phase Door | Wizard Spell |
| 21/25 | Wine of Eternity | Event |
| 22/25 | Spellblades | Magical Item |
| 23/25 | Netheril | Realm |
| 24/25 | Lure of Undermountain | Rule |
| 25/25 | Zhentarim Intrigue | Rule |
Artifacts Chase Cards
[
]
Powers Edition
[
]
The Underdark Edition
[
]
| Number | Card Name | Card Type |
| --- | --- | --- |
| 007/100 | UnderToril | Realm |
| 016/100 | Echoes from the Deep | Holding |
| 050/100 | The South Wind | Artifact |
| 072/100 | The Avatar Shar | Cleric |
| 091/100 | Belwar Dissengulp | Hero |
| 092/100 | Jarlaxle | Hero |
| 094/100 | Zaknafein the Weapons Master | Hero |
| 095/100 | Baldar Dwellardon | Cleric |
The Underdark Chase Cards
[
]
Number
Card Name
Card Type
01/25

Lazarus

, the Drow
Psionicist
Runes & Ruins Edition
[
]
Runes & Ruins Chase Cards
[
]
| Number | Card Name | Card Type |
| --- | --- | --- |
| 06/25 | Manshoon of the Zhentarim | Wizard |
Dracomonicon Edition
[
]
Dracomonicon Chase Cards
[
]
| Number | Card Name | Card Type |
| --- | --- | --- |
| 4/25 | Morcanth Dragontamer | Hero |
| 9/25 | Dragon Cultist | Cleric |
NightStalker Edition
[
]
NightStalker Chase Cards
[
]
| Number | Card Name | Card Type |
| --- | --- | --- |
| 20/25 | Gib Reltub | Thief |
Dungeons! Edition
[
]
| Number | Card Name | Card Type |
| --- | --- | --- |
| 33/100 | Tower by the Sea | Realm |
| 35/100 | The Hidden Village | Realm |
| 41/100 | Jasper | Hero |
| 44/100 | Dearlyn Ambersong | Wizard |
| 57/100 | Net of Ensnaring | Artifact |
| 94/100 | Ball Lightning | Wizard Spell |
Dungeons! Chase Cards
[
]
Number
Card Name
Card Type
9/25

Lilac Hesabon

Hero
15/25

Shan

, Karate Master
Hero
20/25
Poor Oriental Lord
Thief
25/25

Dor Amberglow

Hero
Apendix
[
]
Further Reading
[
]
External Links
[
]
References
[
]