Sylphs were small outsiders who often inhabited the Elemental Plane of Air and the Material Plane.[3]
Description
Edit
They often appeared as petite, beautiful women with translucent, brightly colored wings. They often preferred filmy-seeming, silky, or loose clothing, and brightly colored jewelry.[3]
Sylphs usually spoke Auran and Common.[3]
A sylph possessed darkvision.[3]
Personality
Edit
They were usually passive creatures, and fled in the presence of danger if their curiosity did not get the better of them.[3]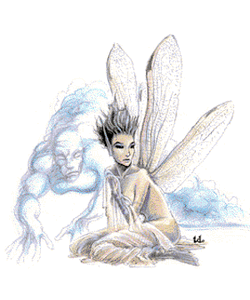 In the ancient city of Cursrah, sylphs inhabited its city parks and were known to sing sad songs.[5]
The year 687 DR was named the "Year of the Wandering Sylph".[6]
This article is incomplete.
You can help the Forgotten Realms Wiki by providing more information.
Further Reading
Edit
References
Edit
↑ 1.0 1.1 1.2 1.3 1.4 1.5 1.6 1.7 1.8 1.9 Doug Stewart (June 1993). Monstrous Manual. (TSR, Inc), p. ?. ISBN 1-5607-6619-0.
↑ 3.00 3.01 3.02 3.03 3.04 3.05 3.06 3.07 3.08 3.09 3.10 3.11 3.12 Ed Bonny, Jeff Grubb, Rich Redman, Skip Williams, and Steve Winter (September 2002). Monster Manual II 3rd edition. (TSR, Inc), pp. 192–193. ISBN 07-8692-873-5.
↑ 4.0 4.1 Gary Gygax (December 1977). Monster Manual, 1st edition. (TSR, Inc), p. 93. ISBN 0-9356-9600-8.
↑ Clayton Emery (January 1999). Star of Cursrah. (Wizards of the Coast), p. 70. ISBN 0-7869-1322-3.
↑ Brian R. James and Ed Greenwood (September, 2007). The Grand History of the Realms. (Wizards of the Coast), p. 97. ISBN 978-0-7869-4731-7.
Community content is available under
CC-BY-SA
unless otherwise noted.