The Tarm (pronounced: /ˈtɑːrm/ TARM[2]) family were one of the noble houses in Waterdeep circa the Year of Wild Magic, 1372 DR. They were horse breeders and trainers, and had significant interests in caravan mastering.[1][2][3]
The Tarm clan made their fortune in the caravan business and were well-known for the horses they bred and trained. From at least the Year of the Prince, 1357 DR, to at least the Year of Wild Magic, 1372 DR, the patriarch of the family was Lord Thentivil. His consort was Lady Selpara and their son and heir was Arum.[1][2][3]
The in-town home of the Tarm family was located in the North Ward on the southeast corner of Sulmor Street and Whaelgond Way.[4][5][6][7][8][9][10][11] It consisted of three 3-story buildings in a walled compound with a central garden area with a small pool.[5][9][11][12] They also maintained stables and horse-breeding grounds in the village of Amphail north of Waterdeep on the Long Road.[3][13][14]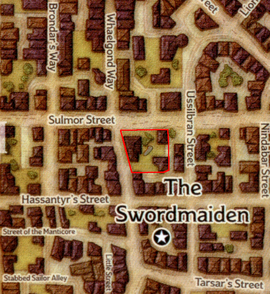 The Tarm clan were of Tethyrian descent and followers of Mielikki. The family was ennobled in the Year of the Bold Knight, 1249 DR. As of 1372 DR, there were forty-five living members.[3]
Community content is available under
CC-BY-SA
unless otherwise noted.