Thieves' tools encompassed a wide array of equipment that aided a prospective rogue during their illicit activities. Many of these items were hand-crafted by the individual who intended to use them, but some were available through local guilds or even from Aurora's Whole Realms Catalogue.[5]
Description
[
]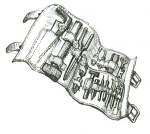 A typical set of thieves' tools included a small file, a set of lockpicks, a small mirror, scissors, and pliers, which were meant to assist in picking locks and disarming traps.[1] More deluxe toolkits were known to include vials of acid that could eat through most metals. These tools were often carried around in either a flat, folding leather case or a rolling suede case.[3]
Possession of some thieves' tools was enough evidence for local authorities to invite the rogue for a stay in the dungeon.[5]
Appendix
[
]
This article is incomplete.
You can help the Forgotten Realms Wiki by providing more information.
References
[
]
↑ 1.0 1.1 1.2 Mike Mearls, Jeremy Crawford (2014). Player's Handbook 5th edition. (Wizards of the Coast), p. 154. ISBN 978-0-7869-6560-1.
↑ 2.0 2.1 Rob Heinsoo, Andy Collins, James Wyatt (June 2008). Player's Handbook 4th edition. (Wizards of the Coast), p. 222. ISBN 0-7869-4867-1.
↑ 3.0 3.1 Grant Boucher, Troy Christensen, Jon Pickens, John Terra and Scott Davis (1991). Arms and Equipment Guide. (TSR, Inc.), pp. 116–117. ISBN 1-56076-109-1.
↑ Jonathan Tweet, Monte Cook, Skip Williams (July 2003). Player's Handbook v.3.5. (Wizards of the Coast), p. 128. ISBN 0-7869-2886-7.
↑ 5.0 5.1 Jeff Grubb, Julia Martin, Steven E. Schend et al (1992). Aurora's Whole Realms Catalogue. (TSR, Inc), pp. 13–20. ISBN 0-5607-6327-2.