Undead were once-living creatures that had been animated by spiritual or supernatural forces.[1] Some deities employed undead as divine servants; for example, the dwarven god Dumathoin used undead dwarves as divine messengers.[2]
Undead were extremely resilient to a number of effects and substances that were extremely harmful to the living. They were immune to all mind-affecting effects, poison,[3] sleep effects,[4] paralysis, stunning, disease, and death effects. In addition, it was not possible to drain their life force in any manner.
"
Once an area is infested with undead, it becomes a gathering place for the foul things.
"
Origins
[
]
"
Undead. They got back up and started fighting again—this time, against the rest of us... They fell, they died, they got back up.
"
There were six basic ways a living creature could become undead:
Purposeful personal reanimation

Minions

Atrocity calls to unlife

Unfinished business

Dark forces

Death by wounds caused by another undead
Types of Undead
[
]
Skeletal
[
]
Liches

Revived fossil

[16]
Skeletons
Corporeal
[
]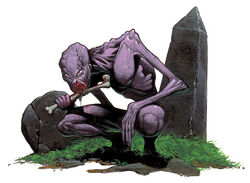 "
A good lesson for us. Always leave tomb doors closed. You never know what might come in and possess your corpse.
"
Incorporeal
[
]
Crypt chanter

[59]

Murk

[42]
Shadows

Spectral lyrist

[65]
Specters
Appendix
[
]
This article is incomplete.
You can help the Forgotten Realms Wiki by providing more information.
Further Reading
[
]
AD&D 1e
[
]
AD&D 2e
[
]
3e
[
]
3.5e
[
]
References
[
]