The Vonindod was a colossal construct used against dragons during the ancient wars between giants and dragons.[2]
The Vonindod stood eighty feet tall (24.4 m) and was humanoid-shaped with a horned helm and a greatsword. It was almost entirely composed of adamantine with huge rubies for eyes.[3]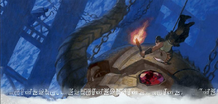 Vonindod, meaning "titan of death" in Giant[4], was destroyed during the ancient battles between dragons and giants. Pieces of it were lost during the battle and the remainder was at least partially dismantled and scattered throughout the North. It was not until an ambitious fire giant named Duke Zalto that any attempt was made to re-assemble the pieces of the construct. He sent many of his minions out into the North to seek the remaining pieces of the Voninod using specially created rods of the Vonindod to act as divining rods. He was able to assemble most of the head, torso, one hand, and a forearm, and the greatsword in his ancestral home of Ironslag, but lacked a fire hot enough to rekindle the forge there to continue the work.[2][3]
Community content is available under
CC-BY-SA
unless otherwise noted.