A wand of fireballs was a rare magical item, which was capable of shooting fireballs.
"
Here on the
planes
, we respect knowledge and experience, but that
wand of fireballs
you've got there doesn't hurt either…
"
Description
[
]
There wands were made out of ironwood and topped with a small flaming globe.[2]
These wands could cast fireballs, with up to seven charges, before potentially crumbling to ash. The user could also use the wand to release more powerful balls of fire, but this would result in more charges being used up.[3]
At dawn, two to seven charges (the maximum amount) would be replenished.[3]
History
[
]
The bridge of Womford was incinerated by such a wand.[5]
Notable Wands of Fireballs
[
]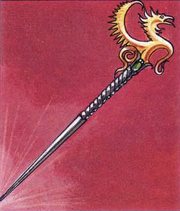 Notable Owners
[
]
Appendix
[
]
Gallery
[
]
Appearances
[
]
Adventures

Video games
References
[
]
↑ 1.0 1.1 Richard Baker III, David Cook, Kevin Melka, Bruce Nesmith (January 1997). Introduction to Advanced Dungeons & Dragons. (TSR, Inc.), p. 29. ISBN 0-7869-0332-5.
↑ 2.0 2.1 Stormfront Studios (2001). Designed by Mark Buchignani, Ken Eklund, Sarah W. Stocker. Pool of Radiance: Ruins of Myth Drannor. Ubisoft Entertainment.
↑ 3.0 3.1 3.2 Mike Mearls, Jeremy Crawford, Christopher Perkins, James Wyatt (2014). Dungeon Master's Guide 5th edition. (Wizards of the Coast), p. 210. ISBN 978-0786965622.
↑ Monte Cook (1998). Tales from the Infinite Staircase. Edited by Skip Williams. (TSR, Inc), p. 4. ISBN 0786912049.
↑ slade, et al. (April 1996). "The Wilderness". In James Butler ed. The North: Guide to the Savage Frontier (TSR, Inc.), p. 49. ISBN 0-7869-0391-0.