Warrior's Rest, also known as Knight's Rest, was a divine realm in Limbo according to the Great Wheel cosmology[1][2] and a Neutral Plane in the World Tree cosmology of Toril.[3] With perhaps the most misleading title in the whole cosmology, the theme of Warrior's Rest was battle, and each petitioner had no constant loyalty to a deity. When a petitioner was slain in combat during one of the endless chaotic battles, he or she rose again on the team that brought him or her down.[3]
The terrain of Warrior's Rest was similar to rocky badlands on the Prime Material plane. However, the nearby terrain could be manipulated by the will of those with sufficient wisdom to provide cover and other tactical advantages for battle.[3]
Inhabitants
[
]
Many titans were native to Warrior's Rest, and they joined in the ongoing battle with joy.[3] Also, githzerai built a fortress and several monasteries amid the chaotic battles.[5]
Petitioners
[
]
The petitioners of Warrior's rest included soldiers, generals, strategists, barbarians, and many other combat oriented individuals. They appeared as they did in the prime of their lives and in the peak of their physical shape, glowing with health. All sought union with their deity through participation in the great wars, and so were granted extraordinary resilience to acid, fire, cold, and electricity damage, as well as regenerative powers.[3]
Deities
[
]
Access to Warrior's Rest
[
]
There were no known portals to or from Warrior's Rest.[3]
Appendix
[
]
Appearances
[
]
Novels

Referenced only
References
[
]
↑ 1.0 1.1 1.2 Colin McComb (October 1996). On Hallowed Ground. Edited by Ray Vallese. (TSR, Inc.), p. 181. ISBN 0-7869-0430-5.
↑ 2.0 2.1 2.2 Julia Martin, Eric L. Boyd (March 1996). Faiths & Avatars. (TSR, Inc.), p. 158. ISBN 978-0786903849.
↑ 3.00 3.01 3.02 3.03 3.04 3.05 3.06 3.07 3.08 3.09 3.10 3.11 3.12 Richard Baker, James Wyatt (March 2004). Player's Guide to Faerûn. (Wizards of the Coast), pp. 163–164. ISBN 0-7869-3134-5.
↑ 4.0 4.1 Bruce R. Cordell, Ed Greenwood, Chris Sims (August 2008). Forgotten Realms Campaign Guide. Edited by Jennifer Clarke Wilkes, et al. (Wizards of the Coast), p. 65. ISBN 978-0-7869-4924-3.
↑ Chris Sims (August 2009). "Playing Githzerai". In Chris Youngs ed. Dragon #378 (Wizards of the Coast), p. 81.
Connections
[
]
The Ever-Changing Chaos of
Limbo
---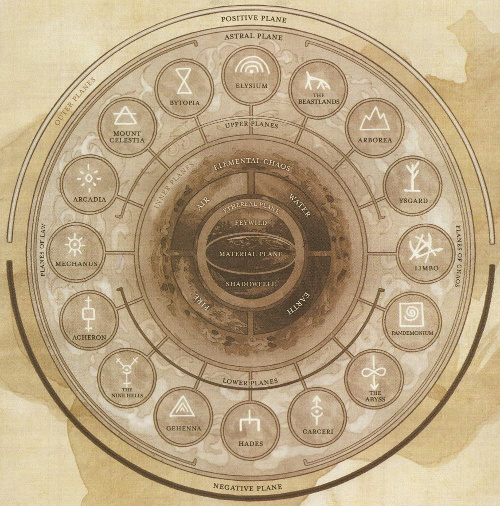 Prime Material plane • Feywild • Shadowfell • Fugue Plane
Transitive Planes: Astral Plane • Ethereal plane
Inner Planes: Elemental Plane of Air • Elemental Plane of Water • Elemental Plane of Earth • Elemental Plane of Fire • Elemental Chaos
Para-Elemental Planes: Frostfell • Swamp of Oblivion • Fountains of Creation • Great Conflagration
Quasi-Elemental Planes: Lightning • Radiance • Minerals • Steam • Vacuum • Ash • Dust • Salt
Outlands: Sigil
Outer Planes: Arcadia • Mount Celestia • Bytopia • Elysium • Beastlands • Arborea • Ysgard • Limbo •
Pandemonium • Abyss (Layers) • Carceri • Hades • Gehenna • Nine Hells • Acheron • Mechanus
Energy planes: Positive Energy plane • Negative Energy plane
Planar Pathways: Infinite Staircase • Oceanus • Mount Olympus • Styx • Yggdrasil
Far Realm
---
Prime Material plane • Cynosure • Fugue Plane
Transitive Planes: Astral Plane • Ethereal plane • Plane of Shadow • Spirit World
Celestial Outer Planes: Arvandor • Brightwater • Dwarfhome • Dweomerheart • Gates of the Moon • Golden Hills • Green Fields • House of Knowledge • House of the Triad
Fiendish Outer Planes: Abyss (Layers) • Barrens of Doom and Despair • Blood Rift • Clangor • Deep Caverns • Demonweb Pits • Fated Depths • Fury's Heart • Hammergrim • Nine Hells • Nishrek • Supreme Throne
Neutral Outer Planes: Dragon Eyrie • Heliopolis • House of Nature • Jotunheim • Warrior's Rest
Inner Planes: Elemental Plane of Air • Elemental Plane of Earth • Elemental Plane of Fire • Elemental Plane of Water • Positive Energy plane • Negative Energy plane
Planar Pathways: Infinite Staircase • River of Blood • World Tree
Far Realm
---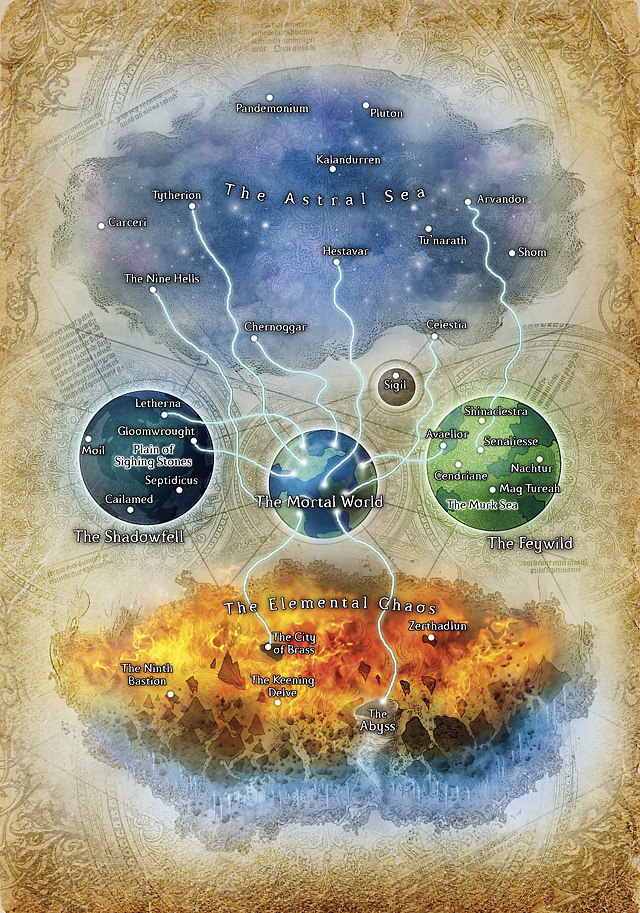 Prime Material plane
Fundamental planes: Astral Sea • Elemental Chaos
Astral dominions: Arvandor • Banehold • Celestia • Cynosure • Deep Wilds • Demonweb Pits • Dismal Caverns • Dwarfhome • Eternal Sun • Fugue Plane • Gates of the Moon • Green Fields • House of Knowledge • Nine Hells • Nishrek • Supreme Throne • Towers of Night • Tu'narath • Warrior's Rest
Elemental realms: Abyss (Layers) • City of Brass • Cresting Spires • Fimbulwinter • Hidden Realm • Muspelheim • Root Hold • Sky Home • Steading • Thraotor • Undying Pyre • Zerthadlun
Parallel planes: Feywild • Shadowfell
Anomalous planes: Far Realm