The Wavesilver (pronounced: /ˈweɪvsɪlvər/ WAYV-sil-vər[2]) family were members of the nobility in Waterdeep circa the Year of Wild Magic, 1372 DR. They were primarily in the merchant shipping business.[1][2][3]
The Wavesilvers were a wealthy family that made their fortune shipping goods in and out of Waterdeep. From at least the Year of the Prince, 1357 DR, to at least the Year of Wild Magic, 1372 DR, the family was led by Lord Bleskos with his consort Apryl. The designated heir was their second son, Aristed Wavesilver.[1][2][3]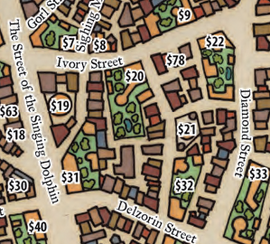 The Wavesilver villa was located in the Sea Ward of Waterdeep on the southwest corner of Ivory Street and Flint Street. Across Ivory Street to the north was the Blue Alley, a few doors to the east was the abode of Myrna Cassalanter, and the Tower of Luck was a short walk to the west. Just to the south, down Flint Street, was the House of Wonder.[4][5][6][7][8][9][10][11]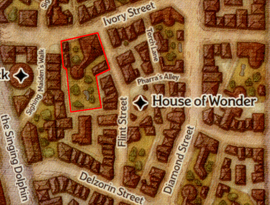 The Wavesilvers were of Chondathan descent and the family was ennobled in the Year of the Wandering Winds, 1251 DR.[3]
Community content is available under
CC-BY-SA
unless otherwise noted.